Keto OMAD for a month may sound like a difficult journey. Well, it is. That is if you don't know the ways to make it sustainable. Keep in mind that this approach combines the principles of ketogenic eating with intermittent fasting.
1.) Week 1: Starting Keto OMAD for a Month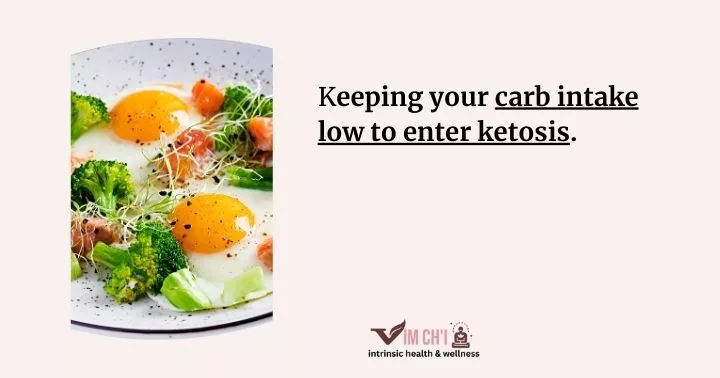 Before you dive in, it is vital to understand the basics of this approach. The most important thing to remember is that it involves consuming your daily calories in a single meal while keeping your carb intake low to enter ketosis.
2.) Set Your Goals for Your Month-long Journey
Define your objectives for this challenge. Is it primarily weight loss, improved energy, or other health benefits? Setting your clear goals will help you stay informed.
3.) Crafting Your First Week's Meal Plan 
Plan your first week's meals carefully. Focus on incorporating healthy fats, moderate protein, and minimal carbs into your OMAD meal.
What Meal Can You Prepare?
Eggs and Bacon Combo
This is a favorite of mine. You don't just eat eggs and bacon though. Add cheddar cheese, avocado, chopped mushrooms, chopped red onion, and spinach.
Parmesan Garlic Butter Salmon 
If you can easily access salmon, then that would be great as you can easily prepare it. Here are the things you need:
Salmon filet
Melted butter
Grated parmesan
Garlic clove
Chopped parsley
Zucchini
Salt
Pepper
Lemon
Keto Steak 
Opt for the tenderest filet steak. Then pair it with charred asparagus spears. You can add low-carb tomato and basil sauce. Use lean beef steaks, like sirloin or fillet mignon. Add a teaspoon of oil or olive oil. To add taste, sprinkle salt and pepper.
4.) Managing Macros: Key Nutritional Insights 
You should also understand macronutrient ratios on keto OMAD. Learn the optimal macronutrient distribution for a successful Keto OMAD experience.
Typically, it includes around 70-75% fat, 20-25% protein and 5-10% carbs.
5.) The Role of Fats
Fats are a dense source of energy. They provide more than twice the calories per gram compared to carbs and proteins. When you consume fats, your body can use them for immediate energy or store them for later use.
They also play a vital role in hormone synthesis, including hormones that regulate metabolism, immune function, and appetite. Balanced fat intake can help maintain hormonal equilibrium.
Dietary fats can promote a feeling of fullness and satiety, which can help you control your appetite and reduce overall calorie intake when trying to lose weight.
Fats become the primary energy source in the Keto OMAD diet. This can promote weight loss by encouraging your body to burn stored fat for fuel.
6.) Proteins and Their Roles 
Proteins are the building blocks of your body. They are vital for repairing and building tissues. 
Many enzymes that drive biochemical reactions in your body are made of proteins. These enzymes are involved in processes like digestion, energy production, and detoxification.
Some hormones, such as insulin and growth hormones are influenced by protein intake. Proper protein consumption can help regulate these hormones and support healthy metabolism.
Like fats, proteins contribute to feelings of fullness and satiety. Including adequate protein in your diet can help control appetite and reduce overall calorie consumption.
When losing weight, it is vital to preserve lean muscle mass. Sufficient protein intake helps maintain muscle tissue while promoting fat loss.
7.) Carb on Keto OMAD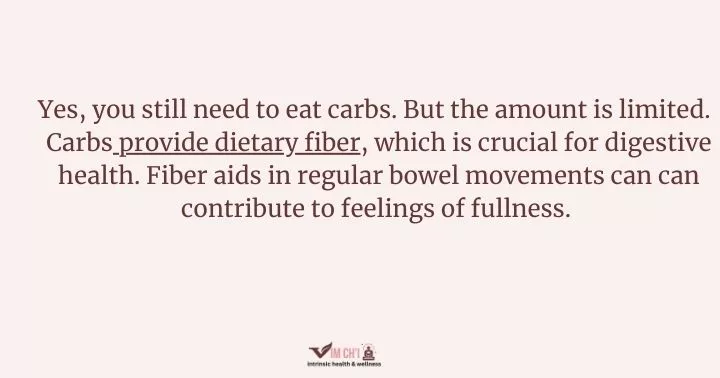 Yes, you still need to eat carbs. But the amount is limited. Carbs provide dietary fiber, which is crucial for digestive health. Fiber aids in regular bowel movements can can contribute to feelings of fullness.
Different carbs have varying effects on blood sugar levels. Complex carbs, found in foods like whole grains and vegetables, release glucose slowly and help stabilize blood sugar levels.
8.) Week 2: Fine-Tuning Your Routine
After completing your first week of the Keto OMAD challenge, you will have gained valuable insights and experiences. Week 2 is all about building upon your initial progress, refining your approach, and ensuring that you are on track for sustainable weight loss and overall well-being.
9.) Reviewing Week 1 Progress and Adjustment
Assessing Your Initial Results: Start the week by reviewing your achievements and challenges from the first week. Take a close look at your weight loss progress, changes in energy levels, and any other observations you have made.
Adjusting Your Meal Plan: Based on your review, consider making necessary adjustments to your meal plan. This could involve tweaking your macronutrient ratios, portion sizes, or food choices to better align with your goals and preferences.
Learning from Challenges: Reflect on any difficulties you encountered during week 1, such as cravings or feelings of hunger. Develop strategies to overcome these challenges in the coming weeks, whether it is through mindful eating techniques, meal timing adjustments, or incorporating satisfying keto-friendly snacks.
10.) Exploring Difference Food Options and Recipes 
Maintaining a diverse and enjoyable menu is essential for long-term adherence to the diet. Explore new recipes and food options to keep your meals interesting and sustainable. You may check out our page here.
You should also experiment with a range of keto-friendly options, including various sources of healthy fats, proteins, and low-carb vegetables. This not only ensures you are getting a well-rounded mix of nutrients but also prevents dietary monotony.
Dive into the world of keto-friendly recipes, which can include everything from hearty salads with avocado and grilled chicken to rich, creamy cauliflower mash. Explore flavors and cuisines while staying within your dietary guidelines.
11.) Staying Consistent with Fasting and Meal Timing 
One of the key components of this diet is adhering to a specific fasting schedule. Make sure you are maintaining the discipline of fasting throughout the day and consuming your one meal within your designated eating window.
Fine-tune your meal timing to align with your lifestyle and energy levels. Some people prefer having their OMAD meal in the evening. But you may find it more convenient during lunchtime. Choose a schedule that suits your daily routine.
Remember to stay hydrated during your fasting period by drinking water, herbal teas, or black coffee. Adequate hydration can help control hunger and maintain your energy levels.
12.) Week 3: Overcoming Challenges and Plateaus 
By the time you reach week 3 of your keto OMAD challenge, you have already made significant progress. However, it is not uncommon to encounter challenges and even weight loss plateaus during your journey. This week is all about equipping yourself with strategies to overcome obstacles, push through plateaus, and maintain the motivation and commitment necessary for long-term success.
13.) Common Obstacles and How to Tackle Them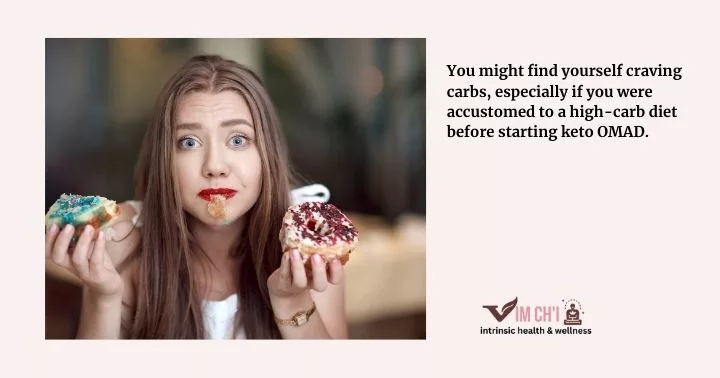 Carb cravings: You might find yourself craving carbs, especially if you were accustomed to a high-carb diet before starting keto OMAD. I defeated this challenge by eating keto-friendly snacks on hand, like nuts or celery with cream cheese, to satisfy cravings without derailing my process.
Social Pressure: Social gatherings and dining out can present challenges when sticking to your plan. Prepare for these situations by researching restaurant menus in advance and communicating your daily preferences to friends and family.
Hunger pangs: As your body adjusts to the fasting period, you may experience hunger pangs. Combat this by drinking water, herbal tea, or black coffee during your fasting window. Ensure that your meal is sufficiently filling and nutrient-dense to help you feel satisfied.
Read: Keto OMAD vs. OMAD Carbs
14.) Breaking Through Weight Loss Plateaus
Occasionally, adjusting your calorie intake can help break through a weight loss plateau. Consider cycling your calories by having slightly higher and lower calorie days within your overall weekly intake.
Experiment with different IF patterns, such as 16/8 or 18/6, where you fast for a shorter duration before your OMAD meal. This variation can help kickstart your metabolism and help with weight loss.
Incorporating regular physical activity can help rev up your metabolism and break through plateaus. Both cardiovascular exercise and strength training can be beneficial. Consult a fitness professional to create a workout plan that complements your journey.
15.) Staying Motivated and Committed
Sometimes, the scale does not tell the whole story. Focus on non-scale victories, such as increased energy levels, improved mental clarity, better sleep, and clothing fitting more comfortably.
These achievements can be motivating even when the scale is not moving as quickly as you would like.
Maintain a positive mindset by reminding yourself of the reasons you embarked on this journey. Practice self-compassion and acknowledge your progress, no matter how small.
Share your journey with friends or join a keto OMAD community for support and accountability. Knowing that you are not alone in your challenges can be incredibly motivating.
16.) Month-Long Mastery: Sustaining Keto OMAD 
As you approach the final stretch of your month-long Keto OMAD journey, it is crucial to shift your focus from short-term goals to long-term sustainability.
This phase is about consolidating the progress you have made. It ensures that you can maintain your lifestyle and set yourself up for a healthy and vibrant future.
You should also think back to the challenges you faced during your journey. Consider how you overcame them and what strategies were most effective. This self-reflection can help you navigate future obstacles.
Explore new foods, recipes, and cuisines to keep your keto OMAD lifestyle exciting and enjoyable. Variety not only adds pleasure to your meals but also ensures you receive a wide range of nutrients.
A Solid Foundation for Sustainable Weight Loss 
The month-long keto OMAD challenge has provided you with a solid foundation for sustainable weight loss and improved health. Reflecting on your achievements, transitioning to a long-term approach, and setting future goals will empower you to continue reaping the benefits of this lifestyle.
Keto OMAD for a month is a journey. It is unique for everyone. To make it work for you, stay committed to it.