In this post, I'm going to share with you what I found about intermittent fasting for women over 40.
I dove deep into this topic to uncover the good, the bad, and the ugly.
I evaluated its benefits, the fasting schedule ideal for women over 40, and found out what is the best IF for middle-aged women.
So, make sure to read this post until the end. That way, you can decide for yourself whether or not to use IF to help you lose weight.
Since hydration is vital when fasting but you keep forgetting to drink water, this water bottle will help.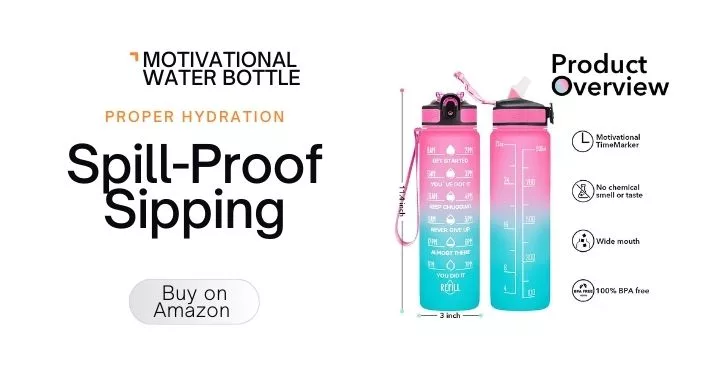 As an Amazon Associate, we earn from qualifying purchases.
1. Is Intermittent Fasting Ideal for Women Over 40? 
As you enter your fifth decade and beyond, your metabolic changes and hormonal fluctuations can present unique challenges. IF is characterized by alternating periods of eating and fasting.
It has shown potential benefits that align with the needs of this demographic.
As your metabolism tends to slow down, weight management has become an increasing concern. But IF can stimulate metabolism by optimizing insulin sensitivity and promoting fat utilization. It can aid you in achieving and maintaining a healthy weight.
The hormonal shifts during this life stage can also lead to mood swings, reduced bone density, and muscle loss. Fasting may positively influence hormones like insulin and human growth hormone, supporting bone health, muscle preservation and potentially reducing the risk of insulin-related issues.
Cognitive health is another area of focus as you age. IF has been linked to increased production of brain-derived neutrophil factor (BDNF). It supports nerve cell growth and cognitive function. This suggests that fasting might contribute to sharper cognitive faculties.
Read: Intermittent Fasting if You Have PCOS
2. How can a 40-Year Old Woman Lose Weight Fast? 
IF can be an effective strategy for you as an over-40-year-old woman. But before you make any changes to your diet or exercise routine, you should consult with your healthcare providers. They can assess your health profile and provide personalized recommendations.
There are several IF methods to consider. I'll talk deeper about them later on.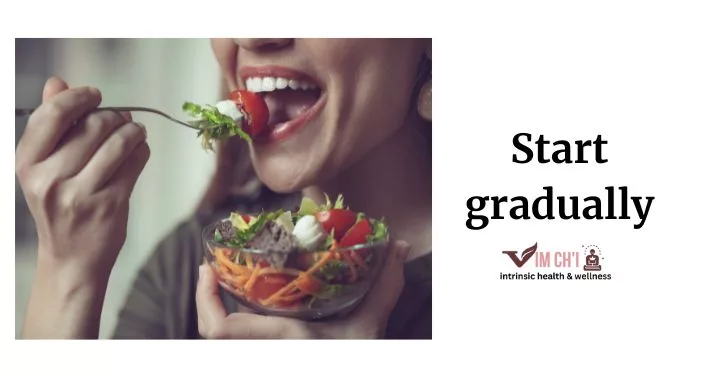 The 16/8 method involves fasting for 16 hours and eating during an 8-hour window.
The 5:2 method allows normal eating for five days and restricts calorie intake on two non-consecutive days.
The eat-stop-eat method requires fasting for 24 hours once or twice a week.
Experiment to find the method that suits your lifestyle and preferences.
You may start gradually. If you are new to IF, ease into it. Begin by extending your fasting window gradually. For instance, if you eat breakfast at 7 am, try pushing it to 8 am or 9 am and extend the fasting period over time.
Drink plenty of water during your fasting periods to stay hydrated and help control hunger. Herbal teas and black coffee without added sugar or cream can be consumed during fasting hours.
However, it is ideal to just drink plain water. This is especially true if you suffer from GERD. Keep in mind that drinking coffee or tea on an empty stomach can trigger reflux.
When you break your fast, focus on nutrient-dense foods and incorporate lean proteins, whole grains, vegetables, fruits, and healthy fats into your meals. You should also avoid processed foods, sugary snacks, and excessive calorie consumption.
Ensure that your meals are well-balanced and provide a mix of macronutrients, like protein, carbs, and fats to support energy levels and muscle preservation.
You should also monitor your portion sizes to avoid overeating. As we always mention here at Vim Chi, the calories you eat and the calories you burn still matter in IF.
You will not lose weight with IF if you take more calories than your body burn.
If you really wish to lose weight with IF, you need to eat less, move more, and strength training.
Practice mindful eating to become more attuned to your body's hunger and fullness cues. It can prevent overeating during eating windows.
Consistency is key with IF. Stick to your chosen fasting schedule and healthy eating habits over time to see sustainable results.
Prioritize getting enough sleep as insufficient sleep can negatively impact your weight loss efforts and overall health.
Read: How Fasting Affects Your Body If You're Breastfeeding?
3. What is the Best Intermittent Fasting Schedule for Women to Lose Weight?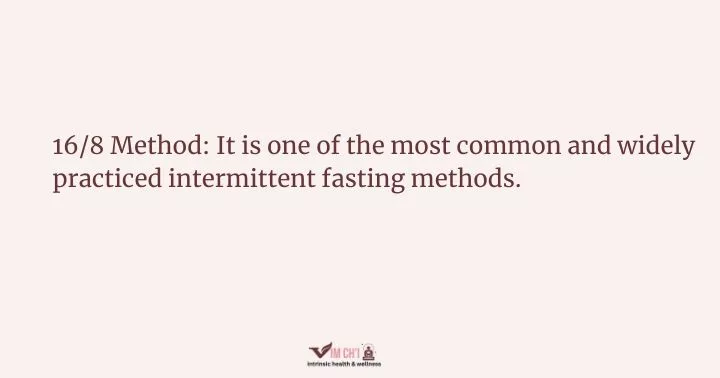 The best fasting schedule for women over 40 to lose weight will vary based on your lifestyle and response to this method. It is vital to find a schedule that you can comfortably stick to and that aligns with your overall health goals.
16/8 Method: It is one of the most common and widely practiced intermittent fasting methods. It includes fasting for 16 hours and eating during an 8-hour window. For instance, you might eat between noon and 8 PM and fast from 8 pm to 12 pm the next day. This schedule can be adaptable and allows for flexibility in meal timing.
5:2 Method: In this approach, you eat normally for five days of the week and restrict calorie intake on two non-consecutive fasting days. On fasting days, you could consume a light meal or spread your calories throughout the day. It provides some flexibility and may be easier to manage.
Alternate-Day Fasting: This method involves alternating between fasting days and regular eating days. On fasting days, you might consume a very low-calorie diet or fast entirely, while on eating days, you eat normally. This approach may require more discipline and planning but you can yield effective results.
24-hour Fasting: This approach involves fasting for a full 24 hours once or twice a week. For instance, you might fast from dinner one day to dinner the next day. It is vital to ensure you are still consuming adequate nutrients on your non-fasting days to support your health.
Time-restricted eating: If you want a more flexible approach, then this is the method you need. It does not involve long periods of fasting. You might choose to restrict your eating to a specific window each day, such as 10 hours, and fast for the remaining 14 hours. It can be a gentler introduction to fasting if you are new to this concept.
4. Does Intermittent Fasting Work for Middle-Aged Women? 
Yes, intermittent fasting can be effective for middle-aged women. Just as it can be for individuals of various ages.
Middle-aged women, typically between the ages of 40 and 65, often experience hormonal changes, metabolic shifts, and lifestyle challenges that can impact weight management and overall health.
IF offers several potential benefits that can address these factors.
Hormonal Balance: Hormonal fluctuations during middle age can impact weight distribution and contribute to conditions such as insulin resistance and type 2 disables. IF may help regulate hormones that are related to metabolism and insulin, supporting hormonal balance.
Weight Management: IF can create a caloric deficit, which is essential for weight loss. By reducing the eating window, individuals may naturally consume fewer calories, aiding in weight management.
One-Size-Fits-All 
Intermittent fasting for women over 40 is not a one-size-fits-all approach. You should consider your health status, medical history, and lifestyle when you decide to incorporate IF. You should consult your healthcare professional before you start this dietary regimen.