It is a battle of the diets: OMAD keto vs. OMAD carbs. Which one should you pick? Both have their dedicated followers, by the way. But the question remains. Which one reigns supreme in the quest for optimal health and well-being?
Let's dive in to help you make an informed choice.
To make OMAD a lot easier, here's a game-changer for your journey. Apple Cider Vinegar Plus Keto. It gives you energy without the jitters. It also supports healthy digestion.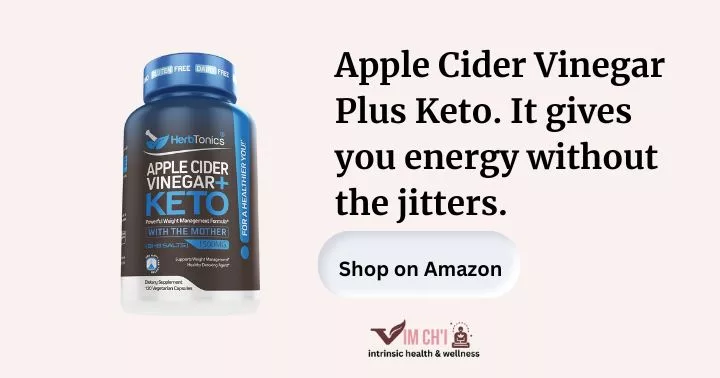 The Fundamental Principles: OMAD Keto vs. OMAD Carbs 
OMAD ketogenic diet is known for its emphasis on high fat. It also requires eating moderate protein and mineral carbohydrates. It aims to push the body into a state of ketosis, where it burns fat for fuel, rather than carbs.
OMAD carbs, on the other hand, focus on consuming primarily carbs during the one meal of the day. This approach provides a quick source of energy. It often includes a mix of complex and simple carbs.
Read: Will OMAD Slow My Metabolism?
Weight Loss and Fat Burning 
OMAD keto: Advocates of OMAD keto argue that it is an effective method for weight loss and fat burning. By restricting carbs, the body turns to stored fat for energy. It leads to weight loss. Furthermore, ketosis can suppress your appetite. It makes it easier to maintain a calorie deficit.
OMAD carbs enthusiasts argue that carbs are essential for energy and exercise performance. They contend that consuming carbs during one meal provides the necessary fuel for workouts and daily activities. It potentially aids in weight loss indirectly.
Health Implications
These two diets do have some health implications. Proponents of OMAD keto suggest that it may have benefits beyond weight loss. These would include improved blood sugar control, enhanced mental clarity, and reduced inflammation. However, critics warn about potential risks like nutrient deficiencies and the keto flu.
OMAD carbs highlight the importance of a balanced diet rich in fiber and essential nutrients. They argue that this approach can provide sustained energy levels throughout the day. It can potentially improve overall well-being.
Sustainability and Lifestyle Compatibility
OMAD keto may be challenging for some to sustain due to its strict carb restrictions. Social situations and dining out can also pose challenges making it less adaptable to certain lifestyles.
If you want a less restrictive approach, OMAD carbs might be the better option. This one is easier to incorporate into your daily routines. After all, most foods that you can find at a grocery store are full of carbs.
OMAD carbs allow for a wide range of food choices. This makes social interactions and dining choices less cumbersome.
Read: What foods to eat on OMAD?
Personalization and Goals 
The choice between OMAD keto and OMAD carbs often comes down to personal preference and goals. If you prefer a diet that promotes fat loss and ketosis, OMAD keto might be your preferred choice.
OMAD carbs, on the other hand, value variety in your meals. And if you believe that carbs must be part of your diet, then OMAD carbs could align better with your preferences and goals.
Do Carbs Matter on Keto?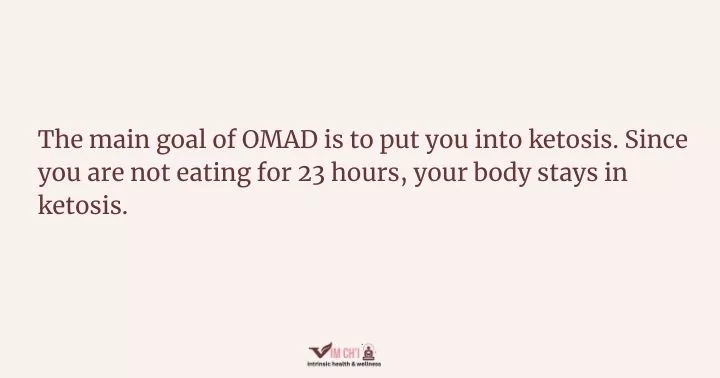 The main goal of OMAD is to put you into ketosis. Since you are not eating for 23 hours, your body stays in ketosis. That is, your body burns stored fats to give you energy.
If you want to consistently remain in ketosis, you should restrict your carb intake. Experts recommend taking less than 20 grams a day.
But make sure to spread your carb intake so that each meal has over 10 grams.
Read: Low Carb Wraps
Is OMAD Better with or without Keto or carbs? 
In my experience, I prefer incorporating keto with OMAD. Eating a lot of carbs while on OMAD would only make me more ravenous.
Keto diets suppress appetite by lowering the secretion of the hunger hormone ghrelin, according to this study. The exact mechanism by which this diet suppresses appetite is yet to be determined.
However, you need to allow your body to be adapted to a keto diet.
Fats and Your Hunger 
Fat is more calorie-dense compared to other macronutrients. Thus, they contribute to satiety.
The ketones affect appetite regulation as they stabilize blood glucose. As your body enters ketosis, your blood glucose levels become more stable. This can inhibit hunger stimulation.
As mentioned, ketosis reduces the production of ghrelin, resulting in appetite suppression.
Which Diet Wins?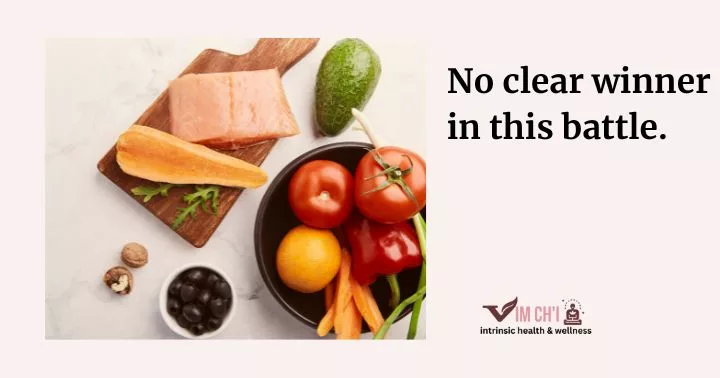 The battle between OMAD carbs and OMAD keto does not have a clear winner. It really depends on various factors, such as your individual goals, preferences, and health considerations.
Both approaches have their strengths and potential drawbacks. They make it essential to choose the one that aligns with your specific needs and lifestyle.
Read: Keto Kitchen Gadgets
OMAD keto may be more suitable if: 
Your primary goal is weight loss. Keep in mind that if you don't eat, your body goes into ketosis. It means that it uses ketones as fuel. Hence, it makes it an effective way to burn fats and promote weight loss.
You prefer mental clarity. Some individuals report increased mental clarity and improved focus when in ketosis.
Appetite control is crucial. Ketosis can help control appetite. It makes it easier to maintain a calorie deficit.
OMAD carbs may be a better fit if:
You have an active lifestyle. Carbs are the body's preferred source of energy. That's why the OMAD carbs diet is more suitable if you have high physical activity levels.
You prioritize balanced nutrition. Focusing on carbs, instead of fats, can provide a broader range of essential nutrients, including fiber, vitamins, and minerals.
Dietary flexibility is important. This approach allows for a wide variety of food choices, which can be more adaptable to social situations and personal preferences.
Which Reigns Supreme?
Ultimately, there is no one-size-fits-all answer in this battle. It is crucial to consider your specific health goals, daily routine, and personal preferences when choosing between these two strategies.
Consult with a healthcare professional or registered dietitian who can provide you with valuable guidance to help you make an informed decision based on your unique circumstances.
Remember that the key to success in any diet is consistency, balance, nutrition, and ensuring it aligns with your overall well-being goals. Choosing OMAD keto vs. OMAD carbs is a matter of preference and your health goals.