Intermittent fasting is a trending topic on social media platforms like Instagram. However, it is essential to note that juice fasting is distinct from IF.
In this post, you will know the most talked about things about juice fasting for weight loss that you might not have heard of.
If you opt for juice fasting, it is important to remember to stay hydrated. And if you tend to forget to drink enough water, consider using a water motivator that includes a time marker to keep you on track.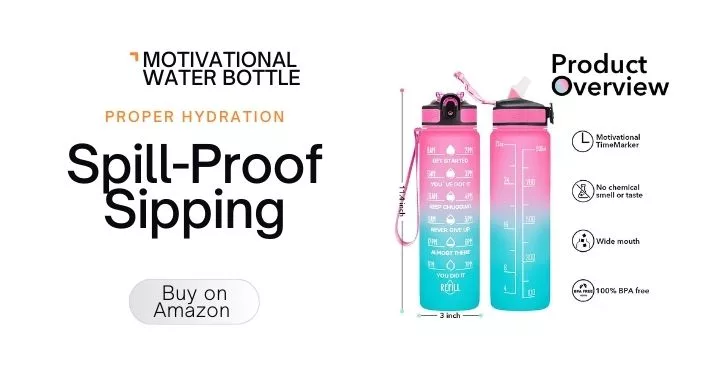 As an Amazon Associate, we earn from qualifying purchases.
1.) What is Juice Fasting for Weight Loss?
Understanding the Basics of Juice Fasting
Juice fasting is a dietary practice that involves consuming only freshly squeezed or extracted fruit and vegetable juices for a specified period while abstaining from solid food.
That's why it's not for the fainthearted.
This approach has gained popularity for its potential health benefits, including detoxification, weight loss, and improved overall well-being.
It involves the consumption of liquids, primarily fresh juices made from fruits, vegetables, or a combination of both. These juices are often prepared using a juice or blender to extract the liquid content.
Note: It does not include canned fruit juices.
Short-term or Extended Fasting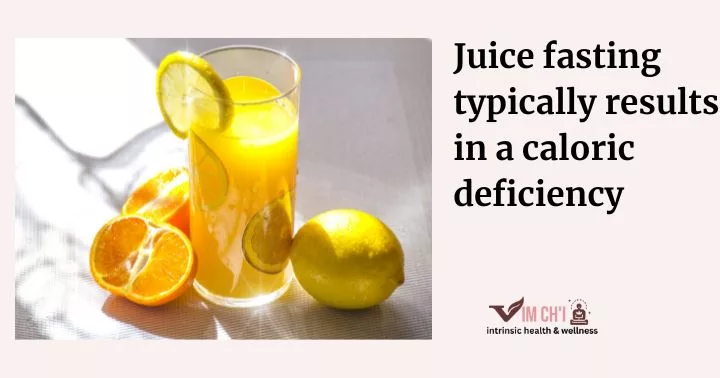 Juice fasts can vary in duration. You can do a 24-hour fast for several weeks. The choice of duration depends on individual goals, health considerations, and experience level.
I don't recommend juice fasting for more than 24 hours. But it really depends on your body.
The focus of this fasting is on nutrient-dense liquids that provide essential vitamins, minerals, antioxidants, and phytonutrients. These nutrients are readily absorbed by the body because of the absence of fiber.
It offers a burst of nourishment.
Juice fasting typically results in a caloric deficiency because juice calories are significantly lower than those from solid foods unless you add sugar.
This deficit can contribute to weight loss, making it a popular choice if you seek to shed pounds quicker.
Advocates of this fasting often claim that it helps the body detoxify by facilitating the removal of toxins and waste products. The high water content in juices may support kidney and liver function, which play key roles in detoxification.
Juices are also an excellent source of hydration because of their water content. They help maintain overall bodily functions and prevent dehydration.
There are a variety of juice that can try, including green juices, fruit juices, and vegetable juices. You may also incorporate supplements like protein powders or superfoods into your juice blends.
Differentiating Juice Fasting from Traditional Diets
Juice fasting is different from a traditional diet because it offers a unique approach to nutrition and weight loss.
Nature of Consumption 
In juice fasting, the primary source of nutrition is freshly squeezed or extracted fruit and vegetable juices. Solid foods are not part of it during the fasting period.
Traditional diets, on the other hand, consists of a variety of solid foods, including proteins, carbs, fats, and fiber. Meals are consumed regularly and often in prescribed portions.
Caloric Intake
Juice fasting results in a significant calorie deficit because juices are lower in calories compared to solid foods. This caloric restriction often leads to weight loss.
Traditional diets may vary in caloric content, depending on the chosen foods and portion sizes. Some diets restrict calories for weight loss, while others focus on balanced, sustainable nutrition.
Nutrient Density
Juice fasting emphasizes nutrient-dense liquids, thereby, delivering vitamins, minerals, and antioxidants. But you drink them without the fiber present in whole fruits and vegetables. It allows for rapid nutrient absorption
Traditional diets incorporate a broader range of foods, including those rich in fiber. Fiber contributes to satiety, digestion, and overall health.
2.) The Science Behind Juice Fasting for Weight Loss
How Juice Fasting Promotes Weight Loss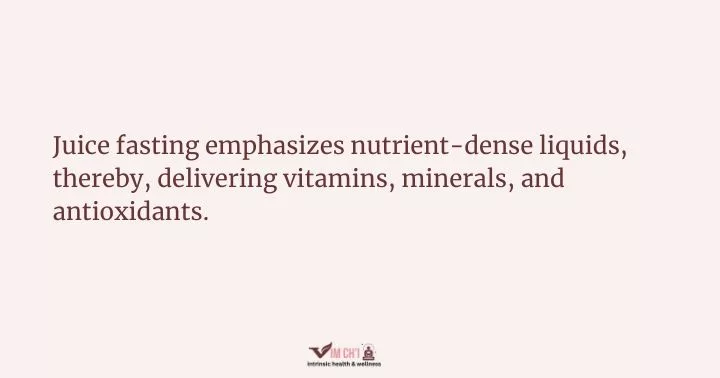 Juice fasting can help you lose weight through a caloric deficit. Juices are lower in calories than typical meals.
Thus, drinking fruit and vegetable juices only can lead to a reduced overall calorie intake.
When you take fewer calories than your body burns, it creates a calorie deficit, which results in weight loss.
Furthermore, juice fasting can improve insulin sensitivity. When you fast, particularly during extended fasting periods, your body's insulin levels decrease.
Improved insulin sensitivity can help regulate blood sugar levels, reduce fat storage, and encourage the breakdown of stored fat for energy.
Some studies suggest that juice fasting may increase thermogenesis. This is the process by which the product produces heat and burns calories.
Certain compounds in fruits and vegetables, such as capsaicin in chili peppers, can stimulate thermogenesis and enhance calorie expenditure.
It may also temporarily lower your metabolic rate as your body adapts to the lower calorie intake. It can still lead to a healthier metabolic profile.
The reason for this is that it improves mitochondrial function and increases the utilization of stored fat for energy, which can support long-term weight loss.
It also influences the release of hormones related to appetite and satiety. For instance, fasting may lead to increased levels of norepinephrine, a hormone that helps control hunger.
This can reduce overall food intake and contribute to weight loss.
Metabolic Changes During Fasting
In the initial stages of juice fasting, your body depletes its glycogen stores, which are the stored form of carbs in the liver and muscles.
It results in a rapid drop in water weight as glycogen holds water. While this contributes to initial weight loss, it is important to note that this is mostly water weight, not fat loss.
Extended juice fasting may also lead to a state of ketosis, where your body starts to use stored fat as its primary source of energy. Ketones are produced as a byproduct of fat metabolism. It can further promote fat loss.
When you do it correctly, this form of fasting can help preserve lean muscle mass. unlike crash diets that often result in muscle loss, the nutrient content in juices and the body's shift toward using fat for energy can spare muscle tissue.
At first, your metabolic rate and energy expenditure are reduced as your body adapts to it. But the adaptations are reversible and generally return to normal once regular eating resumes.
3.) Choosing the Right Juices for Weight Loss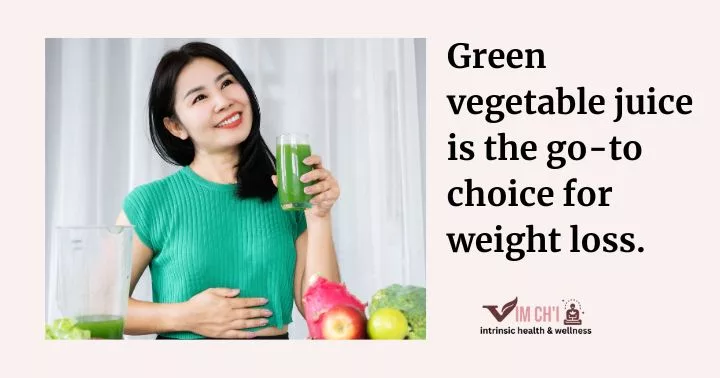 For optimal results, you must opt for the following:
Green vegetable juices: They are the go-to choice for weight loss. They are low in calories and carbs while being rich in vitamins, minerals, and antioxidants. Kale, spinach, celery, cucumber, and parsley are excellent choices for green juices. They provide essential nutrients while keeping your calorie counts low.
Citrus juices: Perfect examples are oranges, grapefruits, and lemons. They are filling and packed with vitamin C and other antioxidants. Citrus juices can add flavor to your fasting regimen without excessive calories.
Beetroot juices: It is known for its potential to boost metabolism and improve exercise performance because of its nitrate content. It is relatively low in calories and can add a touch of natural sweetness to your juice blends.
Carrot juice: Carrots are known for their beta-carotene, which the body converts into vitamin A. Carrot juice is nutrient-dense, hydrating, and has a naturally sweet flavor that can satisfy cravings for sugary foods.
Berries: You can blend them into juices. Berries, like blueberries and strawberries, are low in calories and high in antioxidants and fiber, which can help with satiety.
Herbs and spices: Incorporating herbs like mint and spices like ginger into your juices can add flavor and boost metabolism. Ginger, in particular, has thermogenic properties that may support calorie burning.
Combine Fruits and Vegetables for Balance
When creating juice blends for weight loss, it is essential to strike a balance between fruits and vegetables. Fruits provide natural sweetness and flavor.
They can also be higher in natural sugars and calories. To ensure a balanced juice fasting experience, make sure to limit fruit content. Don't overdo them.
Incorporate leafy greens as well, like kale, spinach, and Swiss chard. They are low in calories and carbs while offering a wealth of nutrients. They can be the foundation of your weight loss juices.
Use citrus sparingly as they contribute to calorie intake.
Juicing is versatile, so feel free to experiment with different combinations to find what suits your taste.
4.) Safety and Considerations for Juice Fasting
Juice fasting can offer many health benefits. But you should be aware of its potential risks.
Precautions and Risks
It can lead to nutrient deficiencies, especially if done for extended periods. Missing out on essential nutrients like protein, fiber, and certain vitamins and minerals can have adverse health effects.
In fact, a teenager died because of starvation after eating only raw fruits and vegetables (no water).
If you do it for an extended period, you may experience muscle loss as the body breaks down muscle tissue for energy. It can result in a decrease in metabolic rate over time.
The rapid absorption of natural sugars from fruit juices can lead to blood sugar spikes and crashes. It can cause energy fluctuations and mood swings.
You may experience digestive discomfort, including bloating, gas, or diarrhea, because of a sudden increase in fruit and retable intake during juice fasting.
Juices lack fiber. Keep in mind that fiber promotes a feeling of fullness. Without it, you may not feel as satisfied. It leads to increased hunger and overconsumption when you are not fasting.
It can also lead to a drop in blood pressure. This is especially true when you transition from lying or sitting to standing. It may result in dizziness or fainting.
It can also disrupt the balance of electrolytes in the body, leading to issues like dehydration and heart palpitations.
Who Should Avoid Juice Fasting? 
Juice fasting, per se, is safe for many people. But some individuals must not try it:
Pregnant or nursing
People with diabetes
People with certain medical conditions
Children and adolescents
People on medications
Tips for a Safe and Effective Juice Fasting Experience
Before you start this type of fasting, consult with your healthcare provider.
You should also limit your fasting duration.
Stay hydrated as hydration is essential for overall health.
Make sure to add a source of protein to your juice blends, like plant-based protein powder with probiotics. It will help in preserving lean muscle mass
You should also monitor your blood sugar.
Listen to Your Body 
Pay attention to how your body responds during the fast. If you experience severe discomfort, dizziness, or other concerning symptoms, break the fast and seek medical attention if necessary.
Juice Fasting to Lose Weight 
What is juice fasting for weight loss? It can resolve your weight gain issue. But it is not a long-term solution for your weight loss conundrum. If you want to fast to lose weight, choose intermittent fasting. Find out more here.