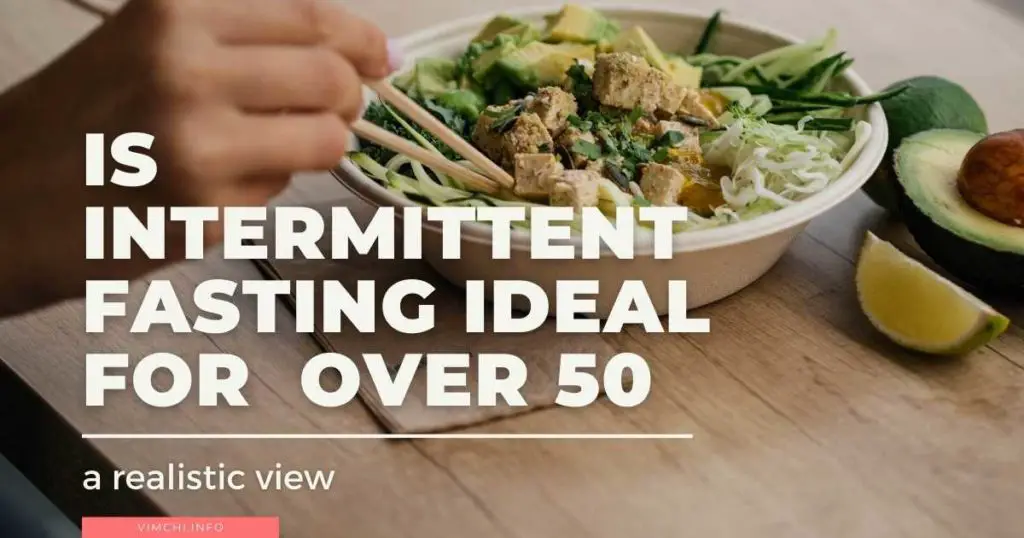 As we get older, losing weight becomes a struggle. And people over 50 face an uphill battle when trying to lose weight. Several reasons can stem from this. But the main cause is a slowed metabolism. Can intermittent fix it? Is intermittent fasting good for over 50? Let's find out here.
How to Get Enough Calories on OMAD
Is Intermittent Fasting Good for Over 50 or Even 60? Can It Really Help Older People to Lose Weight? 
Yes, intermittent fasting is good for over 50 or 60. It has many health benefits. Theoretically, it can result in a metabolic switch. Since older people suffer from a slowed metabolism, this eating plan can help.
But How?
Fasting reduces blood glucose levels. When you fast, your body utilizes fat. It turns the fat into ketones and uses them as a source of energy.
The shift from energy sources can cause a significant change in body chemistry.
In animal studies, fasting is associated with weight loss, lower blood pressure, and heart rate. It's also related to reduced insulin resistance.
In a recent Harvard study, researchers found that this eating plan allowed mitochondria to produce energy more efficiently. The researchers added that when you don't eat at night, the mitochondria aren't challenged. As a result, they perform their "tasks" well.
What are the Risks Involved? 
Intermittent fasting could be beneficial for some older people while it might be risky for others. It has a lot of health benefits. But how it affects older adults isn't completely understood.
However, some older adults who are even older than 60 follow this eating plan and they are healthier than younger individuals who aren't fasting.
Some natural health experts recommend fasting once or twice a week. During fasting days, you're only allowed to eat less than 500 calories a day.
Experts, however, don't recommend losing too much weight because it can affect your bones, energy levels, and immune system.
If you take medications with food, you shouldn't try intermittent fasting. You may feel nauseous or suffer from stomach irritation.
You should also avoid intermittent fasting if you are taking heart or blood pressure medicines because you might suffer from potassium and sodium imbalances when you're fasting.
You must not try this eating plan if you have diabetes, without first talking to your doctor.
How to Try Intermittent Fasting Safely? 
If you wish to try IF, you should talk to your physician. Some doctors now are open to this idea.
However, others might not agree. Instead, they may provide you with an eating plan that won't require fasting.
To ease into this diet, it's ideal that you slowly change your eating period. For instance, if you're eating period now is 12 hours, you may reduce it over several months.
Regardless of the eating window, you should continue taking your medicines. Most medicines won't break your fast.
However, if you're taking prescription medicine that needs to be taken with food, you need to adjust your schedule. Make sure that you take it during your eating window to prevent side effects.
What is the Age Limit for Intermittent Fasting?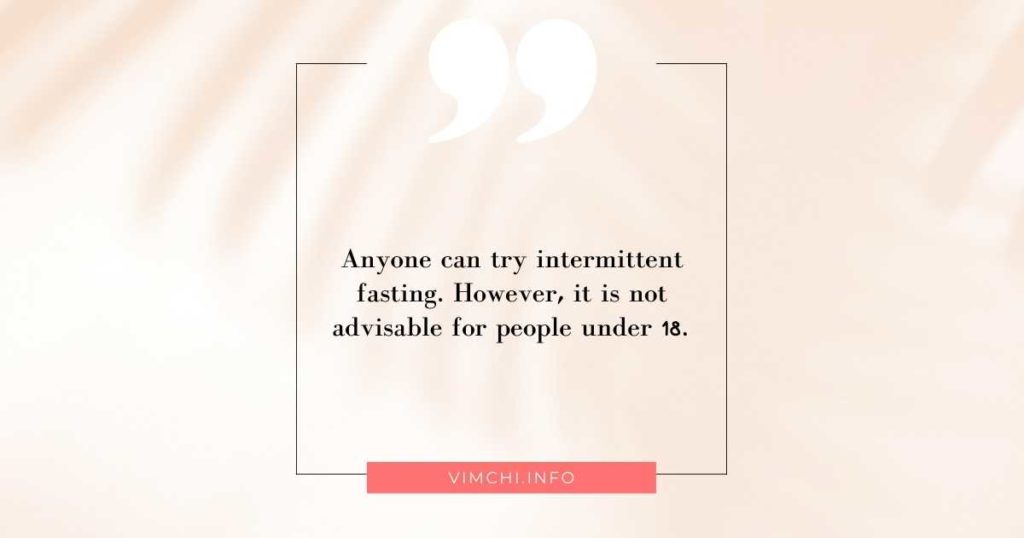 Anyone can try intermittent fasting. However, it is not advisable for people under 18. If you're still young and you struggle to lose weight, you should talk to your doctor or a nutritionist.
Several diets don't require fasting and are appropriate for young adults.
What are the Different Variations of IF? 
Before you try IF, though, you must understand the many variations of this eating plan. You might think that the only method is 16/8, which is the most popular one.
However, 16/8 is just one of the daily methods you can try. You can follow a 12/12 method. It means that your eating window is 12 hours and you fast for 12 hours.
But for 16/8 fasting, you fast for 16 hours while your eating window is 8 hours. The daily method is easier to follow than the following methods.
5:2 
This eating plan doesn't involve fasting daily. You can eat normal, healthy meals over 5 days of the week. But during 2 days of the week, you should limit yourself to 600 calories. You can spread the calories throughout the day or you may eat all calories in one meal.
OMAD 
One meal a day (OMAD) is not advisable to those who are just starting out. If you have tried fasting for several months, then that's the time to eat one meal a day.
OMAD is an extreme version of IF. This plan requires you to fast for 23 hours and have an eating window of 1 hour.
Here are things you might want to read first to help you get acquainted with OMAD.
24-Hour Method 
It's similar to OMAD but you increase your fasting hours. Instead of 23 hours, you don't eat for 24 hours. For example, you don't eat from 5 pm to 5 pm the following day.
At 5:01 pm, your eating window starts. After an hour, you can start fasting again for another 24 hours.
These extreme versions of intermittent fasting are not meant for the faint-hearted.
You must not follow them if you haven't tried the shorter fasting periods.
Keep in mind that if your body isn't used to fasting, you may feel extreme irritability.
You may also suffer from fatigue and headaches. Although you may lose a lot of weight with these methods, they might not be the best options for you.
What to Eat During Fasting Period? 
It depends on the kind of fasting you follow. If you wish to be strict, you should only drink water while fasting.
You can't eat low-calorie foods or drink coffee or tea. If you won't undergo any medical examination that requires fasting, you may eat low-calorie foods.
But remember that when you drink a 5-calorie tea can break your fast, theoretically. That's because anything that has calories, high or low, can break your fast.
If you want to be strict, you should follow NPO or nil per os.
Summary 
Is intermittent fasting good for over 50? It may be safe for some older adults but not for other older individuals. If you're taking medicines, you should consult your doctor before trying this eating plan.