You might have heard of intermittent fasting. But do you know dry fasting? What are the dry fasting stages you must know?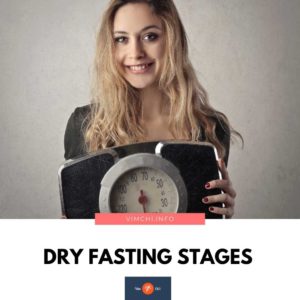 Keep reading to find out more. Find out below who fasted the longest.
Read: Can You Drink Herbalife Tea and Protein Shake on Intermittent Fasting?
What are the Important Dry Fasting Stages? 
Dry fasting is a form of intermittent fasting. However, it's different from forms of fasts. This type of IF has two phases.
Fasting. As the term suggests, you'll fast at this stage. It's a dry fast so you can't eat anything or drink anything. Even water is not allowed.
Building. In here, you will eat and drink to nourish your body.
The simplest way to do this type of intermittent fasting is not to eat and drink for 12 hours. A 12-hour fast is the shortest fast that lets you reap the benefits of dry fasting.
Read: Can You Exercise on Ketosis Diet?
What are the Rules of Dry Fasting? 
If you decide to do dry fasting, there are no complicated rules you need to follow.
During your fasting period, you can't eat or drink anything.
And when the fasting ends, you can eat and drink anything.
You may think that dry fasting is a difficult way to fast. But you must remember that Muslims fast for 12 hours every day for one month.
They don't eat or drink during the fasting phase.
Read: Intermittent Fasting with Keto
Could You Lose Fat with Dry Fasting?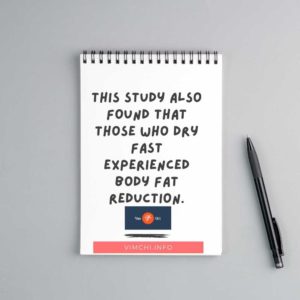 In a study published in the Journal of Human Nutrition and Dietetics, researchers found that individuals who participated in this type of fasting during Ramadan lost a significant amount of weight.
This study also found that those who dry fast experienced body fat reduction. Even though they lose a lot of fat, they didn't lose any muscle tissue.
Lower Inflammation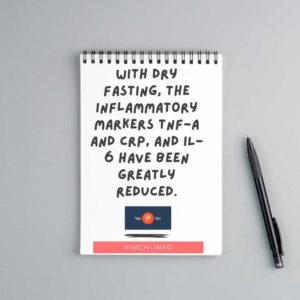 Another study also showed that individuals who fasted during Ramadan have lowered their inflammatory status. Some of them reduced their heart disease risk factors.
With dry fasting, the inflammatory markers TNF-a and CRP, and IL-6 have been greatly reduced.
Researchers concluded in this study that Ramadan or dry fasting could influence the immune system. However, if you go back to eating normally, the benefits of dry fasting on the immune system are gone.
Can Dry Fasting Delay Aging? 
It may slow down the aging process. But there's not enough evidence to prove that this form of fasting is safe and effective.
Is Dry Fasting Safe? 
It can be safe if done for a short period. However, if you do it every day for several months, it may not be good for your body and health.
This type of fasting may cause waste buildup in the kidneys. The reason for this is that you don't drink water after losing it through breath, urine, and stool.
You'll become hydrated.
Not drinking enough water can increase your risk of kidney stones and UTI. It may also decrease your cognition and mood.
This study showed that individuals who didn't drink water for more than 24 hours experienced short-term memory loss and fatigue.
Is Dry Fasting Ideal for You? 
Dry fasting isn't ideal for everyone. It's like intermittent fasting isn't great for everyone.
You can't do dry fasting if you participate in rigorous sports or activities. And if you're over 65, it may not be ideal for you.
Talk to your doctor before you try dry fasting especially if you have a certain chronic condition.
If you have an eating disorder, it might be best not to follow dry fasting.
However, some individuals followed dry fasting for many years. This type of IF has been around for thousands of years. Many religions are constantly talking about it.
Unfortunately, because of our modern lifestyle, we forgot about it. That's because food is available 24/7.
But you need to remember that even though times have changed, how the body works didn't change. It's not designed to eat and digest food at night. Because we ignore it, many of us are suffering from indigestion, bloating, high sugar levels, and feeling heavy, among others.
Then again, this lifestyle change isn't for everyone. Even though Muslims are required to do dry fasting during Ramadan, some of them skip it because of their medical conditions.
Who Has Fasted the Longest? 
Dennis Galer Goodwin went on a hunger strike for 385 days. He holds the record for the longest fast without eating solid food, until 2016. But Guinness is no longer endorsing records that relate to fasting because it might encourage unsafe behavior.
Conclusion
Fasting and building are the two important dry fasting stages you should know. If you're new to IF, read this best intermittent fasting for your weight loss goal.