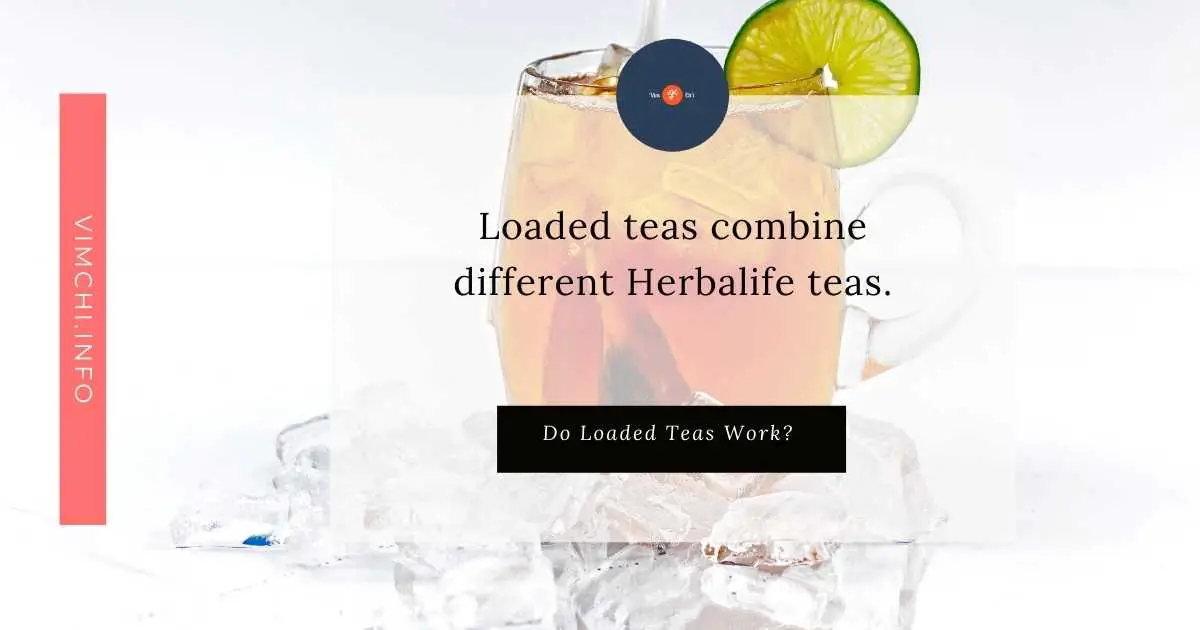 Loaded teas combine different Herbalife teas. But do loaded teas work? Should you try them out?
Let's find out here.
Do Loaded Teas Work?
Loaded teas may work. But there's a caveat.
But are you familiar with these teas? If you're not, then perhaps you're familiar with tea bombs?
Loaded teas or Herbalife tea bombs are marketed as a drink that could offer lasting energy. But before you try them out though, you must first know what they are.
These teas contain different Herbalife supplements. The main ingredients would be LiftOff and Herbalife tea concentrate. You might wonder if it's keto-friendly though. Here's the answer.
Because they include a cocktail of supplements, you may think that they are healthy. But you have to remember that they are also loaded with caffeine. And this is one of the reasons health experts don't recommend them.
Consuming too much caffeine has a lot of potential dangers. You might end up having high blood pressure. You may also experience jitters.
That's why for many health experts, these teas are too good to be true.
Read: Are loaded teas healthy?
What are in the Loaded Teas? 
There's no specific formula to make these teas, though. Basically, you can add any Herbalife supplement. But the most popular ingredients being added are the following:
Liftoff
Herbalife Tea Concentrate
NRG
To improve its taste, you may add sugar-free syrups.
Because of the tea's caffeine content, you may think of it as an energy drink with guarana extract.
You should avoid this tea if you are sensitive to caffeine.
If you're worried about its caffeine content, though, you may wish to customize it. That is, you can add a small amount of each ingredient.
To answer the question of whether or not loaded teas work, it depends on the purpose of drinking this tea. If you're drinking it to lose weight, it might help because it can control your hunger and craving. You'll also have enough energy for workouts.
Unfortunately, it's not for everyone. As mentioned, it's high in caffeine.
Are Loaded Teas Worth It? 
It depends on what you put in them. Keep in mind that you're not limited to Herbalife supplements. You can use other brands to make loaded teas.
But most people who promote loaded teas are distributors of Herbalife.
Loaded teas may be worth it if you make them on your own. In that way, you can customize the serving. That is, you can add a little bit of those ingredients.
Some people drink Herbalife tea in the morning and a cup of NRG tea in the afternoon. They also take LiftOff before working out. They don't take them all at once.
The problem with loaded teas is that they combine all ingredients into one drink. And this is why health experts are doubting their effectiveness.
What you must keep in mind though is that loaded teas are, well, loaded with caffeine. We all know that it can increase your energy levels while suppressing your appetite.
However, too much caffeine has dangerous side effects, especially in large amounts. And because loaded teas come in large amounts of caffeine, they may not be good for your health.
Read: Is loaded safe during pregnancy?
Can You Lose Weight with Loaded Teas? 
You may lose weight with loaded teas because of the caffeine content. Caffeine is known to suppress appetite for some people.
If you drink it before working out, you'll have enough energy to complete a serious fat-burning workout without feeling tired afterward.
And because it has the ability to suppress your cravings and hunger, it may help you lose weight. Then again, when you talk of weight loss, it's important to remember that by eating more calories than your body burns, you still won't lose weight.
If you wish to lose weight with this tea, make sure to optimize the energy that it can provide. You need to work out and increase your physical activities to burn those calories.
Then again, this tea is not for people who are sensitive to caffeine. If you get jitters after drinking coffee, you should avoid this tea.
You might also want to limit your consumption of caffeine when you're pregnant. Caffeine may affect your sleep and your unborn child's.
What is the Point of Loaded Tea? 
The point of loaded tea is to give you energy. Thanks to its caffeine content. You can make your own loaded tea at home if you have the ingredients. Most of them are from Herbalife.
If you wish to try them at home, here are the ingredients you need to prepare.
Although it may have benefits, you may need to limit your intake. You may drink it once a week but not every day.
Some experts don't want to recommend it because the ingredients in this tea are not approved by the FDA. After all, the ingredients are all nutritional supplements and FDA doesn't approve them.
Loaded teas are not available in a coffee shop, though. Rather, you'll find them in a health shop that sells Herbalife products.
Then again, you can always make a cup of loaded tea at home. In that way, you'll know what you're adding to the cup. You can also control the caffeine content of the tea. This is vital if you're highly sensitive to caffeine.
Read: What is similar to Herbalife tea?
Are Loaded Teas Actually Tea? 
Loaded teas are not teas. Rather, they are a concoction of supplements that include Herbalife tea products. As mentioned, they are loaded with caffeine so they can really give you enough energy.
But because of their caffeine content, they are not ideal for everyone. You should also not plan of drinking them every day.
Instead of drinking loaded teas, you might focus on drinking Herbalife tea concentrate. You can drink it one cup a day. Or NRG tea. It can offer clean energy.
Summary 
Do loaded teas work? They may help you lose weight and boost your energy. But they are not ideal for everyone. This is especially true if you are sensitive to caffeine. You must avoid it if you're pregnant.
If you wish to try drinking Herbalife tea, though, you may purchase it here.