How to make a Herbalife tea bomb? What ingredients do you need to make a cup of it? Let's find out in this post.
How to Make a Herbalife Tea Bomb? 
It's easy to prepare a Herbalife tea bomb. If you know a Herbalife distributor, you can buy a kit that contains all ingredients you need.
However, if you can't find a kit, you can always buy the following ingredients:
Liftoff
Herbalife Tea (any flavor but most like the raspberry tea flavor)
NRG
To make a cup of Herbalife tea bomb, add the following ingredients:
A tablet of Liftoff (or half)
Half a teaspoon of Herbalife tea
A teaspoon of NRG
The quantity will depend on how you want your Herbalife tea will taste. You may add Stevia if you want it to be sweeter.
Now, let's take a look at each ingredient.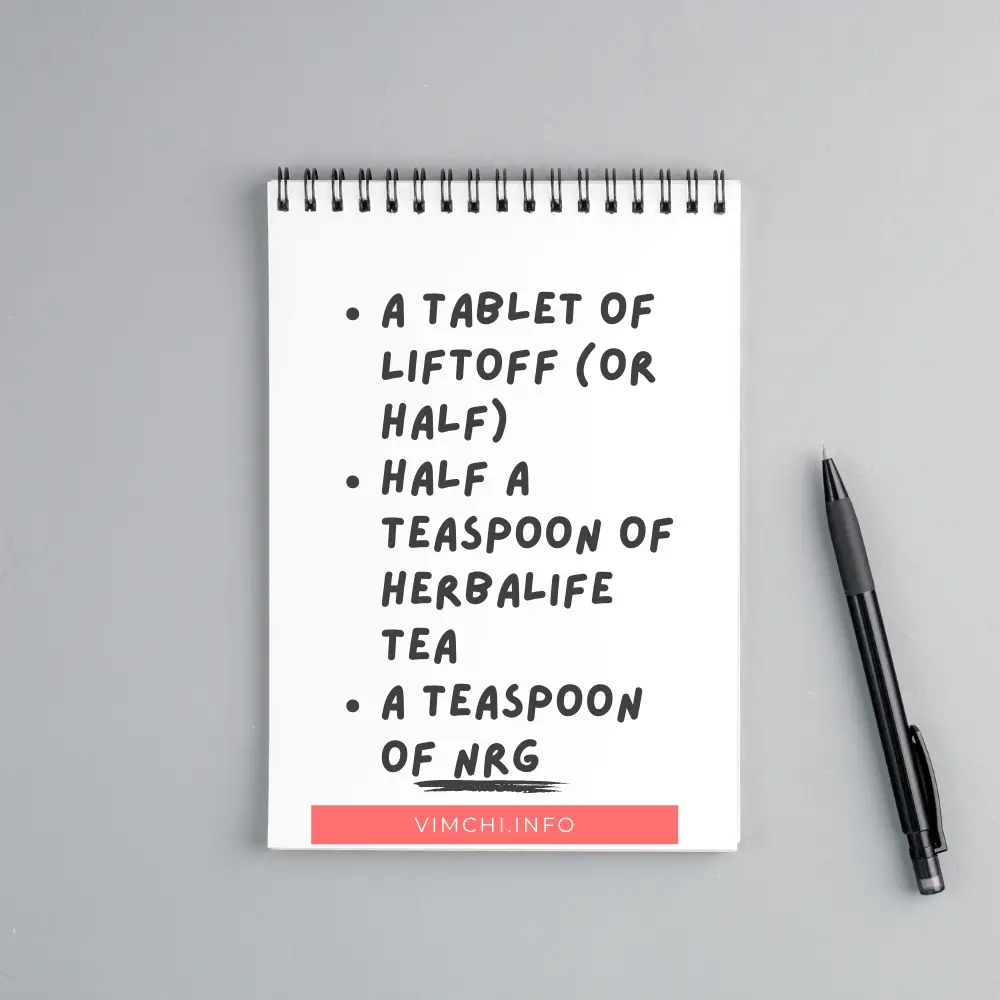 Liftoff
It's an energy drink that contains 75 mg of caffeine. Its total calorie content is 15 while it has no sugar content.
This supplement boosts memory recall while reducing mental fatigue. Its important ingredients would include Panax ginseng, guarana extract, inositol, L-taurine, and caffeine.
Unlike other energy drinks, Liftoff contains a high amount of vitamin C and B vitamins.
With its caffeine content, you can drink it to fight an afternoon slump to keep you alert and focused.
Read: Are Caffeine Pills Safe? 
Herbal Tea Concentrate 
You only need half a teaspoon of this tea. It's a low-calorie tea mix with 85 mg of caffeine per serving.
This is a refreshing drink that can help you feel revitalized. It has a high amount of antioxidants and offers proper hydration for the body.
Read: Are Herbalife Tea Bombs Keto-Friendly?
NRG (Nature's Raw Guarana) 
It's another tea that can help you feel recharged. Just like Herbal Tea concentrate, it has an uplifting flavor that contains guarana seed extract, lemon peel, and orange pekoe.
NRG contains 40 mg of caffeine per serving. Its goal is to increase your mental alertness, making it appealing as a pick-me-up beverage in the morning or afternoon.
Caffeine Content 
One of the things that people are worried about the Herbalife tea bomb is its caffeine content. If you choose to add all of these ingredients, you will get approximately 200 mg of caffeine.
With that amount, it's still within the FDA's caffeine limit.
But you should not drink another serving as you will hit the limit of 400 mg of caffeine per day. Then, if you have a cup of coffee in the morning, you may be nearing your caffeine limit.
However, if you have high caffeine tolerance, drinking two servings of Herbalife tea bomb may still be okay.
This tea is full of vitamins and amino acids. But it's the stimulants that health experts are worried about.
Now, if you wish to lower its caffeine content, you can reduce the serving of each ingredient. For instance, instead of using one tablet of Liftoff, you can just add 1/2 of it. Then, use 1/4 teaspoons of Herbalife tea and NRG.
Why People Are Raving About Herbalife Tea Bomb? 
One of the things that they like about loaded teas is the performance boost. Thanks to its caffeine content.
With its caffeine content, its appetite is suppressed, thereby, reducing its feelings of hunger. It also lowers cravings.
Furthermore, this tea can help burn more calories because of its caffeine content. Then again, it'll be for naught if you continue eating more calories in a day.
Is it Healthy? 
It may be a healthy drink as long as you drink it in moderation. Since it's high in caffeine, you may want to skip it if you're too sensitive to caffeine.
If you suffer from GERD, you may want to avoid it because of its caffeine content.
You should also avoid it if you're prone to tachycardia. Caffeine is a stimulant that can increase your heart rate. And if you drink too much of it, you'll surely suffer from tachycardia or a fast heartbeat.
Will It Help You Burn Belly Fat? 
Tea bomb is full of antioxidants, vitamins, and stimulants. It can help you boost your performance. It means that when you drink it, you're likely to have all the energy you need to exercise more.
But this tea alone won't burn belly fat. You need to pair it with proper exercise and diet. Keep in mind that you can only get rid of belly fat through diet and exercise. You also need to lower your calorie intake per day to lose weight.
The proper way to lose weight is to exercise and consume a healthy diet. You can't depend on tea alone to lose weight. But tea helps boost your performance and may help in burning some calories.
Conclusion
How to make a Herbalife tea bomb? You need to prepare three important ingredients. Each ingredient contains caffeine that can help in boosting your energy.
To know more about the Herbalife Tea bomb, check out this article to find out if it's helpful for your health goals.