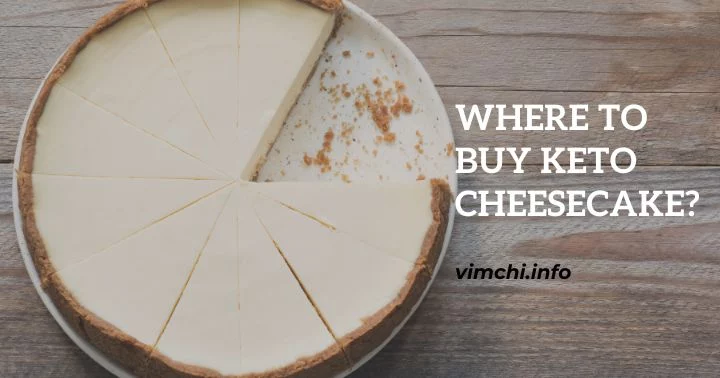 Cheesecake is nearly 2000 years old. The exact age is still debatable. But it was invented in 2000 BC. Western cheesecake, on the other hand, is only 200 years old. 
Today, each country has a version of cheesecake. But for the keto world, there's keto cheesecake. If you're like many keto lovers who don't have time to bake it, you can just buy a box of it.
Where to Buy Keto Cheesecake? 
If you're thinking you can buy it from Cheesecakefactory, then you're mistaken. Although the food chain offers keto-friendly options, its cheesecakes don't pass the mark of keto.
Thankfully, there are online sites that sell them.
And I Like It
Its cheesecakes are keto-friendly and gluten-free. All products are low to zero net carbs.
That's why they are the keto treats you would want to get your hands on if you follow a low-carb, keto lifestyle.
The mini cheesecakes are big enough to make you feel like you have treated yourself well. The portion size can easily fit into your daily macros.
And I Like It is a veteran-owned business. Its mini cheesecakes contain grass-fed collagen with no sugar added.
Wholesome Keto Treats
Another place that can satisfy your cheesecake craving is Wholesome Keto Treats. Just like And I Like It, its cheesecake is gluten-free, low-carb, and sugar-free.
It sells cheesecakes by piece. But it's a giant piece that's good for two people.
Unfortunately, the keto cheesecake is available for pick up or take out. It also delivers locally. Check it out here.
Enlightened 
It's sold in a box. The cheesecakes are rich and creamy. They are ready to eat in minutes. It has different flavors.
You can have strawberry, pumpkin, chocolate, key lime, or classic cheesecake. Its Greek Yogurt cheesecake is also a delight.
If you wish to try it, visit here.
Unfortunately, Sure Keto labeled Enlightened cheesecakes as dirty keto because of their highly processed ingredients.
Instead, the site recommends Wonder Monday because of its 2.6 net carbs per 100 grams. They are also high in fats, which is good for this diet.
Now, if you can't visit those stores mentioned above, you can just bake your own keto cheesecake. Or don't bake it.
The Diet Chef offers has its no-bake recipe for this cake. It only needs the following items:
Cream cheese
Confectioners swerve
Lemon juice
Vanilla extract
Sour cream
For the crust, you'll need almond flour, almond milk, vanilla extract, and salt. To try it out yourself, check out the recipe here.
How Many Carbs are in a Keto Cheesecake? 
Regular cheesecake contains a high amount of sugar. Thus, it's not ideal for a keto diet.
But keto-friendly cheesecakes contain less than 2.9 grams of carbs per serving. Just choose the one with no toppings to avoid added sugar.
Can Cream Cheese Kick You Out of Ketosis?
 
Cream cheese is keto-friendly. It only has 1 gram of carbs per 1 ounce. This is why it's a keto-friendly cheese. Still, it depends on the other ingredients that you add.
Although a slice of cheesecake won't kick you out of ketosis, you should not overindulge. A slice of this cake will suffice to satisfy your cravings.
Eating keto-friendly cheesecake won't get you out of ketosis. Hence, you won't be cheating if you eat a slice.
Cheat meals, however, are not optimal on keto. The reason for this is that you will be kicked out of ketosis.
One cheat meal can exceed your daily carb limit. Thus, it immediately takes you out of ketosis. It may also damage your blood vessels if you suddenly reintroduce a high-carb meal.
It's also easy to overeat when you cheat. It can only sabotage your weight loss efforts. You have worked so hard to get into ketosis.
In one cheat meal, you'll get kicked out.
When you are out, you need to strictly follow the diet to ensure you reenter ketosis. And you know that it takes days to weeks to get into the state.
Instead of cheat meals on a keto diet, try to practice mindfulness. It can help you stop the urge to eat high-carb meals.
Mindfulness lets you pay attention to the needs of your body. As a result, it can help you resist cravings. You can also avoid emotional eating.
You should also plan out your meals and snacks. If you have a solid plan, you're not likely to get hungry during the day.
When planning your meals, opt to incorporate different meals. This will make your diet more enjoyable, instead of eating the same thing every day.
To further prevent yourself from craving high-carb food, make sure to avoid stocking up on processed foods and junk foods.
Keep your treats away from your house or at least out of your sight.
And if you are craving cheesecake, opt for a keto-friendly version. You won't be cheating on your diet if you choose this type of cake.
Nevertheless, you must not overindulge. A mini cheesecake will suffice.
Eat the Right Food 
When it comes to a keto diet, you need to follow its strict rules if you wish to get into ketosis swiftly. If you are craving cheesecake, search online to find where to buy keto cheesecake near you. The easiest way is to go to Amazon. However, if you want to make your own, just make a no-bake cheesecake by following the recipe mentioned above.