Intermittent fasting for weight loss and health is safe. I follow a certain fasting schedule to help me maintain my ideal weight. It is a healthy way to lose weight and achieve a healthy body.
However, just like other weight loss methods, it will be harmful to your body if you take it too far.
But I'm not going to talk about its side effects in this post. You can just read them here.
Related: Can OMAD Cause Ulcers?
In this post, let's dive into the common myths about intermittent fasting and reveal the facts.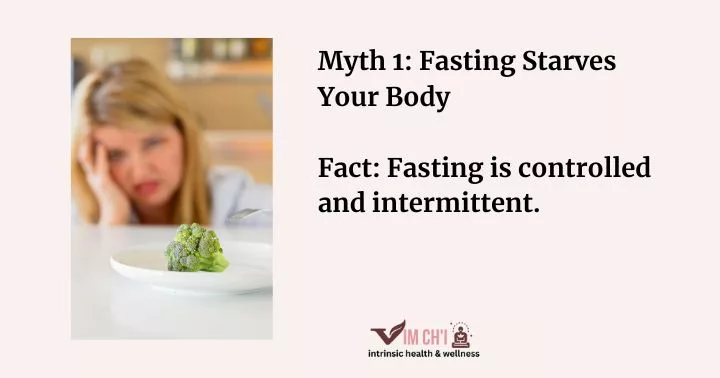 Myths and Facts About Fasting for Weight Loss and Health
Myth 1: Fasting Starves Your Body
Fact: Fasting is controlled and intermittent.
For a lot of people who have not tried IF, they think that fasting means starvation. But it is actually the controlled nature of fasting regimens.
IF and starvation are two different things.
Intermittent fasting is just an eating pattern. It involves cycling between eating and fasting periods.
The most popular form of IF that can help with weight loss is 16:8. That is, for 8 hours, you can eat anything (but you must still be mindful of your calorie intake).
After those 8 hours, you can start fasting. That is, no food intake.
The goal of IF is to help you lose weight and achieve a healthy body. However, it is important to note that you should not over-restrict your calories.
Starvation, on the other hand, is defined as an extended period of time without food. Or you are feeding yourself with limited food intake that is below your body's daily calorie needs.
In other words, your body will be in a large calorie deficit. It leads to unsustainable weight loss.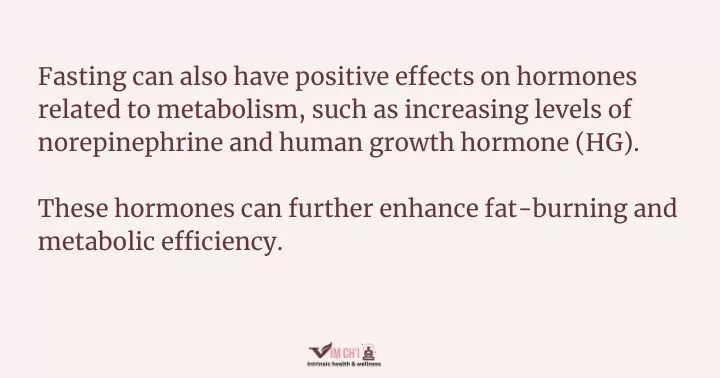 Myth 2: Fasting Slows Down Your Metabolism
Fact: Fasting Can Help Boost Your Metabolism
The belief is that when you skip meals or go without food for extended periods, your body goes into starvation mode and conserves energy. It makes it harder to lose weight.
But this is a myth. The fact is that fasting, when practiced correctly, can actually boost your metabolism. It is counterintuitive. However, it is supported by scientific research.
When you fast intermittently, you create windows of time during which you abstain from food. It typically ranges from 12 to 24 hours.
During the fasting period, your insulin levels drop. Your body starts to use stored fat for energy. This process encourages fat burning and can lead to weight loss.
Fasting can also increase the rate at which your body oxidizes (burns) fat for energy. When you are not eating food, your body taps into its fat stores to provide the energy it needs. This increased fat utilization can contribute to weight loss.
It can also improve insulin sensitivity. It makes it easier for your body to regulate blood sugar levels. When your cells become more sensitive to insulin, it becomes easier for them to take up glucose from the bloodstream.
This can help prevent excess sugar from being stored as fat.
Fasting can also have positive effects on hormones related to metabolism, such as increasing levels of norepinephrine and human growth hormone (HG). These hormones can further enhance fat-burning and metabolic efficiency.
Myth: Fasting Leads to Muscle Loss
Fact: It Can Actually Preserve Lean Muscle Mass
Contrary to the myth, fasting can actually help preserve lean muscle mass when done correctly.
How?
During fasting, your body prioritizes the use of stored fat for energy over breaking down muscle protein. It happens because your body's goal is to preserve its essential functions and energy reserves.
Protein is crucial for maintaining various bodily functions. Thus, your body tries to conserve it.
It can also have positive effects on hormones like growth hormone (GH) and insulin-like growth factor 1 (IGF-1).
These hormones play a vital role in muscle growth and repair. Fasting can stimulate the release of GH, which promotes muscle preservation and may even enhance muscle recovery.
While fasting, it is essential to pay attention to your protein intake. Consuming an adequate amount of protein during eating windows can further support muscle preservation.
Protein provides the amino acids necessary for repairing and building muscle tissue.
Combining fasting with resistant training exercises can be particularly effective for serving and even building lean muscle mass.
Resistant training, such as weight lifting, sends signals to your body to prioritize muscle preservation and growth.
It is crucial to ensure that, when you break your fast, you consume enough calories to meet your body's energy needs. Severely restricting calories during eating windows can increase the risk of muscle loss.
So, it is important to maintain a balanced and calorie-appropriate diet.
Myth4: Fasting is Unsafe for Extended Periods
Fact: Fasting Can be Safe When Supervised
Perhaps, you are afraid of fasting for 23 hours or doing one meal a day. But did you know that Buddhists actually eat one meal a day?
With careful planning, fasting for extended periods can be safe.
However, if you want to fast for several days or more, you need to be under medical supervision. Healthcare professionals can monitor your health, provide guidance, and intervene if any issues arise.
It is especially important if you have underlying health conditions or are taking medications.
During an extended fast, it is vital to ensure that you receive adequate nutrition to prevent deficiencies. Medical professionals can recommend appropriate supplements and monitor your electrolyte levels to maintain your health.
Staying well-hydrated is crucial during any fasting period. This is especially true when it extends for several days. Adequate fluid intake, including water and electrolyte-rich beverages, can help prevent dehydration and related complications.
Read: Improve Your Digestion
Paying attention to your body's signals is vital during extended fasting.
If you experience severe discomfort, dizziness, or other concerning symptoms, it is essential to seek medical attention promptly.
Extended fasting may not be suitable for everyone, and individual tolerance varies.
If you are concerned about the safety of extended fasting, IF can be a safer and more sustainable alternative. It involves shorter fasting periods, such as 16 to 24 hours. It is followed by regular eating windows.
This approach can provide many of the benefits of fasting without an extended period of food restriction.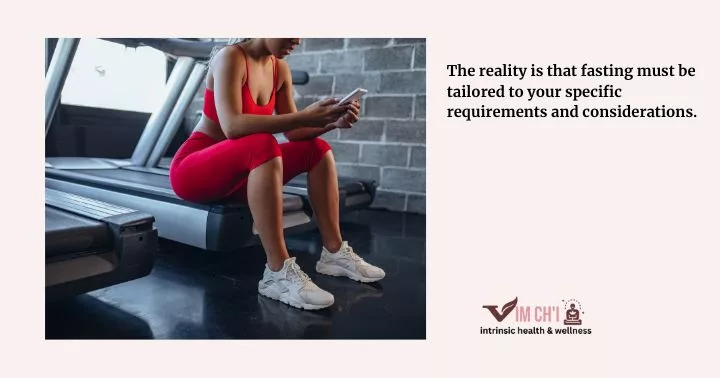 Myth 5: Fasting is a One-Size-Fits-All Approach
Fact: It must Be Tailored to Your Needs
The reality is that fasting must be tailored to your specific requirements and considerations.
People have different metabolisms, lifestyles, and health conditions. What works well for you may not be appropriate for me.
Factors like age, gender, activity level, and baseline health should be taken into account when designing a fasting plan.
If you have an underlying health condition, like diabetes, heart disease, or gastrointestinal issues, you may need to modify your fasting approach. Make sure to consult your healthcare provider for guidance.
Fasting can affect blood sugar levels, blood pressure, and other health parameters. Thus, it is crucial to align the fasting regimen with your specific health needs.
Your fasting goal also matters. Are you fasting primarily for weight loss, improved insulin sensitivity, or other health benefits?
Your goals can influence the type of fasting regimen that is most suitable for you.
Your daily routine and lifestyle also play a significant role in determining the best fasting approach.
Some people may find it easier to integrate intermittent fasting into their schedule. Others may prefer less frequent, extended fasts.
Personal comfort and tolerance for acting periods also vary. You may feel comfortable with longer fasting durations. Your friend, on the other hand, may experience discomfort or psychological stress during extended fasts.
If you have doubts or specific health concerns, consulting with healthcare professionals, such as a doctor or a nutritionist is advisable.
They can provide you with personalized recommendations based on your health profile.
Myth 6: Fasting is a Quick Fix for Weight Loss
Fact: Fasting Requires Commitment and Lifestyle Changes
One prevalent thing about fasting is the belief that it is a quick fix for weight loss.
You may view it as a shortcut to shedding pounds rapidly with the expectation that you can achieve your weight loss goals effortlessly and without making significant lifestyle changes.
The reality is that fasting is not a magical quick fix for weight loss. It is a tool that when used appropriately and in combination with other essential factors, can contribute to weight loss success.
Successful weight loss through fasting requires consistency in following your chosen fasting regimen. Skipping meals occasionally or engaging in short-term fasting without consistency is unlikely to produce significant lasting results.
Fasting alone cannot replace the importance of a balanced diet. What you eat during your eating windows matters.
To lose weight healthily and sustainably, it is crucial to focus on nutrient-dense foods, portion control, and a diet that provides essential nutrients. You should also stay within a calorie deficit if weight loss is your goal.
Incorporating physical activity into your routine is also vital. Fasting can aid in fat burning. However, regular exercise helps boost your metabolism, build lean muscle, and support your weight loss efforts.
Fasting must be part of a broader approach to a healthier lifestyle.
It is essential to address factors like stress management, sleep quality, and hydration to support your overall well-being and weight loss goals,
It can help promote mindful tin by making you more aware of your hunger cues and food choices. Practicing mindfulness during your eating windows can aid in better portion control and healthier food choices.
Rapid weight loss through extreme fasting is often not sustainable in the long run. Sustainable weight loss is about creating habits and lifestyle changes that you can maintain over time.
Embracing Your Weight Loss Journey
Before you start fasting for weight loss and health, it is vital to separate fasting myths from facts. For further reading, make sure to visit our fasting pages.