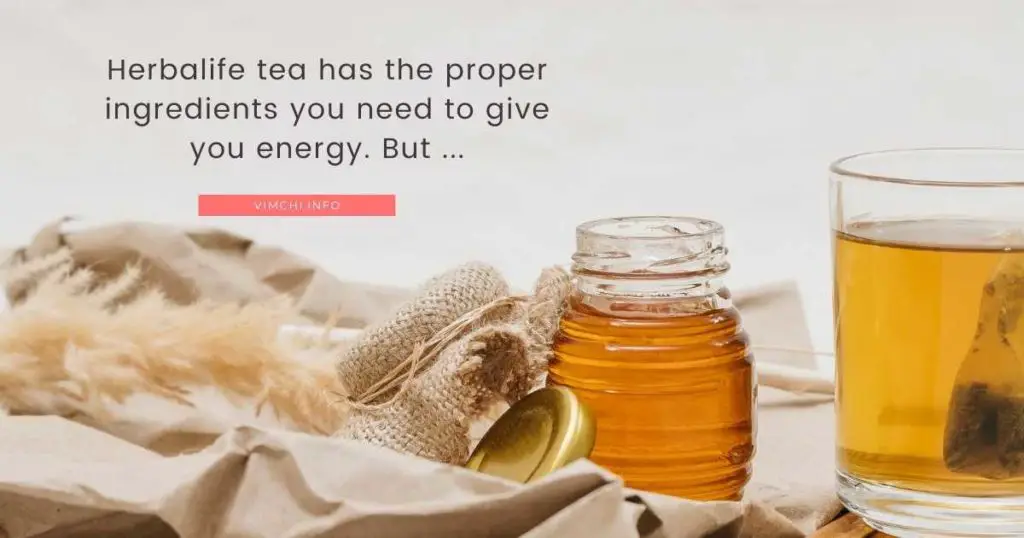 No one wants to feel depressed or enervated. Unfortunately, your busy lifestyle can affect your physical and mental health. Does Herbalife tea give you energy? Let's find out here.
Keep reading to know more.
See Also: Herbalife Tea for Energy
Does Herbalife Tea Give You Energy?
Herbalife tea has the proper ingredients you need to give you energy. But it's not a magic bullet.
This tea is known for its weight loss benefits. Then again, to aid you in losing weight, this tea must be used along with a well-balanced diet and regular exercise.
It can boost your metabolism. But without proper exercise and the right diet, you won't lose weight. It also can't give you the energy you need if you're overly exhausted.
See Also: How Does Herbalife Tea Burn Fat?
Caffeine in Herbalife Tea 
Herbalife tea contains a significant amount of caffeine. And we all know that caffeine can fine-tune your focus and increase your energy levels.
Many people depend on drinking a cup of coffee because of its caffeine content. Caffeine can wake you up so you can start your day on the right foot.
Green Tea in Herbalife Tea
One of the many things that people love about this tea is its green tea content.
Green tea is one of the healthiest beverages on Earth.
In addition to its caffeine content, it is also loaded with antioxidants. Its health benefits would include the following:
Fat loss
Improving brain function
Protecting against cancer
Reducing the risk of heart disease
See Also: Weight Loss in One Month
Keeping You Alert 
The green tea in Herbalife tea can keep you alert. But that's not all it can do because green tea is also known to boost brain function.
With caffeine as the active ingredient, you can improve your focus. But the amount of caffeine in this tea is just right so it won't cause the jittery effects that you feel when drinking coffee.
Caffeine blocks adenosine. By inhibiting such neurotransmitters, it increases the concentration of dopamine and norepinephrine.
Several studies showed that caffeine could improve brain function, including memory, vigilance, and mood.
However, caffeine isn't the only reason green tea boosts your energy. Green tea also contains L-theanine. This amino acid is known to cross the blood-brain barrier.
It increases the activity of GABA, which provides anti-anxiety effects. As it increases dopamine levels, it also boosts the production of alpha waves in the brain.
Combining caffeine and L-theanine can provide synergistic effects. It can have powerful effects on your brain function.
See Also: Herbalife Tea without Caffeine
Increase Physical Activities
 
With improved energy as a result of drinking Herbalife tea, you are more likely to engage in various physical activities. You have enough energy to tackle your everyday chores or responsibilities in your office.
Because you're more likely to engage in physical activities, your body functions will improve. Exercise delivers proper oxygen and nutrients to your tissues. It also aids in your cardiovascular system to ensure it works more efficiently.
When your heart and lung health is improved, you have all the energy you need to handle your everyday activities.
And because you exercise more, your snoozing problem will be eliminated. However, it's important to note that Herbalife tea contains caffeine.
Caffeine is known to disrupt sleeping patterns. Thus, you should only drink this tea in the morning and avoid it in mid-afternoon, if you're too sensitive to caffeine.
Promoting Weight Management
Because Herbalife tea gives you energy, you're more likely to engage in physical activities. And this is vital in managing your weight.
In some research, caffeine could support gut health while altering fat storage. These functions can be beneficial in managing your weight.
Lowering Risk of Depression 
The caffeine content in this tea may help in lowering your risk of depression. Since you have the energy to exercise regularly, you can boost the hormones that can make you happy.
You'll also be happier because you have enough energy to tackle your everyday activities.
See Also: Can Ketosis Diet Cause Depression?
Variety of Flavors 
When shopping for Herbalife tea, you'll find that it comes in various flavors. In that case, you'll surely find the one flavor that is just right for your palate.
No matter what flavor you choose, this tea offers a blend of orange pekoe. It's a traditional tea with extracts of hibiscus flower, halva flower, and a cardamon seed.
It's easy to make this tea. Simply mix it with hot or cold water. You can drink it twice a day.
Because it may disrupt your sleep, you should avoid drinking it in mid-afternoon. Instead, drink tea that can calm your nerves, like tea with chamomile.
Mix it with Other Teas
Some people are mixing Herbalife tea with Liftoff energy. It's another Herbalife product that contains stimulants. When you mix it with this beverage, you're making a loaded tea.
See Also: How to Make a Herbalife Tea Bomb?
It's loaded because it contains a lot of caffeine. And it may be good for some people but it may not be ideal for you. This is especially true if you're sensitive to caffeine.
Keep in mind that if you drink multiple stimulants, it can leave you feeling jittery. It may also spike your heart rate and blood pressure. Plus, it may interfere with your sleep.
Summary 
Does Herbalife tea give you energy? Yes, it does. But giving you energy is not its only function. It can also boost your brain function to improve your concentration. To shop for Herbalife Tea Concentrate, please visit.