Do you even want to live longer? Aging means going to the hospital more frequently. You also have to deal with a cluster of health problems. However, some people can live well for a long time. They grow very old without suffering from serious health issues. They also go painlessly when it is time. Does it have something to do with their metabolic health? Why metabolic health is the key to aging well?
Let's find out here.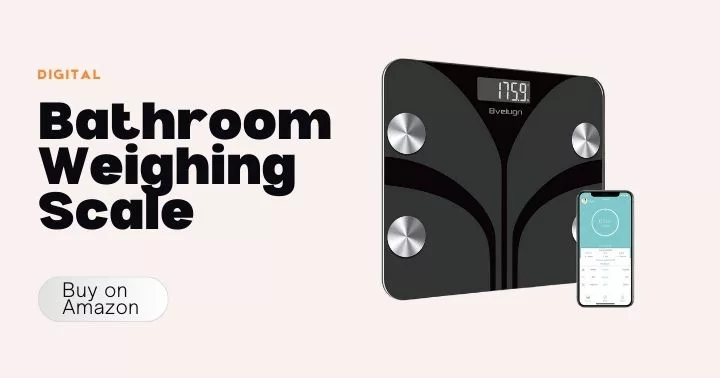 Weighing yourself can provide valuable insights into your metabolic health and the aging process.
Maintaining a healthy weight is crucial for metabolic health and healthy aging. Weighing yourself regularly can help you track your weight fluctuations and ensure you stay within a healthy range.
I love this digital bathroom smart scale. It shows your BMI, body fat, and subcutaneous fat. You can check out its insights through its app that you can download on your phone for free.
As an Amazon Associate, we earn from qualifying purchases.
Why Metabolic Health is the Key to Aging Well? 
Age is one of the factors that influence your metabolic health, along with your activity levels, stress levels, genetics, and hormonal levels. Metabolic health is your ability to burn stored fat, glucose, and ketones for energy.
When your metabolism is healthy, your blood sugar, triglycerides, HDL cholesterol, and blood pressure levels are ideal even without the use of medications.
In other words, it is the key factor in aging well as it influences several physiologic processes in our bodies that affect our overall well-being.
The Importance of Metabolic Health in Aging Well 
Energy Production
A healthy metabolism efficiently converts nutrients from food into energy that our body needs for daily activities. As we age, our metabolism naturally slows down. This can lead to decreased energy levels.
But by maintaining metabolic health, you can optimize your energy production and sustain vitality as you grow older.
Weight Management 
It is closely linked to maintaining a healthy body weight. When your metabolism is functioning properly, it is easy to lose weight because your appetite is regulated.
You don't feel hungry every hour. As a result, it is easy to control your fat storage. Your metabolism also supports the breakdown of nutrients.
Because you can easily manage your weight, you can reduce the risk of developing age-related conditions, like diabetes, cardiovascular diseases, and joint problems.
Insulin Sensitivity
Your metabolic health also influences insulin sensitivity. This is crucial for regulating blood sugar levels. Insulin is a hormone that allows cells to take in glucose from the bloodstream.
Poor metabolic health can lead to insulin resistance, where the body's cells become less responsive to insulin.
If you have insulin resistance, you are prone to type 2 daises, obesity, and other metabolic disorders.
Inflammation and Oxidative Stress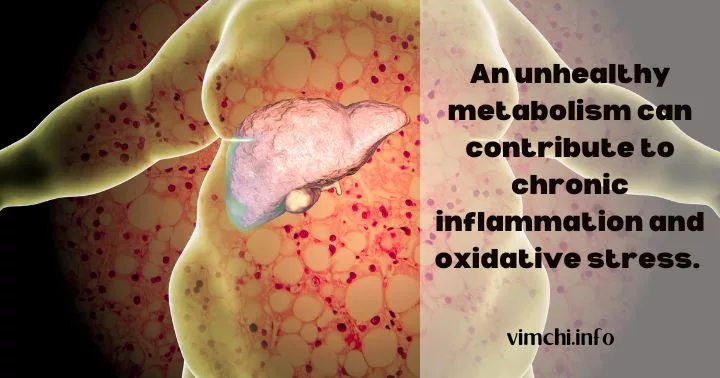 An unhealthy metabolism can contribute to chronic inflammation and oxidative stress. They are underlying factors in various age-related diseases.
Inflammation and oxidative stress damage cells and tissues over time, leading to the development of conditions, like cardiovascular disease, neurodegenerative disorders, and certain cancers.
By promoting metabolic health, you can help reduce inflammation and oxidative stress, thereby, minimizing the risk of age-related diseases.
Hormone Regulation 
Metabolic health also plays a role in maintaining the balance of hormones in your body. Hormones are chemical messengers that regulate various bodily functions. These would include growth, reproduction, and metabolism.
As you age, hormone levels naturally decline. But your metabolic health influences the rate at which this decline occurs. When your metabolism is healthy, you can potentially slow down the age-related decline in hormone production.
Why Your Metabolism Slows Down As You Age? 
Aging is an inevitable journey that all of us embark on. As the years pass, we may notice changes in our bodies, including a seemingly slower metabolism.
You may find yourself asking, "Why does my metabolism slow down as I age?"
The key to understanding your body better is to know the secrets behind the natural phenomenon.
The Role of Muscle Mass
One vital factor in the metabolic slowdown is the gradual loss of muscle mass. It is known as sarcopenia. It tends to occur with age.
Muscles are metabolically active tissues. It means that they burn more calories at rest compared to fat.
Thus, as you lose muscle mass, your body requires fewer calories to maintain basic bodily functions. As a result, it reduces your metabolic rate.
Hormonal Changes
Your hormones can act as messengers in your body. It relegates various physiological processes, including metabolism.
As you age, hormonal changes take place. This can influence your metabolic rate. For instance, the decline in growth hormone and testosterone levels contributes to the loss of muscle mass and increased fat accumulation.
Menopause in women leads to a decrease in estrogen levels. This, too, can affect metabolism and body composition.
Cellular Energy Production 
Mitochondria, the powerhouse of your cells, play a vital role in energy production. But as you age, these tiny energy factories become less efficient.
They produce fewer energy molecules called ATP. It results in reduced overall energy expenditure. This decline in cellular energy production contributes to a sluggish metabolism.
Alterations in Thyroid Function 
The thyroid gland produces hormones that regulate metabolism. With age, though, the gland may undergo changes. It leads to a decrease in hormone production.
As a result, your metabolic rate is affected, resulting in a slower overall metabolism.
Lifestyle Facts
While aging naturally brings about metabolic changes, certain lifestyle factors can exacerbate the slowdown.
Sedentary habits, inadequate physical activity, and poor dietary choices can contribute to the loss of muscle mass and a decrease in metabolic rate.
These factors can create a vicious cycle where a slower metabolism leads to weight gain, making it even more challenging to maintain a healthy weight.
How to Counteract the Slowdown? 
There is no way you can halt the aging process. But there are steps you can take to mitigate the effects of a slowing metabolism.
Resistance Training 
Engaging in regular resistance exercises, like weightlifting or bodyweight exercises, can help preserve and build muscle mass. they can help counteract the age-related decline.
Balanced Nutrition 
Adopting a balanced diet can include opting for lean proteins, whole grains, fruits, and vegetables. They all provide the necessary nutrients to support a healthy metabolism.
Avoid excessive calorie intake. This is possible with OMAD. And no, OMAD does not slow down your metabolism. Here's why.
You should also reduce refined sugars to prevent weight gain.
Stay Active
Incorporate aerobic exercises, like swimming, cycling, and brisk walking, into your routine to boost your metabolic rate and overall energy expenditure.
Can OMAD Help Boost Your Metabolic Health to Fight Aging? 
OMAD naturally promotes caloric restriction by compressing your daily food intake into a shorter time frame.
By consuming fewer calories than your body needs, it can lead to weight loss. As discussed above, weight loss requires calorie intake control.
Eating one meal a day can also enhance insulin sensitivity. During fasting periods, your insulin levels decrease.
It allows your body to better utilize stored glucose for energy. Over time, it can improve your insulin sensitivity, thereby, reducing your risk of developing insulin resistance, type 2 diabetes, and metabolic syndrome.
Although OMAD lets you eat what you want, avoid these foods.
Your body also becomes fat-adapted. After fasting for an extended period, your body's glycogen stores deplete. The depletion forces the body to shift its primary energy source from carbohydrates to fat.
The body becomes more efficient at utilizing stored fat for energy. It can aid in weight loss and improve metabolic health.
Furthermore, OMAD can positively influence hormonal balance. It includes the secretion of growth hormones. This hormone plays a vital role in maintaining lean muscle mass, relegating metabolism, and promoting fat burning.
OMAD has been shown to increase GH levels.
But even though you are eating one meal a day, it is still vital that you eat nutrient-dense foods, instead of junk foods.
Focus on incorporating a variety of whole grains, healthy fats, and plenty of fruit and vegetables to support overall health while you practice OMAD.
Metabolic Health to Age Well
Why metabolic health is the key to aging well? Metabolic health is essential for aging well because it affects various aspects of your physiology. When you have a healthy metabolism through regular physical activity, a balanced diet, adequate sleep, and stress management, you can enhance your chances of maintaining optimal health, vitality, and well-being as you age.