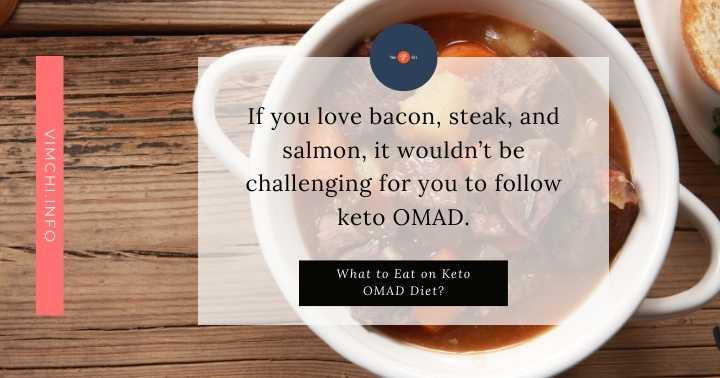 If you love bacon, steak, and salmon, it wouldn't be challenging for you to follow keto OMAD. However, since it calls for high-fat, low-carb food, you can't just eat anything. What to eat on the keto OMAD diet?
Let's find out here.
What to Eat on the Keto OMAD Diet?
It's not impossible to follow a keto OMAD diet. However, it takes a lot of time to get accustomed to it. You can eat any high-fat, low-carb food in this diet.
Keto Beef Stew
If you're fond of beef stew, you'll be delighted to know that this is a keto-friendly dish. However, since this is keto, you need to swap some things.
To make keto beef stew, you may check out this recipe. When making it, you need the following ingredients:
Beef
Kosher salt
Black pepper
Extra virgin olive oil
Mushrooms
Onions
Carrot
Celery
Garlic
1 tsp Tomato paste
Beef broth
Thyme leaves
Rosemary
Read: Learn how to do keto OMAD
Keto Fried Chicken
On the other hand, if you love chicken, you can make a keto-fried chicken by following this recipe. Since it's a keto meal, avoid using flour. Instead, use pork rinds and Parmesan. But you can use almond flour.
You may want to bake the chicken, rather than fry it. In this recipe, you need the following items:
Chicken breasts
Kosher salt
Black pepper
Eggs
Heavy cream
Almond flour
Pork rinds Parmesan
Garlic Powder
Paprika
Keto Meatballs
If you wish to eat meatballs, then these keto meatballs are perfect. It uses cheese to hold together the meatballs. It doesn't use any flour.
Use ground beef, turk or pork here. To avoid making the meatball challenging to chew, mix less cheese. To make this recipe, here are the things that you need:
Ground beef
Garlic
Shredded mozzarella
Parmesan
Parsley
Eggs
Kosher salt
Black Pepper
Extra virgin olive oil
Keto Pasta
Now, if you are craving pasta, you can still eat spaghetti. But make it low in carbs. In this recipe, you won't be using the regular pasta. Instead, you'll be turning a pumpkin into pasta to make it keto-friendly. For this recipe, you need the following things:
Pumpkin
Sage
Garlic
Prosciutto
Almonds
Grass-fed butter
Read: How effective is Keto OMAD?
Keto T-Bone Steaks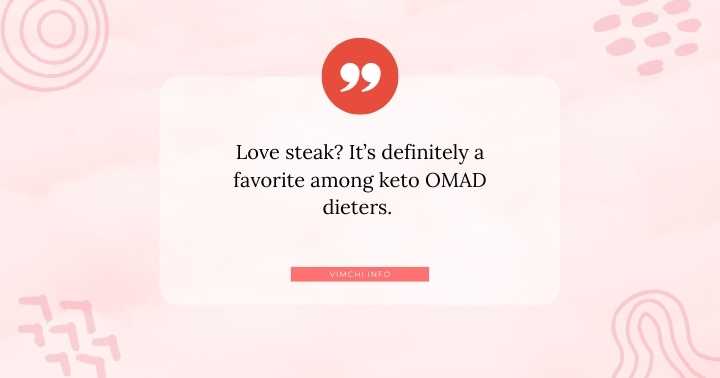 Love steak? It's definitely a favorite among keto OMAD dieters. But you can't add a lot of ingredients. But if you get bored with a simple steak, you may wish to try these t-bone steaks with mushrooms.
T-bone steaks
Rice bran oil
Asian mushrooms
Coriander
Mint leaves
Garlic chives
Celery
Carrots
Sugar snaps
Red onion
The trick here is to lower your carb intake as much as possible. Your net carbs should only be under 20g. The goal of this diet is to reach a state called ketosis.
As long as you stay below your carb limit, you can ensure success with it. However, you must remember that the keto diet requires limiting your protein intake.
An elevated protein diet may stress the kidneys. Furthermore, excess protein can be easily converted into glucose. And you don't want that when you're on keto.
Since it's a keto diet, you should up your healthy fats. Fats can make you feel satiated. Thus, you need enough fat. However, you should still not go overboard. Remember that to get into ketosis, you need to make your body use up your stored fats and not the fats from your diet.
Another thing to remember when on keto OMAD is to drink a lot of water. Since you're forcing your body to eat stored fats and you are eating low carbs, glycogen level is low. But glycogen is necessary when storing water in the body. In that case, if you're on keto OMAD, you'll get easily dehydrated. Thus, aim to drink 10 cups a day, instead of just 8 cups.
You should also keep up with your electrolytes. These electrolytes are sodium, potassium, and magnesium. They are vital so that you don't experience the side effects of more fats in the diet.
Because you will be eating fewer carbs, you won't get easily hungry. Thus, you can easily fast for 23 hours per day. And high-fat food will suppress your appetite.
Most of all, you need to exercise. It's not always necessary but it's highly recommended. However, the timing of your exercise is vital.
Keep in mind that exercise can use a lot of energy. And you'll feel tired, you may feel sluggish and hungry. Thus, you may not finish your 23-hour fast.
Read: What are the benefits of Keto OMAD?
Do You Go Into Ketosis on OMAD? 
The Keto diet, alone, can put you into ketosis mode. However, when you combine keto and OMAD, you are entering ketosis quickly.
It means that you lose weight faster. But during the first few weeks, you will lose a lot of water. Weight loss in this diet is expected because you can avoid overdoing the calories.
After all, you will only eat one meal a day.
Then again, some people may still overdo it, especially if they choose to eat processed foods. You should also avoid going to fast food chains.
How Do You Eat Enough on OMAD? 
You can eat enough on OMAD. And it's easy. Keep in mind that you'll include all the food and drinks you consume. It means that if you get two bites of keto chips, they should count to your calorie intake.
And to add more fat to your meal, make sure to pan-fry your meal. Fat provides the most calories. When you add more healthy fats to your meal, you are getting enough calories on keto OMAD.
Since you want to eat more, you should not drink water when breaking your fast. Keep in mind that water will make you feel full faster. Then again, it's vital to drink enough water during the day. Although you can drink tea, you may want to skip it and opt for water.
Summary 
What to eat on the keto OMAD diet? You should eat high-fat, low-carb food. Check out the recipes mentioned above to help you get started with this diet. Or do you wonder who invented this eating plan? Find out here who started OMAD.