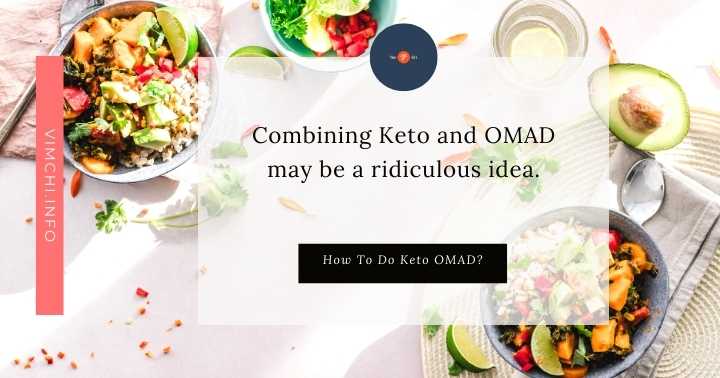 Combining Keto and OMAD may be a ridiculous idea. However, people in the intermittent fasting community have already tried it and they have experienced its many health benefits. If you wish to follow it, you might want to know how to do keto OMAD properly?
Here are the details.
How to do Keto OMAD?
The first thing you must do before you start combining keto and OMAD is to make sure that you have already started intermittent fasting.
You can first try the 12 hours of fasting before fasting for 16 hours. Doing so will increase your chances of succeeding when combining the two diets or lifestyles.
While you practice intermittent fasting, you should incorporate a keto diet. That is, you focus on high-fat, low-carb meals.
It means there's no junk food in the mix. You need to eat plenty of saturated fats, protein, and micronutrients.
You don't need to give up your high-carb diet immediately. But you can go slowly. Doing it this way will ensure chances of surviving OMAD and keto.
Once you are accustomed to intermittent fasting and keto, you can now start eating one meal a day. And your one meal is high-fat, low carb.
Read: Why OMAD Works Effectively?
What to Eat During the First Week of Keto OMAD? 
You should focus on eating meat, vegetables, cheese, nuts, and some dairy products.
When it comes to fruits, you should limit them because of their high carb content. Fruits are high in sugars. They must only be eaten sparingly. But you can choose low-sugar fruits to fit into your macros.
In that case, it is safe to eat berries, such as raspberries, blueberries, and strawberries.
Sample Meal Plan for KETO OMAD 
If you love eating steak, then you are in for a treat with this type of diet. You can try this meal plan for your keto OMAD diet.
Ribeye steak
Boiled eggs
Asparagus sautéed in ghee
Kiwi
Bone broth
You don't need to eat them all in one sitting. Keep in mind that you have one hour to eat your one meal. In that case, you can eat rib eye steak and boiled eggs for 15 minutes. Then, rest your stomach before eating asparagus sautéed in ghee.
The best thing here is that you'll only have to prepare your meal once a day. It can save time and money.
Is Keto Better with OMAD?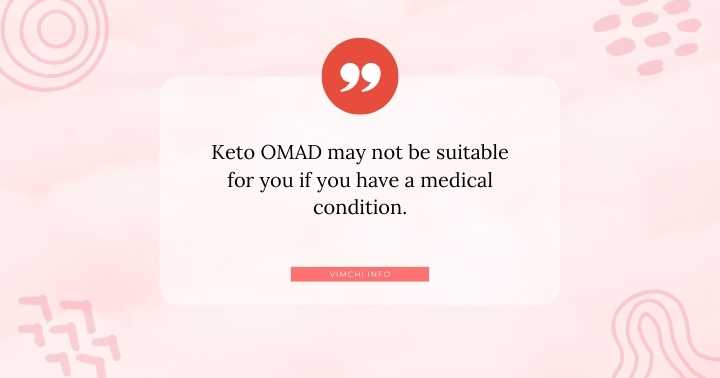 Both diets pair well. Keto OMAD will make it easier for you to use fat for fuel because you're already in ketosis.
The keto diet works well with OMAD because of the meal's high-fat content. It can lead to ketosis. Apart from that, the keto diet allows you to feel fuller for longer. Thus, you won't likely feel ravenous after eating your one meal. It means that you can fast for 23 hours successfully.
But before you jump on the bandwagon, make sure that you understand what this diet entails. You must remember that keto OMAD is not for everyone. If you have a health condition, make sure to consider talking to your doctor.
People with a medical condition may need to take medicines in the morning and evening and both times need to eat before taking the meds. In that case, keto OMAD is not suitable.
As mentioned, it's highly suggested to start a shorter fast first before you move to a longer fast. In that way, it will be easier for you to stick with your one meal-a-day diet.
And before making a significant change to your diet, make sure to consult with your physician.
Fighting the Side Effects 
Keto OMAD may cause side effects. This type of diet is a diuretic. You can be peeing a lot or experiencing diarrhea.
Either way, it causes you to lose a lot of electrolytes. This can lead to fatigue, dizziness, and vomiting, among others.
To ensure that you are not losing a lot of electrolytes, you drink sea salt solution. You can mix sea salt or Himalaya sea salt with water. Drink it throughout the day. You should also sprinkle a generous amount of sea salt on your vegetable salads.
It's also highly suggested to take a magnesium supplement.
Then, make sure to eat avocado every day. It can give you a huge portion of daily fat.
Start Slow 
If you are new to OMAD, you should start slow. That is, you must not follow OMAD without trying the shorter fasts first.
That is, it's highly recommended to fast for 12 hours and move to 16 hours before eating one meal a day. Doing so will help your body in adjusting to intermittent fasting.
By allowing your body to get adapted to the fasting routine, it gives the body sufficient time to adjust and reduce the adverse side effects.
Doing this diet slowly will also allow you to recognize and determine whether or not you can tolerate this type of diet.
Once your body has well-adjusted to it, you are now ready to switch to OMAD.
Read: Who Actually Invented Eating One Meal a Day?
Learn How to Prepare Your One Meal 
This is the most vital part. The reason for this is that if you don't like your one meal, you may not likely resume following this diet.
You should also prepare your own meal and not order from McDo or other fast food chains.
Thus, when you buy groceries, make sure to only stock on keto food. That is, you should stock on olive oil. Make sure that have plenty of meat options in the fridge.
Don't forget to stock on eggs, cheese, butter, mozzarella, and almond flour. It's also vital that you have avocados, nuts, and spinach.
You should always plan your meal for the next day. In this way, when it's time for you to eat your one meal, you won't rely on fast food.
It's also vital that you have a weekly meal plan. It will keep you organized. Create a weekly meal plan so you won't have to waste your time thinking about what food to prepare for your one meal.
Summary 
How to do keto OMAD? There are many ways to start this diet. But make sure to start slow. Begin with shorter intermittent fasting first.
If you don't like combining these two, read this post if you can do OMAD without keto.