If your employer offers a high-deductible health plan, you must know what they are. What are high deductible health plans? Is it a good idea to have one?
Keep reading to know more about this plan.
What are High Deductible Health Plans?
A high deductible health plan (HDHP) comes with a higher deductible than a regular policy. Its monthly premium is lower.
But you need to pay more for your health care costs out of pocket before your insurer starts paying its share. You can combine this plan with a health savings account (HSA). It lets you pay for your healthcare expenses with money from an account free from federal taxes.
For its yearly deductible, HDHP has a minimum deductible of $1,500. The traditional health plan has a deductible that varies by plan. But it's pretty lower than HDHP.
Furthermore, the out-of-pocket limits are higher when you have this plan. If you have an individual plan, the limit can be $7,050.
But it is eligible for a health savings account (HSA).
Read: What are the Most Appealing Benefits of this Plan?
High Deductible Health Plans Pros and Cons
Lower monthly premiums. This is the main benefit of this plan. Many of HDHPs have lower monthly premiums but others come with higher monthly payments. That's why it's ideal for patients who only need preventive care. In other words, they are ideal for healthy patients. All preventative care services are covered by this plan as long as you stay in-network. In that case, it can help you save a lot of cash monthly.
Tax-free. Not all HDHPs are qualified to be paired with HSA. But most of them are. It's another valid reason many people opt for this plan. With HSA, you can use the funds to pay for eligible medical expenses. And the money you deposit into this account is tax-free. This, too, can help you save money.
Unfortunately, it's not all shiny with this plan. There are drawbacks that you also need to discover.
Read: How Much Does It Cost to Obtain Health Insurance in Spain?
Disadvantages of HDHP 
Higher Deductible
This is the main disadvantage of HDHP. You have to settle your medical expenses out-of-pocket first before your plan starts paying its share. The out-of-pocket costs are known as deductibles. But if you use it for preventive care, then you are covered 100%. However, you have to stay in-network.
Why Would You Want a High Deductible Plan? 
If it's time for you to choose between HDHP and a traditional health plan, you must ponder your anticipated health needs. You should ask yourself if you need medical care beyond preventive care?
If you do, then HDHP may not be the perfect plan. Instead, you should obtain a traditional health plan with a higher premium but the deductible is lower than the HDHP.
Read: Can a Tourist Get Health Insurance in the UK?
Is It Good To Have a High Deductible?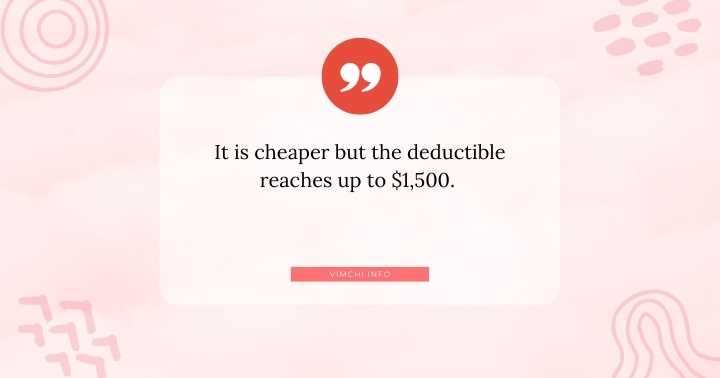 It is good for some people but not for all. Although it is an increasingly popular choice, it's not the best plan for some people. It may appear an outstanding choice. It is cheaper but the deductible is high. It can reach up to $1,500.
Furthermore, the yearly maximum out-of-pocket expenses are also high. The limit can reach $7,000. If you are getting this plan through your employer, make sure to check out the plan before you commit to it.
You will have to pay a high deductible if you require medical care. What if you need care frequently?
The good thing about this plan is that you can couple it with a health savings account (HSA). You can use the money in this account to pay for eligible medical costs. And it is tax-free.
Although it is enticing, make sure that your employers will contribute to your HSA plan. If the company you are working in will chip in money to meet your out-of-pocket expenses, then it's a huge help.
Then again, you need to ensure that the assistance is higher than the out-of-pocket expenses of your plan.
On the other hand, if you choose this plan but you can't afford to pay for your deductibles, then you will be in trouble. Some people with this plan are more likely to have medical debt.
The reason for this is that they don't have money saved in the HSA when they needed to use their plan. As a result, they had to cover their expenses.
Thus, if you are planning to use this plan, you need to ensure that you put money into the fund every month. You can add the monthly savings from a lower premium to your HSA.
Read: Is the Higher the Premium the Higher the Deductible?
How to Pick the Right Insurance Plan? 
Choosing the right plan is necessary. In that way, you won't be in medical debt when you need medical care.
Various factors to consider when picking the suitable ideal plan for your circumstance.
For instance, if you are healthy and you don't go to the doctor frequently, then having a lower monthly premium plan, like HDHP is a good choice.
The HDHP is not a good plan for you if you have a chronic medical condition. Even though you get savings from the lower monthly premiums, it is not enough to cover the regular care you need.
When studying various plans, you should always ask yourself if you need medical care frequently. If you do, choose a plan with a higher monthly premium so that your out-of-pocket costs when you need medical care will be lower.
Compare every available plan. You may use various tools and services that can help you choose the right policy. Contact an insurance agent to help you find answers to the many health insurance questions you may have.
Summary 
What are high deductible health plans? They are health plans that come with higher deductibles but lower monthly premiums. These plans can help you save money. But it's not for everyone. If you have a chronic medical condition, you need regular medical care, it becomes more expensive. It is not a perfect plan for you if you have a chronic medical condition.
Interested in this plan? Find out if it is better than PPO.