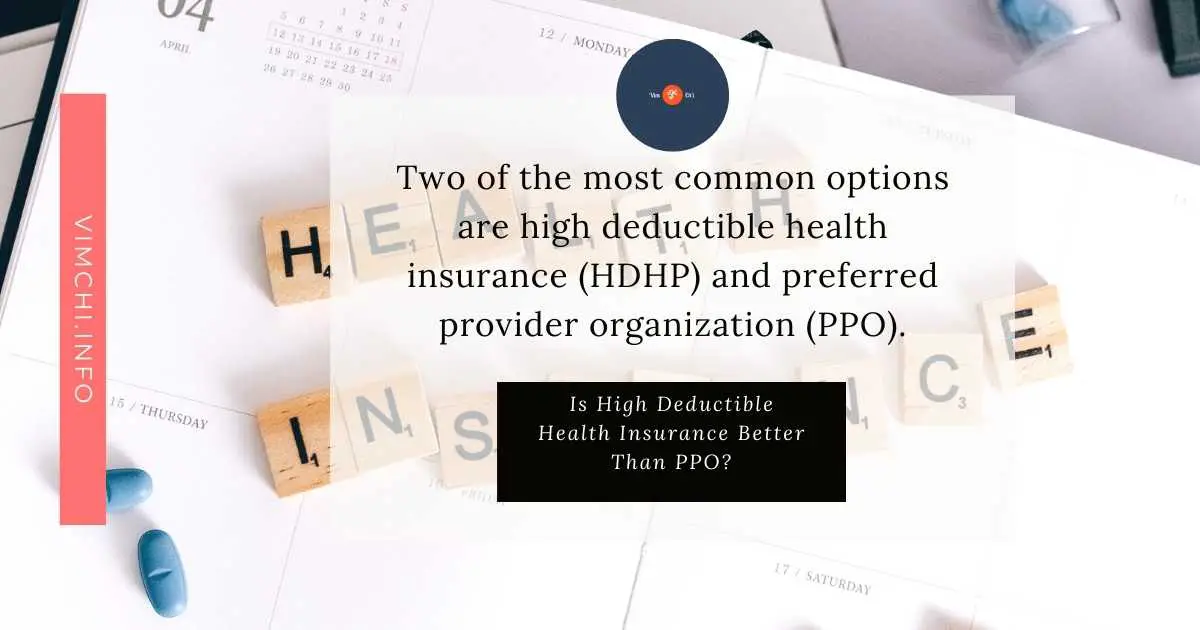 Finding the right health insurance can be challenging. Two of the most common options are high deductible health insurance (HDHP) and preferred provider organization (PPO). Is high deductible health insurance better than PPO?
Let's find out here.
Is High Deductible Health Insurance Better Than PPO?
HDHP is health insurance with higher deductibles. But its premium is quite lower. For the uninitiated, a deductible is an amount you pay out-of-pocket for the health services you received. Premium, on the other hand, is a payment you settle every month to ensure your insurance is active.
When you have HDHP, your monthly premium is lower. However, if you need medical services, the out-of-pocket expenses will be higher.
PPO, on the other hand, is a type of plan that comes with lower deductibles but higher monthly payments. In this case, you will have to pay more each month. However, when you need medical service, your out-of-pocket costs will be lower than HDHP.
Typically, HDHP is ideal for healthier consumers. It means that if you don't need medical attention each year, then having a lower monthly premium is the way to go.
On the other hand, PPO is something that you need to consider if you expect to visit your doctor more frequently. Furthermore, it's an ideal plan if you take a lot of prescriptions because of your medical condition.
Read: Health Insurance for Spanish Residency
Is It Better to Pay a High Deductible Health Plan? 
HDHP is beneficial if you don't need medical attention or don't anticipate medical expenses throughout the year.
This plan is ideal for younger people. It's also a great option if you are single and have no dependents.
If you opt for this plan, though, you can use a health savings account (HSA). It's a pre-tax savings account that you can use as a payment method every time you need medical attention. However, you can only use it for any qualified medical expense.
Because HDHP comes with higher deductibles and out-of-pocket costs, it is ideal to pair it with HSA. HSA has some tax benefits. It's one reason HDHP with HSA is increasingly popular today, especially among younger individuals.
However, it's important to note that HSA can include fees. For instance, if you use it at the pharmacy, some fees may be applied.
Furthermore, you may need to submit receipts to be approved as qualified medical expenses.
If the expenses are not eligible, your claims won't be paid.
On the other hand, if you're anticipating medical expenses throughout the year, then PPO is better. That's why PPO plans are beneficial for older people and families.
They are also recommended for people with health conditions that need treatment regularly.
PPO makes more sense as you age. It has higher monthly premiums. However, you can save in the long run if you use healthcare services often.
When you invest more in your health insurance throughout the year, your health insurance will cover more of your medical expenses.
Read: How to Pick the Best Health Insurance in the UK?
Does a High Deductible Plan Make Sense?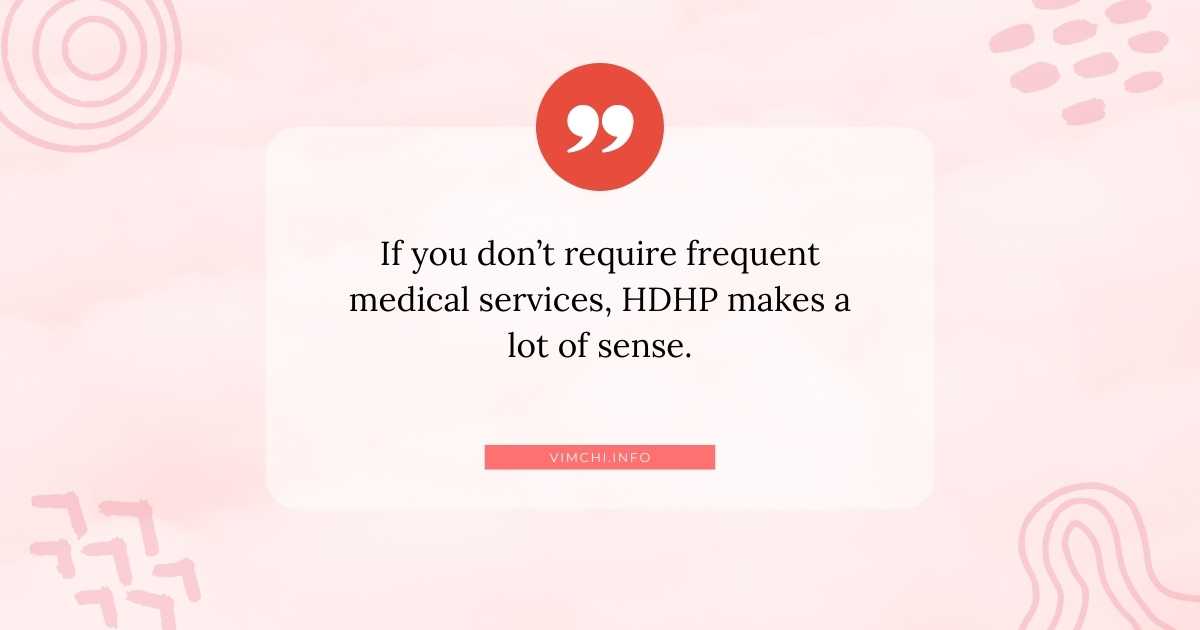 A high deductible plan makes sense to some people. If you don't require frequent medical services, HDHP makes a lot of sense. It keeps your monthly premiums low.
As mentioned, this health plan has become increasingly popular. According to this report, the number of people ages 18 to 64 who enrolled in this health plan rose to 19% from just 4% in 2017.
Furthermore, employers are choosing this plan because they are inexpensive. Even though they cost less, they give employees the basic services they need.
This plan also has lower monthly premiums.
This plan makes sense if it gives you coverage for yearly preventative care and you anticipate that it's all you need throughout the year.
However, this plan doesn't make sense if you worry about unexpected health issues. If you are, then you might want to pay more each month. In this way, you can reach the deductible for added services you need.
Read: Are infertility treatments covered by health insurance?
Why Would You Want a High Deductible Health Plan? 
One of the reasons you would want HDHP is that it can help you save money because of the lower premiums. Furthermore, you can obtain a health savings account with this type of plan.
But before you pick this plan, make sure you have a clear understanding of your yearly expenses. In this way, you can anticipate the out-of-pocket expenses you will have to pay.
If you are not sure if this plan is ideal for you, make sure that you talk to a health insurance agent. The agent can help you better understand your needs. He can also evaluate what your medical expenses are so you can get a clear understanding of whether or not this plan is an ideal choice.
As mentioned, HDHP is an ideal plan if you don't have a chronic medical condition. It makes sense for younger individuals who don't frequently need to see their doctors.
However, if you take a lot of prescription medicine, then it's better to just opt for a low-deductible plan. With this plan, you need to pay a higher premium. But your deductible is lower than having an HDHP plan.
Again, if you are generally healthy, HDHP is a better option. It can help you access the health savings account, which is a triple-tax-advantaged plan.
It may also make sense if you're nearing retirement because you can use the money for your medical care in retirement.
HDHP can save you money because you'll be paying lower premiums. Plus, you have a tax break that you can obtain on medical expenses through an HSA.
Summary 
Is high deductible health insurance better than PPO? It depends on your situation. HDHP makes sense for healthy people. However, if you need frequent medical visits, then PPO might be an ideal option. On the other hand, if you want to save money on monthly premiums, then HDHP is a better choice.
Are you pregnant? If you are, find out here if HDHP is an ideal health plan.