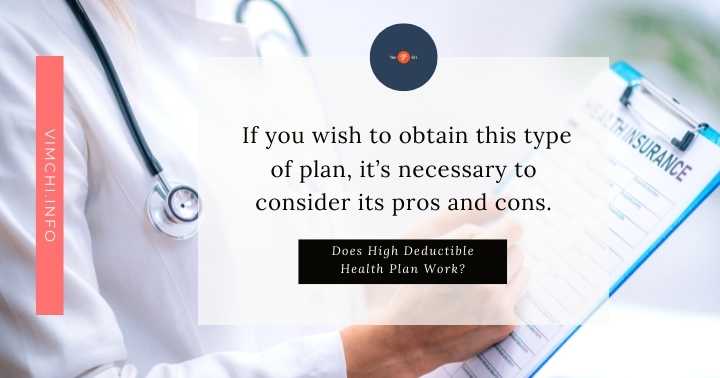 A high deductible health plan is not for everyone. Hence, if you wish to obtain this type of plan, it's necessary to consider its pros and cons. Does a high deductible health plan work? What are the downsides of using this health plan?
Let's find out here.
Does High Deductible Health Plan Work?
A high deductible health plan (HDHP) can work to keep your monthly premium payments lower. It provides coverage for preventive services before meeting your deductible. Although how it works may seem simple, you still need to understand how this plan truly works.
This type of insurance comes with a high deductible plan. A deductible is an amount you pay out of pocket each time you receive medical treatment or service.
Most HDHP plans can be attached to a health savings account, where you can save money on qualified healthcare expenses.
If you have this plan, any in-network preventive care is covered without the need to pay the deductible first. This is one reason many people choose this plan.
However, if you require medical services that go beyond in-network care, then you have to pay the deductible to get the coverage.
Read: What health insurance required Spanish residency?
What are the Most Appealing Benefits of this Plan? 
Low monthly premium. This is the most appealing benefit of this plan. Because you 

have a high deductible

, your monthly premiums are lower than the plans with a low deductible.
Save money. Because of the low monthly premiums, you can save a significant amount of money with this plan. You can further save money if you choose an HDHP over a low-deductible plan.
Contribute to HSA. You or your employer can contribute to your health savings account. This is another reason many people are choosing this plan.
But these are not the only benefits of HDHP. There are plenty of benefits you will know when you talk to an insurance agent so you can better understand what this plan can do for your condition.
Read: Health insurance for UK visitors
Is It Worth It? 
As mentioned, it's not for everyone. To determine whether or not it is worth it, you should consider your current health. It can tell you if this plan makes a lot of sense.
If you are healthy and still young, then this plan is worth it. It can help you save a lot of money.
Then again, you need to consider your other life events. For instance, if you are planning to get married, you should consider the age of your spouse and your health before you pick this plan.
If you want to have a baby, later on, a high deductible plan may not be the most ideal option considering the hospital childbirth costs. When you get pregnant, you could end up paying for more out-of-pocket expenses.
This is also not an ideal option if you have kids because your children are likely to visit a pediatrician. It's also not an ideal solution if you have a chronic condition that requires ongoing treatment.
And as you age, you are more likely to endure higher medical expenses. Thus, make sure to consider your current health and age before buying such a plan.
However, if you are in good health and you don't anticipate an expensive healthcare cost, then having a high deductible health plan might be the best option for you.
Read: What States Cover Some Infertility Treatments? 
What is the Downside to Having a High Deductible?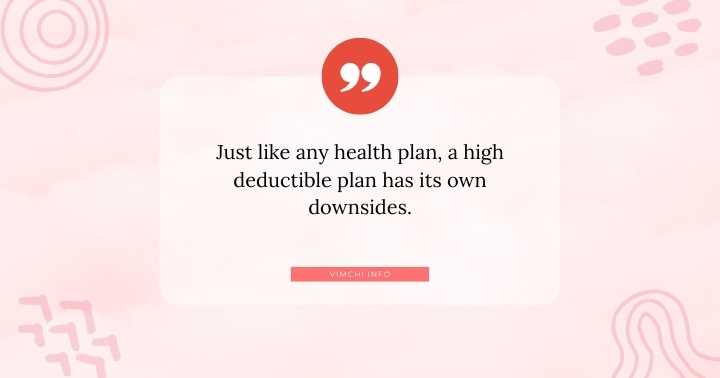 Just like any health plan, a high deductible plan has its own downsides. If you have a chronic illness, you will have to endure high out-of-pocket expenses.
Furthermore, this is not a useful plan if you are taking prescription medicines. Keep in mind that medicines have out-of-pocket expenses that you need to pay on your own until you meet your deductible.
You will also have to hit your deductible before the insurer will pay anything, should you need surgery. Then, if your out-of-pocket expenses are extremely high, you can't fully take advantage of your health savings account.
With all these downsides, you should weigh the pros and cons of this option. It's important to remember that this is not a one-size-fits-all plan.
Each person's situation is different. Thus, you need to consider your current health, age, and other circumstances.
If you have no extensive medical history and are single with no kids, then this plan might be ideal.
However, if you see a doctor once a month or you need to manage your mental condition, this plan is not ideal. Instead, opt for HMO or a PPO.
Read: What is the Best Insurance When Pregnant? 
Is It Better to Have a Low Deductible or High Deductible? 
It depends on your situation. A high deductible health plan has a higher deductible. It must be met before your coverage kicks in.
As mentioned, it's not a one-size-fits-all plan. You need to consider your health status, age, and many other factors.
Experts recommend this plan for healthy, young people who are not married and have no kids. On the other hand, if you have a medical condition that requires regular treatment or if you see your doctor every month, then this plan isn't the most ideal.
Even though it can help you save a considerable amount of money because of the low monthly premiums, you will pay a high amount of deductible when you need to seek medical attention.
If you are shopping for health insurance, you have various options to choose from. HDHP is just one of them. There are other choices available, like HMO and PPO.
Indeed, HDHP has a lower monthly premium. You will have to pay more for your out-of-pocket medical expenses before your medical coverage starts. But with PPOs, for instance, you will have lower deductibles but high monthly premiums. If you need medical treatment, your out-of-pocket costs are quite lower.
Between PPO and HMO, the former offers more flexibility. But with flexibility comes more expense.
Summary 
Does a high deductible health plan work? It does work for some people. Before you even consider this plan, make sure to study your health condition, age, and other life events. There are several factors that you need to consider before you choose this plan. Talk to an insurance agent to help you pick the right plan.
Find out here if this health plan is ideal for you.