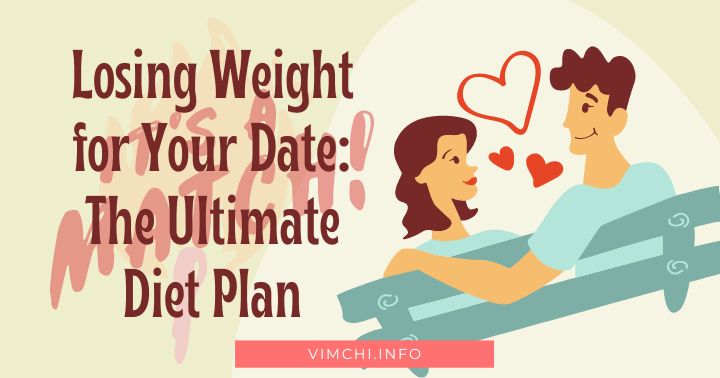 Ciara is 25 years old and overweight, not obese. After using a dating app for quite some time, she finally found someone with whom she found a connection. His name is Jay.
The two clicked. They shared photos. But Ciara only sent Jay her photos when she was younger. Way back when she was still skinny.
She never said anything about her being overweight. After all, if Jay truly likes her, he'll accept her for her, no matter what her size is.
Now, they agreed to go on a real date. It means they will meet and see each other in the flesh.
Ciara is worried that Jay will finally see her enormous body.
So, Ciara stalled their date and agreed to meet in one month. For Ciara, one month is enough time for her to lose weight.
Although Ciara can lose weight in one month, it may not be that significant. She may still look overweight.
Ciara is not an Apple product that is set to launch in one week. She thinks that she'll be shinier, and more desirable in the future. But what she's pondering is that she doesn't think Jay or anyone would like her now.
Well, you can't blame her. Many overweight women admitted that after meeting a few men, they were told that they'd be more interested in them if they were a few pounds lighter.
It's not easy to hear.
Ciara could cancel her date and wait until she's a size 6. Or she could meet Jay ASAP and find out if he'd still be interested in her despite her chubby physique.
If she would choose the latter, it doesn't mean that she'd abandon her weight loss goal. But her efforts to change her life and health for the better are not exclusive to efforts to meet people.
Since dating is a process, there is no ideal time to begin. It can start now, regardless of her size.
To start her weight loss journey, Ciara decided to modify her lifestyle by eating a healthy, balanced diet and getting regular exercise.
Set Clear Goals to Lose Weight
Losing one pound a week is healthy. It is a realistic goal. Think of it as an address that you put into your GPS before going for a road trip.
If you just start a diet plan without a plan, you'll hit plenty of wrong turns. You may even go in the opposite direction of where you wish to go.
Your weight loss goal will be more manageable if you just set specific goals.
Calculate Your Calorie Needs 
Use an online weight loss calculator to help you get an idea of the calories you need to eat each day to lose weight.
The numbers are not exact, though. But as you track what you eat, how much you consume, and when you eat will help you stay accountable.
It helps you curb mindless eating. You can also identify added calories that you had not thought would add to your waistline.
Once you know how many calories you need to eat to lose weight, you need to plan how to meet them.
And to meet your recommended calorie intake, you need to cut an average of 500 calories per day. But don't cut too many calories as it will only backfire.
Plan Your Diet 
This is the most difficult part. You may be motivated to cut an entire food group to lose weight.
However, before you eliminate certain food groups, make sure that you're still eating nutritious, balanced food.
There are plenty of weight loss methods that can help you cut calories and lose weight. Ciara chose intermittent fasting.
Intermittent Fasting to Lose Weight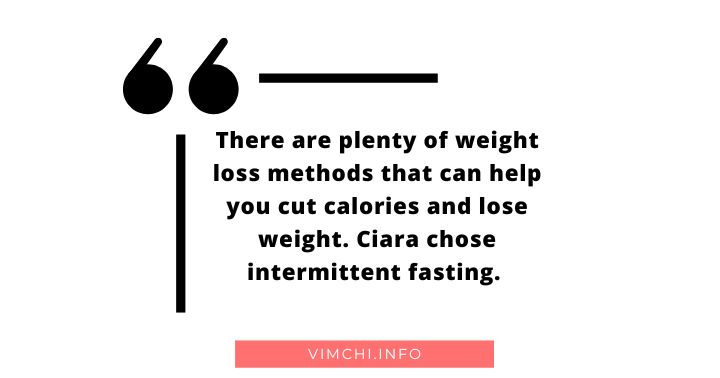 When you choose this plan, there's no need to worry about what you eat. Instead, you pick the time you eat.
There are various types of IF.
For the uninitiated, intermittent fasting is a diet plan (but for some, it's more of a lifestyle) that doesn't restrict calories.
Instead, it requires you to plan when to eat.
The easiest method is the 12-hour fast. You can start at 7 pm and break your fast at 7 am the following day.
If you're not losing weight with a 12-hour fast, you can advance to a 16-hour fast. The fasting period is longer. For followers of this IF, they stop eating at 7 pm. Their next eating time is at 11 am the next day.
After your body has been accustomed to fasting for 16 hours, you can try eating one meal a day, also known as OMAD. It's an extreme form of IF because you fast for 23 hours and have an eating period of 1 hour.
Carnivorous Diet 
It's a type of diet popularized by Shawn Baker. This diet focuses on simplicity and subtraction.
To understand how to follow this plan, consider reading the Carnivore Diet by Shawn Baker. The book reviews some of the nutritional science that offers clues as to the reason people are succeeding in losing weight by eating only meat.
(If you buy something through one of the links, we may earn an affiliate commission.)
Shawn outlines a strategy to help you incorporate this diet into your lifestyle so you can use it as a lifelong eating style. He also explains why some people are having problems transitioning to it.
Ketogenic Diet 
On the other hand, if you don't want to lose weight by eating only meat, you can try the keto diet. It is a diet plan that requires carb restriction.
This is a low-carb diet that needs to up your healthy fat intake. Even though it promotes healthy fat eating, you should still avoid consuming fast food or unhealthy snacks.
For many, they incorporate intermittent fasting and the keto diet. Because the ketogenic diet requires eating healthy fats and protein, you'll feel full for a lot longer.
In that case, you can survive not eating for many hours.
Exercise 
Cutting your calorie intake is not the only factor you must consider when planning to lose weight. Ciara plans to incorporate strength training and cardio exercises into her routine.
She wants to start with 30 minutes of exercise three times a week. Then, she'll switch to higher-intensity workouts to further stimulate weight loss.
However, it is not recommended to overexert especially when intermittent fasting. Keep in mind that exercising can exhaust you. And when you're exhausted you'll want to eat more.
Losing Weight is Not a One-Time Goal 
Ciara understands that losing weight is more than just fitting into a size 6 dress or looking good when she finally meets Jay in person. She knows that it is about a lifestyle change and not a one-time goal.
Choosing to lose weight for your date is not a good idea. Instead, you need to decide to shed some pounds for your overall health.