"If milkshakes bring all the boys to the yard, do protein shakes bring buff men to the yard?" What do you think? Probably, if they drink "whey" too much.
But on non-workout days, should you drink protein shakes on non-workout days? When should you drink it? Is it before or after a workout?
Continue reading to find out.
Is It Okay to Take Protein Shakes on Workout Days or Rest Days? 
There's nothing wrong with drinking protein shakes even on rest days. Although it's ideal to drink it after working out, there are benefits of drinking it on off days.
Keep in mind that on rest days, you still need to eat protein. The reason for this is that your muscles require this nutrient. They are recovering even on rest days.
In that case, your protein won't decrease on rest days.
When you decide whether or not to drink them on off days is your macros. Your macro goals are determined by your fitness goals. They can help you decide whether you need a shake on a rest day.
If you're trying to build lean muscle mass. you must eat a lot of protein. You need to meet the required protein intake each day, even on rest days.
On the other hand, if you try to lose weight, you won't need as much protein. Then again, you need to get enough protein to meet your fitness goals.
If you're the type of person who loses weight faster on a higher protein diet, then you need to be consistent with your protein intake. That is, even on off days, you should have protein shakes.
What are the Benefits?
Drinking a protein shake can have a lot of benefits. And you can enjoy these benefits even on off days.
If you don't like the taste of protein shakes, you can try these tips. 
Meeting Your Protein Requirement 
You need protein each day. If you have a hard time meeting it through food, you may want to supplement your body with protein shakes.
Despite your low activity on rest days, drinking protein shakes won't make you as hungry.
Curbing Cravings
It's one of the great benefits of protein shakes. They can help you curb cravings. On rest days, you may feel hungrier. Adding a serving of protein shake as a snack will help in curbing your unwanted cravings.
Making Life Easier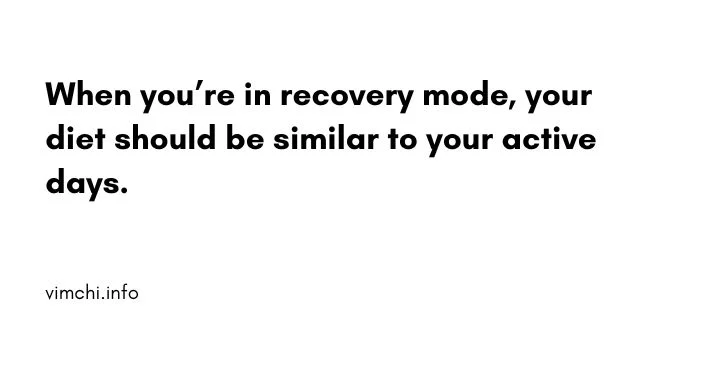 You don't have to cook food just to meet your protein goal. A protein shake makes it easier to meet it without having to eat or cook your meals.
This is convenient especially if you're always on the road or you have a crazy schedule.
Drinking protein shakes can ensure you're meeting your macros.
But keep in mind though that these shakes can make you gain weight.
If your calorie intake is higher than your body burns, then you're likely to gain weight instead of shedding some pounds.
However, one day of overconsumption of calories won't make you gain weight. It's only when you take in excess calories every day.
But remember that building muscle is what you want. And if you build muscles, you will gain weight.
Then again, weight changes don't happen overnight. To see results, you need to be in a calorie surplus or deficit over time.
When you're in recovery mode, your diet should be similar to your active days.
The reason for this is that your body requires the same nutrients on off days. This will ensure you are recovering properly.
In that case, you need sufficient carbs to replenish your glycogen restores. However, if you're on the keto diet, you won't need that many carbs. You also don't need to restore your glycogen restore.
Your protein should also be sustained. Per kilogram of weight, you need up to 2 grams of protein. This will ensure your muscle recovers properly.
Recovery can take at least a day. Thus, you must up your protein intake. But make sure that you don't just focus on protein shakes.
There are various protein sources available. For instance, you can eat lean meat, fish, beans, and poultry. However, if you're on a carnivore diet, consider grass-fed meat.
No tofu and beans. A protein shake may be advised. But you should not drink too much.
Eat a lot of fats.
Healthy fats are vital on rest days. They can help you feel full between meals. In that way, you can avoid snacking.
This is great if you are on intermittent fasting or OMAD.
If you're wondering whether or not Nutrisystem shakes are great, here's our answer. 
Do You Even Need to Rest When Building Muscles? 
Rest days are vital when building muscles. They are just as vital as the actual work.
Keep in mind that working out is just a step closer to muscle building. However, because you are breaking down your muscles while in the gym, you need rest days to repair and rebuild those muscles.
A longer rest period is vital to prevent overtraining. By having days off, you're allowing your body to repair muscle and regulate stress hormones.
Stress hormones are usually high because of exercise. If they are elevated for a long period, it can be difficult for you to build muscles.
Should I Drink Protein Shakes Every Day?
As mentioned, there's nothing wrong with drinking protein shakes each day. These shakes are a convenient way to obtain sufficient protein.
They are valuable post-workout.
However, it's still vital to obtain your protein from whole foods. Whole food sources will provide you with other valuable nutrients that you can't find in a protein shake.
These nutrients are necessary for your health. They can support your workout performance and recovery.
You should only drink protein shakes if you are too busy to make your meals or buy whole foods with protein. Protein powder can have around 25 grams to 30 grams of protein per serving. The amount can fit into your eating plans.
Protein shakes have become popular among bodybuilders. However, they are gaining popularity among those who simply want to gain more muscles or are trying to lose weight.
Related: Herbalife Shakes: Will They Help You Lose Weight? 
Should I Drink Protein Shakes Before or After a Workout? 
You can drink protein shakes before or after a workout. However, the best time is post-workout. The reason for this is that protein shakes can help rebuild your muscles after a breakdown during an exercise.
How Often Do You Drink Protein Shakes? 
You can drink them every day. But make sure to obtain your protein from whole foods so you can also get other nutrients that are not found in a shake.
If you want to boost your protein intake and also want to lose weight, consider taking meal replacement. Check this out.