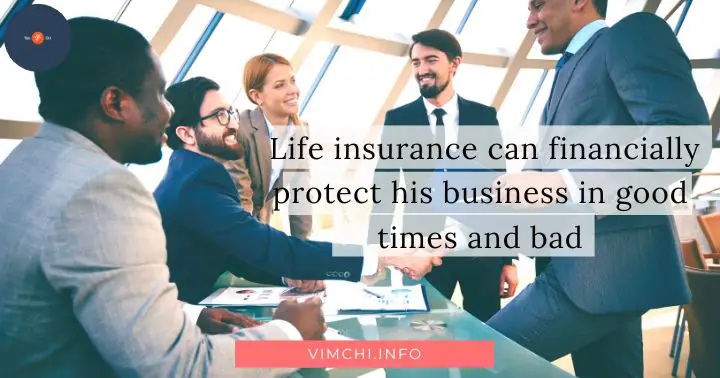 Joshua understands how crucial it is to strategically plan for his business. He's 45 and a business owner.
He has medical insurance and offers health insurance as one of the work perks for his employees.
Just like other business owners, Joshua treats his business like his own child. He wants to protect it financially.
That's why when an insurance agent offered him life insurance policies for business owners, he purchased some.
Joshua thinks that life insurance can financially protect his business in good times and bad.
Is he correct?
Let's find out the ways you can use life insurance to protect your companies.
Related: What is life insurance for seniors?
Benefits of Life Insurance Policies for Business Owners
Keep the Company Afloat 
Having a business owner's life insurance will keep your company running in good times and bad.
You can use it to pay off your business debts or cover expenses required to find your replacement upon your death.
Joshua bought life insurance with a cash value component. In that way, he could tap into the funds to boost tax-free business growth while he's still alive.
A cash value life insurance includes a cash value account. It earns interest.
There are various options if you want to purchase a cash value life insurance policy. Although each policy accrues cash value differently, you can get your cash value through withdrawal or a loan.
Fund a Partnership Agreement 
Joshua has business partners and he has a partnership agreement with them. The agreement states that if one partner dies, the surviving partners can buy out his/her share of the business.
And to fund the buyout, life insurance can help.
Ensure Equal Inheritance
One of Joshua's ventures is a restaurant. It is a family business and one of his kids is working for it.
Life insurance can help in estate planning to enable the child in the business to inherit the company's shares while the other children receive an insurance payout.
In other words, if Joshua dies, his children will get an equal share of the estate.
Prevent Substantial Debt 
Life insurance policies for business owners will not just protect the company. Rather, they are essential to help the surviving family to move forward.
It is also one of the reasons Joshua purchased a whole term life insurance to protect his family from substantial debts. He doesn't want his family to struggle while they move forward without him.
When he dies, life insurance can replace his income and his family can maintain the same standard of living.
Related: What is the most affordable type of life insurance?
How Much Life Insurance Should You Have? 
The purpose of this insurance is to ensure that your business and your family will continue to run smoothly when your time will come.
But how much insurance should you have will depend on a lot of things. Here are some factors to consider:
Size of the business
Overhead costs
Number of workers
Financial stability
Amount of company's debt
Before Joshua purchased a life insurance policy for his business and his personal life, he consulted a financial adviser to help him identify the right life insurance and coverage amount.
Is Life Insurance Only for Big Businesses?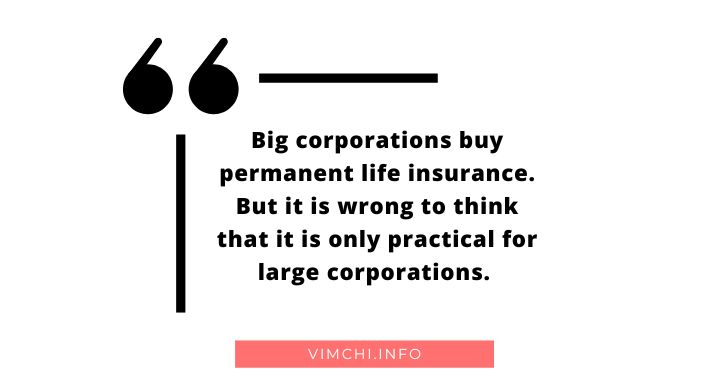 Big corporations buy permanent life insurance. But it is wrong to think that it is only practical for large corporations.
Joshua owns several enterprises.
But one of them is a small business with less than 5 employees. For that company, he purchased life insurance to protect it.
Do You Need Term Insurance or Permanent Life Insurance? 
Corporations opt for permanent life insurance. And for a good reason. Term insurance offers a personal financial strategy. But permanent insurance can offer long-term benefits.
Permanent insurance provides short and long-term liquidity. It also offers tax savings. Joshua knows that purchasing insurance is an expense to his company. But the benefits definitely outweigh the cost.
Related: Will your life insurance cover coronavirus-related death?
Should You Offer Your Employees Life Insurance? 
Business owners, like Joshua, insure their buildings and equipment. But Joshua is different from them because he ensures that his greatest asset is also insured.
The people who work for him with skills, knowledge, and experience are vital to his company. That's why he purchase key employee policies.
He has several essential employees who have been with his company for years. Joshua isn't sure what he would do without them because they are part of the "family.
The whole life policy he purchased for those employees has a waiver of premium feature. It means that in case of disability, the life insurance company will continue to pay the premiums.
The life insurance policy provides his business with additional savings that Joshua could borrow against in an emergency. The policy also benefits its employees and their families. In case anything happened to his employees, the policy would replace their income for them.
Where to Purchase Life Insurance for Business Owners? 
Joshua bought his business life insurance directly through the insurance company. But you can buy coverage through an independent broker. The broker can shop around for you.
However, you need to know how much coverage you need. This can be determined by knowing how much money your business would require if you lose your key personnel or to pay off debts or loans.
It is also vital to compare life insurance quotes. Hence, you should shop around for the best rates. In that way, you will have a clear idea of what rates are being offered by different companies.
Choosing the Right Life Insurance Policy
When Joshua was shopping for life insurance policies for business owners, he considered the company's financial strength, complaints, customer satisfaction, and policy types.
He also evaluated the company's ease of application and available riders. After he did his homework, he chose a company that offered a policy that meets his company's needs.
If you don't want to go through what Joshua did, you can always hire a financial adviser who will compare the rates for you and provide you with a list of insurance companies you may want to consider that sell life insurance policies for business owners.