When buying health insurance policies, you're bombarded with various pieces of information. You also need to pick between HMO and PPO plans. What does HMO mean in health insurance?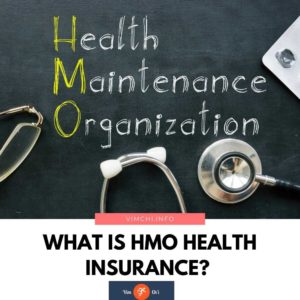 That's what you're going to find out in this post. So, keep reading.
What is a 30-day Grace Period in Health Insurance
What Does HMO Mean in Health Insurance? 
Health Maintenance Organization (HMO) is a type of coverage that restricts policyholders to a certain group of physicians, known as a network.
It won't cover out-of-network care, except in an emergency. To be eligible for this plan, you need to be living or working in the service area of the network.
Just like PPO, HMO is a type of managed care to allow insurers in controlling overall costs.
Although it may sound straightforward, the differences between HMO and PPO can be quite confusing.
What's the Main Difference Between HMO and PPO?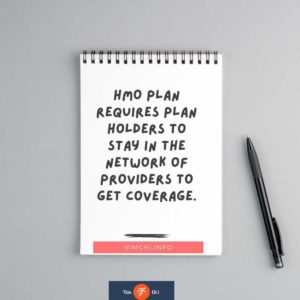 With an HMO health plan, you need to see your primary care physician every time you need medical care. You can't see a specialist without a referral from your primary care doctor.
If your PCP can't treat your medical condition, he/she will refer you to a specialist, who is still a part of the plan's network.
Another difference is that the HMO plan requires plan holders to stay in the network of providers to get coverage. Under a PPO plan, patients can still go to a network of providers. However, they are not limited to seeing those physicians in the network. They can go to other healthcare providers if they wish.
However, if you stay within an HMO, you can get maximum coverage for the healthcare services you get. If you go outside your network and the coverage is gone.
But if you choose a PPO plan, you can go to doctors outside of your network. Some of your coverage is intact.
What is the Cost of HMO?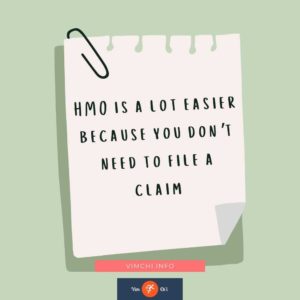 HMO has lower premiums because it has no coverage benefits outside of the network. For instance, the average monthly premium for an HMO is $420 while the monthly average of a PPO plan is $517.
Compare to PPO, the HMO plan's out-of-pocket costs are lower. Furthermore, most HMOs don't have a yearly deductible. They may charge a copay only at the time of service when you stay in the network.
When deciding whether to choose an HMO plan or a PPO policy, you need to decide what's more important to you.
What are the Services Covered? 
The covered services depend on the plan. If the health plan is offered on the Affordable Care Act marketplace, then each plan must cover preventive care, maternity care, and emergency services.
When you file a claim, HMO is a lot easier because you don't need to file a claim. The health insurer will pay for the healthcare provider directly.
If you need to fill a prescription, you need to fill it at an in-network location to get coverage. A PPO policy lets you fill a prescription anywhere. But of course, you need to pay more for prescription medicines when you use an out-of-network pharmacy.
How to Choose Between an HMO and PPO? 
Deciding between an HMO and PPO, you should consider the overall cost.
If you want to lower out-of-pocket costs, deductibles, and premiums, you should consider an HMO plan.
If you don't mind going through a primary care physician, you can choose an HMO plan.
However, if you don't want limited coverage even when you receive care out-of-network, then PPO is a better option.
You should also consider the healthcare where you live. If you live in a rural area or your favorite doctor isn't part of your HMO network, then PPO might be a better option.
Then, if you travel frequently or you need to see a medical doctor while you're out of town, then PPO is a better health plan than an HMO.
However, some people prefer HMO because they like to have a primary care doctor who will coordinate all their healthcare. For these individuals, having a primary care physician will keep their detailed medical records and provide more personal experience because they see the same doctor every time they need medical care.
Conclusion 
What does HMO in health insurance? It stands for health maintenance organization. It may sound straightforward but choosing between HMO and PPO plans can be quite confusing. One thing for certain here is that you need to pick a plan that fits your healthcare needs.
Are you looking for health insurance for your family? Read here.