Me at 3 pm: "I'm so sleepy, I can't keep my eyes open…"
vs me at 3 am: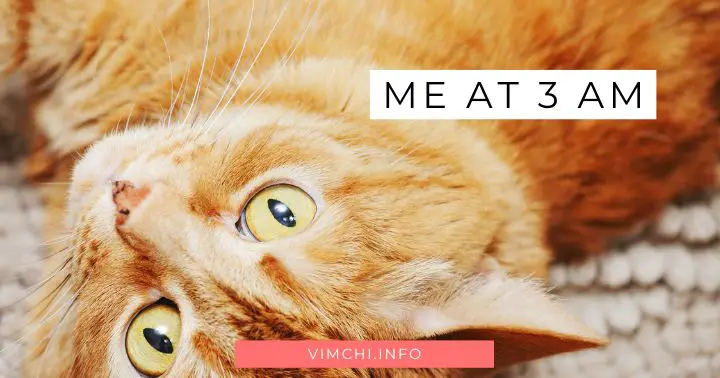 Unfortunately, this is a scenario that nearly every insomniac has to face. Yours may be different.
You can be watching everyone go to sleep, while you stay up overthinking everything in your life.
Or your brain during the day is tired, slow-moving, or half-asleep. But when it's midnight or 2 am, you're widely awake.
Sleep can be a real challenge especially if you suffer from insomnia because of your health condition.
There are nights that you scroll through apps on your phone until you fall asleep.
There are other nights that you fall asleep instantly. Then, you wake up at 2 am … tossing and turning so much that when you wake up in the morning, you feel as if you just ran 10 kilometers.
It is a constant battle that you feel like you are always losing.
Indeed, there are several tricks you can try to fall asleep. For instance, you need to limit your screen time before bed.
You may also want to use a weighted blanket. It works for some people.
Or you can try drinking tea to get some shut-eye. We have talked about some teas you can drink to help you fall asleep quickly here.
But on that list, though, we missed one effective tea — Sleepytime.
It is a bedtime tea with several calming ingredients. My mother tried it and it worked for her.
Perhaps, it will work for you, too.
In this review, you'll find out whether or not this tea is, indeed, helpful for your insomnia.
Read: Rooibos tea when intermittent fasting
Does Sleepytime Tea Actually Make You Sleepy?
I also asked myself this when I first came across this tea at Healthy Options. I bought quite a few teas in the past for my mother to help her fall asleep quickly.
Sleepytime tea is marketed as a bedtime tea. It is based on chamomile and other calming ingredients that can calm the nervous system.
Chamomile has been heavily studied. In this study about 40 healthy adults, the researchers found that the participants who drank a sleep tea every day reported having better sleep quality compared to those who did not drink it.
Besides chamomile, it also has lavender, a known soothing tea.
Other ingredients are valerian root, passionflower, spearmint, lemongrass, and lemon balm. All of these are said to help in calming the active nervous system.
My mother liked the calming effect of the tea. However, it didn't put her to sleep instantly. But it did help her a good night's sleep.
That is, even if she'd wake up at night to pee, she could still go back to sleep afterward.
But to get the most out of it, steeping is critical. When my mother was still using it, I only steeped it for less than 5 minutes.
Just like any tea, the longer you steep it, the stronger the effect will be. Thus, you may consider steeping it for more than 5 minutes before drinking it.
Read: How to make a perfect tea bomb?
How Long Does It Take for Sleepytime Tea to Kick In?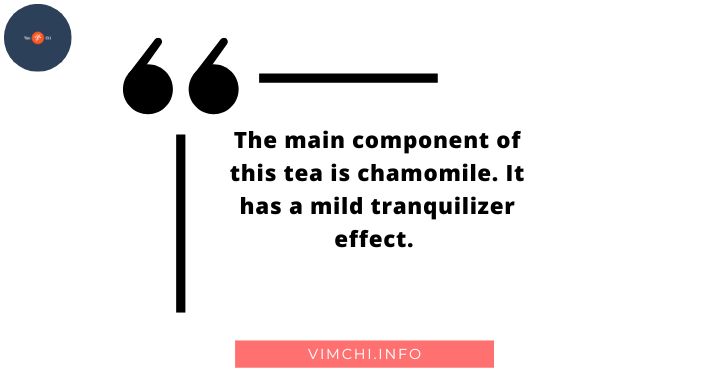 The main component of this tea is chamomile. It has a mild tranquilizer, thereby, it helps in inducing sleep. To help you fall asleep, you need to drink it an hour before bedtime.
This tea is effective because of its chamomile content. Its chemical structure makes you feel sleepy.
The chamomile extract has apigenin. It is a chemical compound that binds to the GABA receptors in the brain. These are also the same receptors that bind to benzodiazepines.
They are used in anti-anxiety drugs because of their calming effect. We'll talk about this tea's effect on anxiety later.
Because of how the chemical compound binds to the GABA receptors in the brain, it induces sleepiness.
Some studies also showed that chamomile could help anyone with sleeping troubles. In this study, for instance, 80 women who had given birth reported having fewer symptoms of inadequate sleep after drinking chamomile tea.
Then again, no matter how beneficial this tea is in inducing sleep, steeping time and drinking time are critical.
The longer you steep it, the better the result will be.
And when it comes to drinking time, you can drink it for 45 minutes or an hour before bed. It's a sweet spot to give your body time to metabolize the tea's content.
It also gives the sedative compounds to kick in.
Now, for its anti-anxiety effect, will sleepytime help?
Let's talk about it in the next section.
Is Sleepytime Tea Good for Anxiety?
I can't say for sure if it will help your anxiety.
But because it has a calming effect, it may help your shallow breathing, stomach upset, muscle tightness, and other anxiety symptoms.
As mentioned, this tea also contains valerian root. This, too, is a common tea with a sedative effect. Its sedative effect is stronger than chamomile.
How valerian root works in easing insomnia and anxiety? Researchers are not sure.
But some hypothesize that it increases the level of GABA in the brain. As mentioned, GABA contributes to the calming effect in the body.
Anti-anxiety drugs aim to increase GABA levels in the rain.
Read: Is NRG better than caffeine?
What are the Alternatives to Sleepytime? 
This tea isn't the only one you can take or drink to induce sleep. There are supplements that you might want to try if this tea is not effective.
Melatonin supplements can be effective, too. This review found that melatonin supplements improved sleep quality.
It also reduces the time it took to fall asleep. Although it can induce sleep, it does not have the side effects associated with sleeping pills.
If you wish to try a melatonin supplement, consider taking a small dose first. Take it an hour before bed.
I like this one from Natrol. I use it when I travel. I usually have a hard time falling asleep when I sleep in a hotel or another house.
Summary 
Sleepytime tea can help induce sleep. My mother tried it and it worked for her. But it doesn't mean that it will work for you too. Every person is different. Since it is not a synthetic drug, you can safely try it. If it does not work for you, please let us know. If it does, please leave us a comment about your experience.
All products recommended by Vim Chi are selected by our editorial team. If you buy something through one of the links, we may earn an affiliate commission.