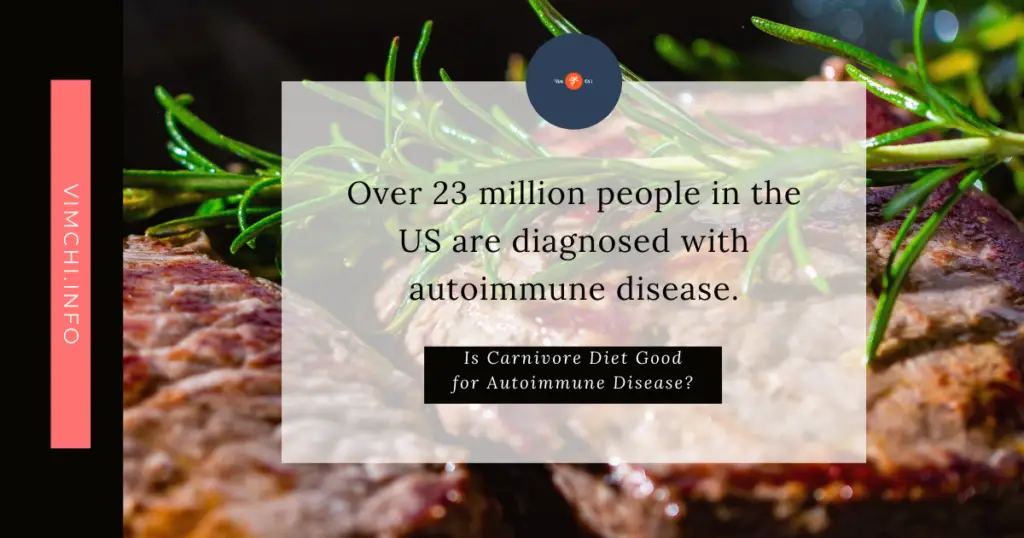 The carnivore diet may seem like a good idea. It's especially true if you don't like eating vegetables. Many carnivore diet followers said that it cured their illnesses including gut issues. Is the carnivore diet good for autoimmune disease?
Let's find out here.
Is the Carnivore Diet Good for Autoimmune Disease?
There's no easy answer. The reason for this is that this diet is not well-studied. There's not enough research on the long-term effects of a meat-only diet that eliminates all-important food groups.
Over 23 million people living in the US are diagnosed with autoimmune disease. Unfortunately, there are still other people who are undiagnosed.
This disease has a constellation of symptoms, including digestive troubles. Some sufferers switched to a meat-only diet and they found improvement in their condition.
However, others didn't experience positive effects.
The concept of eating meat alone can be challenging for some.
See Also: Carnivore Diet Benefits
What is Carnivore Diet? 
As the term suggests, you'll be eating only animal foods while eliminating all plant-based foods. Since you'll be consuming animal foods, this is considered a high-fat diet.
By eliminating plant foods, though, you're also cutting out all carbs. In that case, you'll rely on protein and fat for energy.
This diet can be considered an extreme version of the keto diet. However, the carnivore diet cuts out all carbs while the keto diet includes a low amount of carbs.
On a carnivore diet, you'll be eating the following food:
Red meat
Poultry
Eggs
Organ meat
Bone broth
Fish and seafood
Animal fats
There are different versions of this diet and some allow eating low-lactose dairy including hard cheese, heavy cream, and cheese.
With this diet, you must eliminate all plant foods. Hence, the following must not be part of your diet:
Grains
Vegetables
Nuts
Herbs and spices
Fruits
Beans
And because coffee and teas are plant-based drinks, they are not allowed in the diet but only if you strictly follow this diet.
See Also: OMAD Diet Rules to Lose Weight
Should Sufferers of Autoimmune Disease Follow It? 
There's no clear evidence that this carnivore diet is safe. Most pieces of evidence are limited to those who tried the diet and reported their experience.
Indigenous communities who primarily eat animal foods are still eating plant foods. Most studies about a meat-only diet utilized animals and not humans. The reason for this is that humans are omnivores. We are designed o consume plants and animals.
Plant foods are vital for health. They can maintain healthy digestive systems. However, there are plant-based foods that can negatively affect your digestive tract.
Benefits of a Carnivore Diet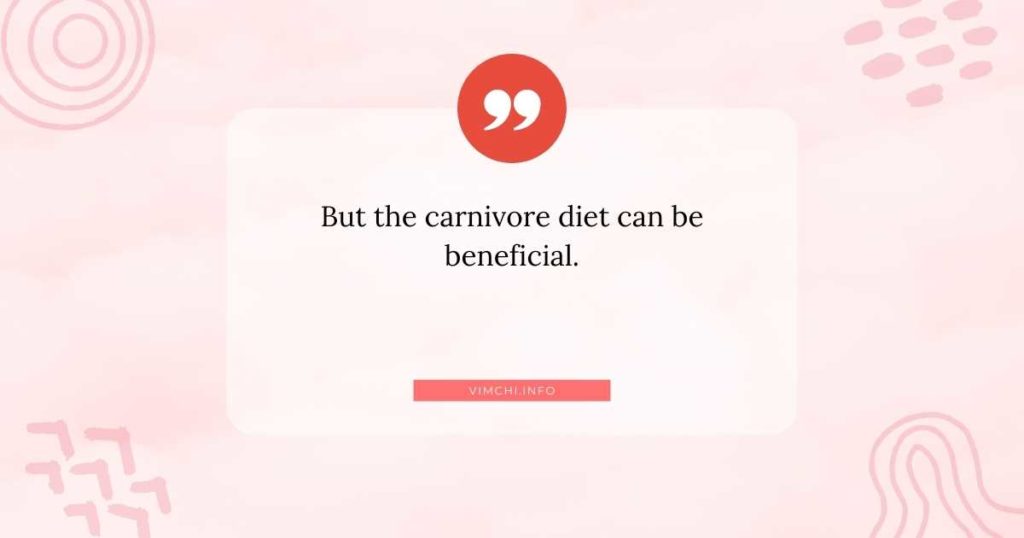 Since there are no scientific studies about the carnivore diet for autoimmune disease, you need to consider talking to your doctor.
You may also consider the elimination diet. That is, you have to slowly get rid of foods that might be causing the inflammation.
But the carnivore diet can be beneficial. Here are some of its benefits:
Lower GI Symptoms 
The digestive system can become inflamed. To remedy it, a low-residue diet can be followed. It can reduce inflammation and symptoms to heal the GI system at a deeper level.
A low-residue diet means low fiber. And carnivore diet is an option.
Reduce Inflammation 
The carnivore diet can significantly reduce inflammation in the digestive system and the body. Thus, it may be a possible solution for people with autoimmune diseases. It may help in calming the system while putting the body measures in place.
Weight Loss 
Fat and protein from animal foods are very satiating. Thus, you will be eating fewer calories. Because you're eating animal foods and no carbs, your body will enter into the state of ketosis, where the body utilizes fat for energy.
With these effects, you're likely to lose weight.
See Also: OMAD Carnivore Diet Meal Plan
Why Carnivore Diet May Work for Autoimmune Disease? 
As mentioned, there's no scientific research that can verify that this diet is ideal for patients with autoimmune diseases.
However, some people who suffered from it and followed this diet have found great improvement in their symptoms.
One reason this diet worked for them is that it eliminates most of the allergens that people eat. This diet also removes anti-nutrients.
You can still be sensitive to animal foods. However, when you remove gluten, soy, corn, and dairy from your diet, you may find that your inflammatory symptoms are reduced.
Furthermore, this diet eliminates sugar and refined carbs, which are known to be the driver of digestive symptoms.
Is This Diet for Everyone? 
Unfortunately, the carnivore diet isn't for everyone. You would be cautious against it if you have thyroid issues. Keep in mind that eliminating carbs from your system can add stress to the body.
When the thyroid is weak, the body may not handle the additional stress. 
Since this diet eliminates carb intake, it may not be ideal for women in their reproductive years. Keep in mind that hormone production requires some carbs. Furthermore, the insulin response is vital for ovulation.
Without carbs, the body will interpret it as a state of famine, which can negatively affect fertility.
And if you suffer from chronic disease, a carnivore diet may not be the right solution. The carnivore diet is high in protein and chronic kidney disease patients are advised to lower their protein intake.
Summary 
Is the carnivore diet good for autoimmune disease? It may help. But there's no scientific proof that it can cure the disease. Also, it's not for everyone.