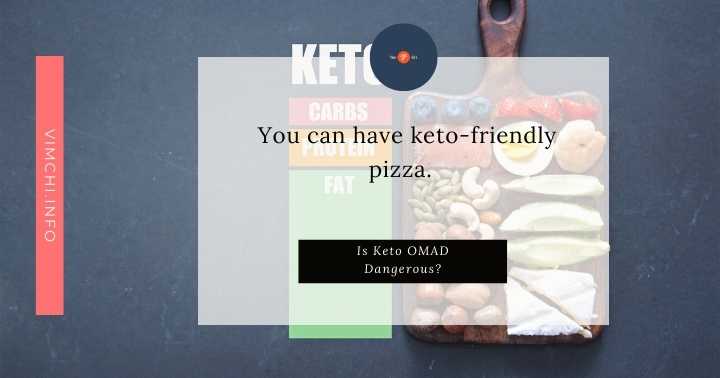 Keto OMAD lets you eat anything high in fat but low in carbs. In that case, burgers are okay but skip the bun. You can have keto-friendly pizza. But is it a good idea to follow this diet? Is keto OMAD dangerous?
Keep reading to know more.
Is Keto OMAD Dangerous? 
One of the things that make this diet enticing is its simplicity. You only eat one keto meal a day. Unlike the straightforward OMAD meal, keto OMAD consists only of high-fat, low-carb food. So, is it dangerous?
It is an extreme form of intermittent fasting. There are no studies that can prove that it is safe or dangerous. Because of its nature, health experts do not recommend it, just like other diets available.
Read: What are the Main Benefits of Keto OMAD?
Why Should You Try Keto OMAD? 
Many people do not like missing a single meal. Eating one high-fat, low-in-carb meal can be excessive for some people. However, proponents of this diet claim that it offers a lot of benefits:
Weight Loss 
It is one of the main benefits of this diet. When you are eating one meal a day, it is tricky to go overboard. You are not taking in as many calories as you would if you eat three times a day. In that case, weight loss can happen quickly.
However, I like to emphasize that you should not underestimate your calorie intake. You must count whatever food and drink you consume. You may think that a teaspoon of peanut butter may not affect your calorie intake, but it does.
But for many proponents, this diet is not that easy to go overboard, as long as you eat healthy fats.
Read: Keto Meatballs Recipe
Increase Productivity 
You won't suffer from an afternoon slump when you only eat one meal a day. It can help eliminate the sluggishness that people feel while digesting their lunch.
However, if you choose to break your fast in the middle of the day, you may encounter an afternoon slump. To avoid it, make sure that you are eating healthy fats.
Forget Counting Calories 
One of the best things about keto OMAD is that you do not have to count or log your calories every time you eat food. In that case, you can free up your energy when you are not planning four to six meals a day.
Then again, it is also easy to overcompensate. Because you will think that you will not eat for 23 hours, you will eat all the food in your fridge.
It can lead to over-eating.
To avoid such an issue, you should plan your keto meal every day. It is easy because you only have to eat once.
Read: Sample Meal Plan for KETO OMAD
Does Keto OMAD Slow Down Metabolism?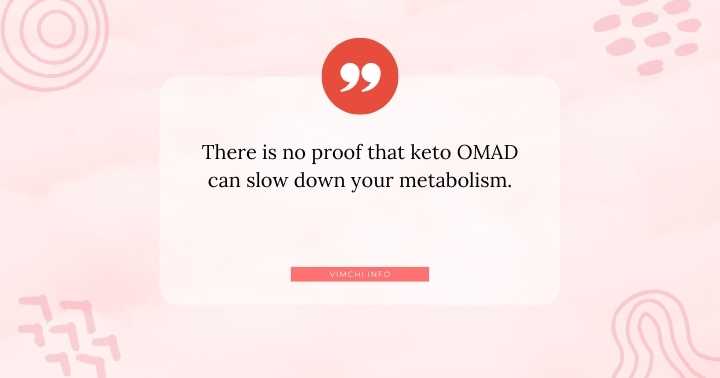 There is no proof that keto OMAD can slow down your metabolism. Metabolism is the ability to convert food into energy.
Reduced metabolic rate does not always result in slow metabolism. It only means that the body is using fewer calories.
A lot of people are worried that keto OMAD will ruin their metabolism. However, the body has a well-adaptive system.
When you eat fewer calories, you are using less energy. But it doesn't necessarily mean that your metabolism is stalling.
If you have more weight to lose, your body works harder to move you around. The process costs extra fuel. When you reduce your extra weight, more energy won't be needed.
However, if you notice that your metabolism is slow, you need to consider your age and physical activity. Keep in mind that metabolism hinges on several factors and age and physical activities are just two of them.
Thus, if you start to exercise along with following a keto OMAD diet, you can lose a significant amount of weight. Even if you are in your 40s or 50s, it will be easier to lose weight if you are physically active and eating fewer calories.
Another issue about this diet that many want to know about is hormonal changes. Studies show some changes that could happen after a reduced caloric deficit. It means that you may experience hormonal changes.
Read: How Effective is OMAD?
What are the Disadvantages of Keto OMAD? 
It's not for everyone. 
Even though it can offer a lot of health benefits, it's not for everyone. If you are taking medicines that require consuming them after meals, then keto OMAD isn't the right fit.
And if you feel hungry while fasting, then it's an indication that your body doesn't agree with a 23-hour fast.
Sluggishness, however, can be fixed over time. But after a few weeks of following this eating plan and this side effect doesn't improve, then it's a sure sign you're not up for it.
Challenging to meet the recommended calories.
You are eating too little with this diet. Although you have an hour of eating window, you may not consume all 2,000 calories for the day in one meal.
But there's a remedy to it. You should consider spreading your calorie intake across the one-hour eating window. You can also eat every 15 minutes.
Cause Issues with Blood Sugar
Keto OMAD can be helpful to regulate your blood sugar levels. However, you may not benefit from it if you have type 1 or type 2 diabetes. Keep in mind that when you fast for so long, your glucose levels will go down significantly.
But there are followers of this diet who also suffer from diabetes and they turn out to be okay. Then again, every person is different. You should talk to your doctor about it before you even follow keto OMAD.
Does Keto OMAD Lead to Insulin Resistance? 
No, it doesn't cause or lead to insulin resistance. Rather, it can help your body by making it more insulin sensitive. However, as soon as you break your fast, your appetite-suppressing hormones switch gears.
Summary 
Is keto OMAD dangerous? It's not precarious as long as you eat the proper quantity of food and focus on healthy foods. But before you even try this diet, make sure to talk to a dietitian or your doctor.
If you want other ways to lose weight, you may try replacing your two meals with a protein shake. Shop here for the best protein shake.