As you embark on your intermittent fasting odyssey, you're no stranger to the incredible benefits it offers—weight management, improved metabolism, and heightened mental clarity.
Yet, there may be moments when you encounter the dreaded sluggishness, a subtle but persistent obstacle on your path to wellness.
Fear not, for we're about to unlock the secret to invigorating your fasting experience: minerals.
In this exploration about intermittent fasting for beginners, we unveil the top seven minerals that hold the key to banishing that sluggish feeling, revitalizing your energy, and elevating your intermittent fasting journey to a whole new level.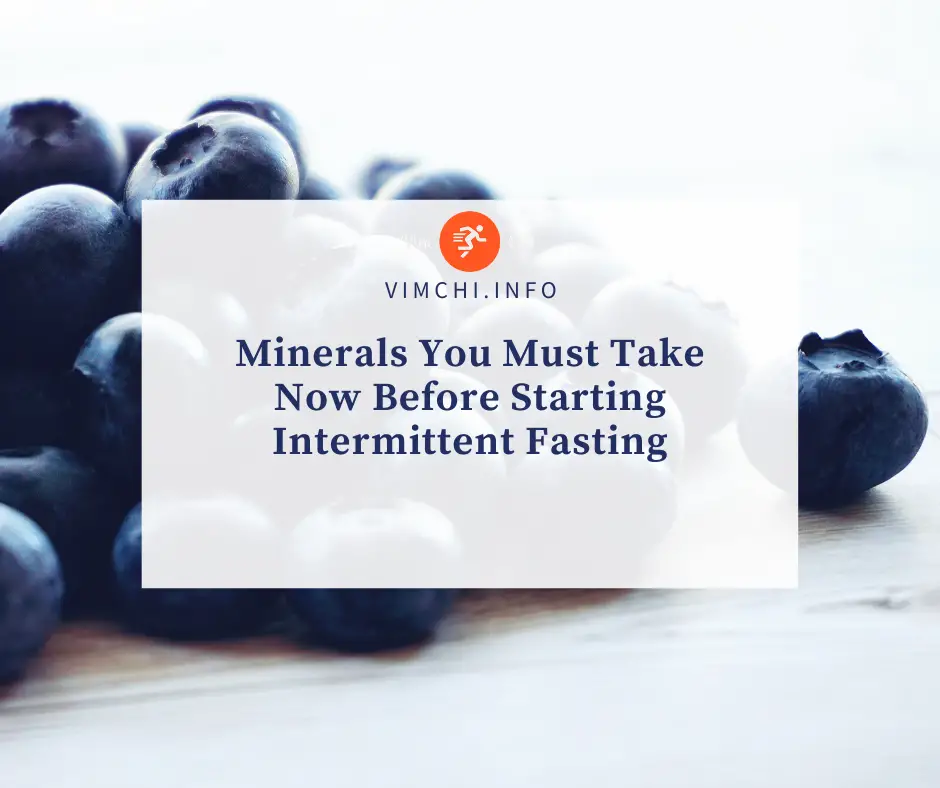 With these nifty fasting tips, you can develop your own self-care routine and get new ideas that will help you reach your health goals faster.
Intermittent Fasting for Beginners: How Does an Intermittent Fast Work?
An intermittent fast is an eating pattern that cycles between a period of eating and fasting. An intermittent fast can be split into several ways and each unique split contains an inherent benefit. So how does it work?
When you fast, your body's metabolism changes. Since your body is starved for carbs, it goes into a state of ketosis, a state which forces your body to use stored fat instead of using the carbohydrates you would get from food. Since your body is using stored fat, you begin to lose weight faster. 
Every type of intermittent fast gets you into this ketosis phase. How quickly your body enters ketosis largely depends on your body type and type of fasting method you choose.
Several studies suggest that fasting can help with fat loss, improve metabolism, decrease insulin resistance, and protect against diseases. Whatever your reason is, whether, for health or religious reasons, it's important to be well informed about fasting.
What Types of Intermittent Fasting Are There?
Alternate-day fasting and time-restricted fasting are the two main types of intermittent fasting. When you alternate-day fast, you alternate between a day (or more) of fasting and eating. Time-restricted fasts alternate between periods of fasting and eating during the same day. All fasts allow you to take supplements and minerals during your fasting period, as long as they contain no calories.
It's important to be well-informed before you start fasting. Do all the necessary research to make sure that intermittent fasting works for you, especially if you take medication. Certain medications can only be taken with food, so plan accordingly. 
How Can Vitamins and Minerals Improve Your Fast?
Anytime you restrict your diet by fasting; or doing a juice cleanse or diet, you run the risk of developing a nutrient deficiency which can greatly reduce the effectiveness of your fast. Taking supplements or starting a diet high in vitamins and minerals can help reduce your risk of a nutrient deficiency and make a fast go smoothly. 
There are no real rules on how to take vitamins or minerals supplements while you fast. However, it's best to choose vitamin and mineral supplements with no fillers or sugars. Be sure to read the label of any supplement before you take them because they can affect you in several ways when not taken correctly:
Drop your blood sugar
Raise your insulin levels and take you out of ketosis
Pass through your body because they need to be taken with food
Cause nausea when taken on an empty stomach
What Types of Supplements Are Fast Friendly?
If you want to stay true to your fast, it's important to avoid supplements with sugar, protein, or starch. Your best bet is to take these types of supplements: multivitamins, micronutrients, fish or algae oil, probiotics, shilajit, or creatine. These supplements do not typically contain calories. You should also consider taking minerals and vitamins while on an empty stomach. This way you'll have more energy throughout your fasting period. Below are the top vitamins you should take during your fast on an empty stomach:
Water-Soluble Supplements: These types of supplements are the best to take on an empty stomach since they break down with only water. However, some people report feeling nauseous when taking vitamin B on an empty stomach so beware!
L-Tyrosine: This a protein supplement that helps improve alertness, attention, and focus 
Always check the label of any product you purchase before using them for fasting purposes to make sure it doesn't interact with existing medications.
What Minerals Does Your Body Need During a Fast?
Minerals are important for our body because they help activate enzymes which are essential for internal body processes. Enzymes are important because they act as a catalyst to help create biochemical reactions throughout the body. Typically, we get trace minerals — which are responsible for the function of these enzymes —  through a healthy diet. The problem, though, is during a fast we might not get all the necessary minerals we need, so it's important to supplement them by taking a water-soluble multivitamin or by eating a diet rich minerals.
In this section, we will breakdown the top seven trace minerals into a simple list and explain their function:
Calcium
Calcium helps build bones and regulates blood pressure; helps muscles contract, nerves send messages, and blood to clot. You can get calcium from almonds, cheese, curly kale, yogurt, and broccoli. Consider eating these foods during your non-fasting period.
Magnesium
Magnesium helps build bones and regulate blood pressure; it also helps stabilize blood sugar, muscles to contract, nerves to send signals, and activates enzymes. If you take a supplement, it's best to take it with food, as magnesium is known to irritate the stomach. If you want to get magnesium naturally, eat dark chocolate, almonds, cashews, avocados, or bananas.
Iron
Iron helps make hemoglobin and myoglobin; iron is also essential for activating enzymes and making amino acids, collagen, neurotransmitters, and hormones. To get iron naturally, eat lentils, beans, chicken, tofu, or dried fruit.
 Sodium
Sodium is needed for fluid balance, nerve transmission, and muscle contractions. If you want to increase your salt intake, add a splash of salt to your food or just eat foot with salt already added.
Potassium
Potassium is needed for fluid balance, nerve transmission, and muscle contractions. To get potassium naturally, eat bananas, oranges, prunes, apricots, or coconuts.
Zinc
Zine helps blood clot and wound healing; helps make proteins and DNA; promotes healthy cell division; bolsters the immune system. To get zinc naturally, eat legumes, nuts, seeds, eggs, and whole grains.
Manganese
Manganese helps form bones; it also helps metabolize amino acids, carbohydrates, and cholesterol. To increase your manganese intake naturally, eat brown rice, nuts, spinach, acai, or pineapple.
These trace minerals are critical for your wellness. When you fast, trace minerals can get easily depleted causing fatigue, weakness, cramping, and dizziness. To prevent these symptoms from occurring, take supplements or eat a diet that contains these key trace minerals, as they can help improve your fasting experience — and your results.
How to Gently Stop Fasting
After you fast, it's important to know what foods you need to eat to help transition your body into eating mode again. But what exactly do you need to avoid? Heavy foods that contain a lot of fat, sugar, or fiber can cause bloating and discomfort. Fat and sugar can also reduce the effectiveness of your fast by disrupting ketosis. Below are several foods you can eat to ease your way back after fasting. With these self-care ideas, you can develop your own self-care routine and personalize them to fit your needs.
Smoothies: Blended drinks contain less fiber, making them easier to digest.
Dried Fruits: Dates, Apricots, and raisins work great for your digestive system. Dates have been used for breakfast in Saudi Arabia during Ramadan — a religious practice where practitioners fast from sunrise to sunset.
Soups: As long as they contain easy to digest carbs like lentils, tofu, cooked veggies, or pasta, they should work fine coming off a fast. Avoid soups with raw veggies or heavy starch as they can overwhelm your digestive system.
Conclusion
What style of fasting you end up choosing is up to you. There are many different approaches you can take, all with unique benefits. All types of fasts are beneficial in many ways. They can help with fat loss, improve metabolism, and reduce insulin resistance.
Mainly, it can help you lose weight and help you get healthy. Unlike traditional diets, fasting doesn't force you to drastically change your eating habits. However, it's important to be aware of all the risks, such as developing a nutrient deficiency.
For those who are looking for something new, fasting can be a great way to get healthy and get the body you've always wanted. If you have a health condition, consult a doctor to make sure fasting is right for you. 
Guest post by Ailen Teking