These healthy fast food breakfast options are perfect for your busy lifestyle.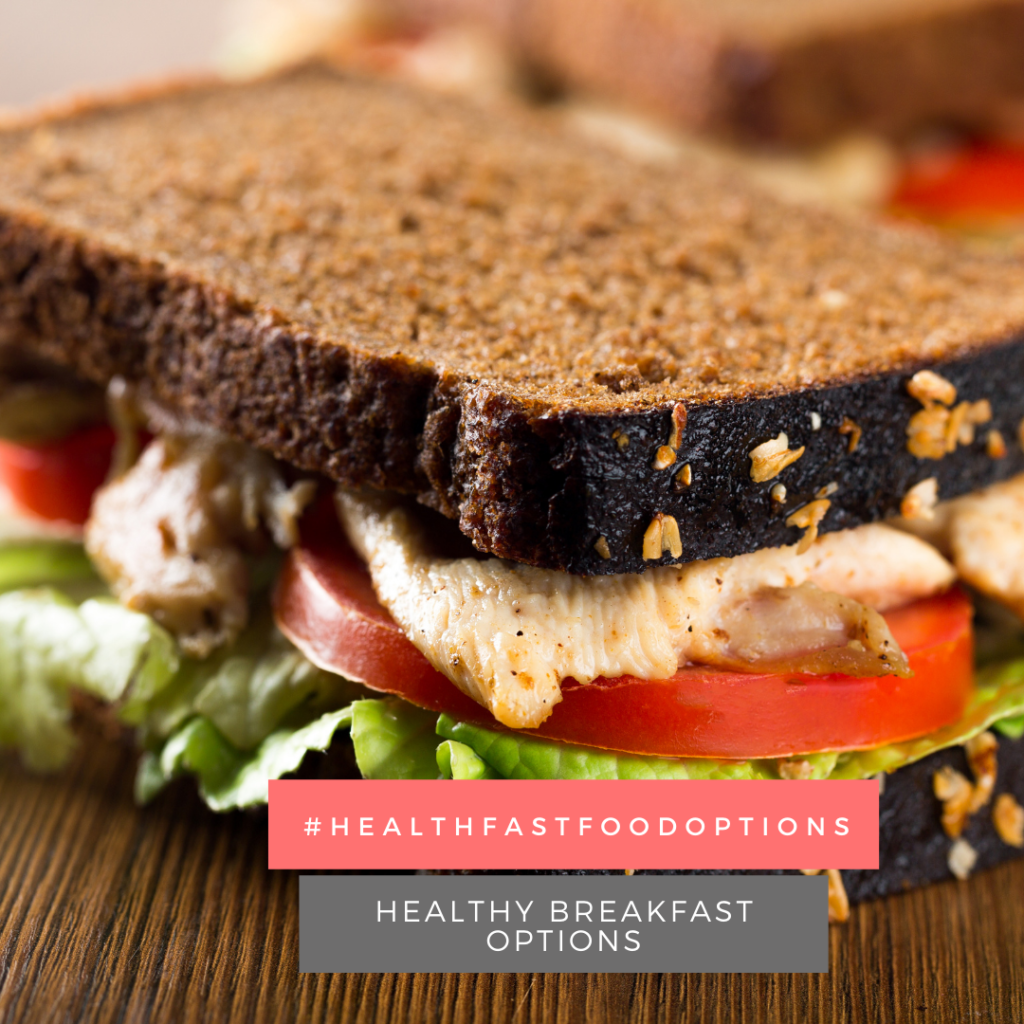 Fast foods have this reputation of being tasty, cheap and convenient.
But most of them contain high amount of sodium, fat and, of course, calories. These components can really hit your goal to get skinny fast.
It may be a challenge to find healthy fast food in most restaurants.
For most of us who eat regularly at fast food restaurants, finding healthy foods to get skinny fast can be extremely difficult.
But this does not mean you cannot find healthy fast food breakfast, lunch or dinner when you are out and about.
It is okay to indulge once in a while. However, if you are serious about your goal to get skinny fast, you must not make it a regular habit.
If you cannot avoid eating fast foods but you still want to be as healthy as possible, here are some ideas about where to get healthy fast foods.
Healthy Fast Food Breakfast at Starbucks
Yes, Starbucks is not just about coffee. It does serve some delightful meals and healthy foods, like its Protein Bistro Box. It is made of the following:
Fruits
Peanut butter
Hard-boiled egg
Multigrain muesli bread
Per serving of this meal is 380 calories. It comes with five grams of fiber and only 19 grams of fat. But the protein content is 13 grams, which is already high.
When you do obtain this meal from Starbucks, make sure to include a cup of green tea to get you a boost of antioxidant during your morning meal.
Green Chicken Sandwich
At Chick-fil-A, they serve this healthy fast food breakfast that can topple that of McDo's and Wendy's.
What makes it different from other brands is that this choice has 30 grams of protein. This will surely help you avoid craving for a sugary meal after just a few hours of eating your breakfast.
Its grilled sandwich is 400 calories, which is still less than the usual 500 calorie-breakfast that you have.
The fat content in it is only 3.5 grams.
Since we do not have Chick-fil-A in the Philippines, you can still order the grilled chicken sandwich from McDo.
To make it a healthy fast food breakfast, you should opt for a sandwich without the mayo.
Egg White Sandwich from Subway
If you are a frequent "eater" at Subway, make sure to try its egg white sandwich.
It is made of English muffin, spinach, peppers, tomatoes and avocado.
With this healthy fast food breakfast option, you can have a meal that is loaded with veggies that can surely kick start your day.
The protein content is 11 grams with 6 grams of fiber. The best thing about this option is that is only 180 calories with only 5 grams of fat.
To further improve its protein content, you can order lean ham or turkey. This makes your morning meal a high-protein option.
Plain baked potato at Wendy's
Wendy's is not known to serve healthy fast food breakfast.
However, when you do order its plain baked potato and small chili, you can have a better healthy fast food breakfast than the pancake serving at McDo.
You cannot find chili topped potato at this fast food chain but you can buy its plain baked potato and small chili to make a satisfying meal of ample protein, fat, and carbs that can surely make your day.
This option can give you about 460 calories with 6 grams of fat.
The cholesterol content is 40 mg, while it has 80 grams of carbs, 12 grams of fiber and a whooping 21 grams of protein. This is a lot to give you a morning boost and avoid sugar cravings in between.
Cinnamon Oatmeal
To help you with your get skinny fast goal, make sure to try the cinnamon oatmeal of Au Bon Pain. You cannot easily find it your favorite grocery store. I found one at S&R.
This healthy fast food breakfast option contains ingredients that can lower your cholesterol. Thanks to its beta-glucan content.
It also includes avenanthramides, which are antioxidants that protect your body against atherosclerosis.
Since it is rich in water, it is low in calories. This means that you can easily dig a bowful of this meal without feeling guilty about it.
Per serving is 370 calories, with 11 grams of protein and 9 grams of satisfying fiber. With that in mind, it can guarantee you that you will not be feeling that mid-morning hunger pangs again.
KFC's grilled chicken breast
It is not yet available in Davao City but you can find it somewhere in Manila.
This healthy fast food breakfast option is made of tasty grilled chicken breast with mashed potatoes. Do not forget the corn as your side dish.
The combination of chicken breast and mash potatoes can give you plenty of protein and moderate amount of fat and carbs.
Since it is a grilled chicken, you can avoid high amount of fat during your morning meal. Its fat content is only 10 grams.
Unfortunately, it is made of 905 grams of sodium and only 5 grams of fiber.
Still, it is a great option if you want to load your body with 41 grams of protein early in the morning. This is an ideal morning food option to start your day, especially in a stressful Monday.
Mango Peach breakfast
When there is no time for you to cook breakfast, you can just prepare a protein smoothie with yogurt. Combine it with banana, peaches, mango, and soymilk.
Then, top this option with flaxseed granola.
Per serving of this breakfast option is 320 calories, as long as you go with non-fat yogurt.
The fat content is only 5 grams but it supplies you with 6 grams of fiber.
Through the presence of fruits, you can meet the daily requirement of vitamins A and C.
To boost your protein content with this option, try getting whey protein to give you a satisfying morning meal.
Chicken teriyaki
If you do need to eat rice, make sure that it is brown rice, rather than white rice. Although chicken teriyaki is rich in sodium, it is still low in fat and plenty of protein.
Unfortunately, this option's calories can go above 580. Nevertheless, its protein content is as high as 25 grams with zero trans fat.
Best chicken teriyaki bowl option can be found at KFC, McDo and Jollibee.
Yogurt and almonds
To help you stay full all morning without having to eat snacks in between meals, try getting Greek yogurt.
Make sure that it is really a true Greek yogurt so you can have 18 grams of protein in 6-ounce container.
The best thing about this option is that it is only 100 calories with 10 grams of fat.
To give you more protein, add some almonds in your plate and a fiber-rich fruit, like papaya and fresh pear.
Apple and pineapple are great options. But I do not like eating these two in the morning.
Scrambled Eggs at McDo as healthy fast food breakfast
This is a simple healthy fast food breakfast from McDo.
Scrambled egg breakfast is a healthier option than pancakes. When you do opt for it, make sure not to go with oversize meal.
And never go with its breakfast meat.
Instead, choose scrambled eggs, English muffin and a large cup of coffee.
This combination can give you 355 calories. The sodium content is of moderate amount and you can get it from the muffin.
Protein smoothie
For some of you who do not like preparing muffins, coffee, etc, try having a protein smoothie.
This is to help you start your day with plenty of vitamins, minerals and other nutrients. Another great thing about this healthy fast food breakfast is that you can have it as a late-night snacking. This can surely suppress your morning appetite.
The best thing about a healthy food smoothie breakfast is that it is fast to prepare and it is delicious. Plus, it gives you a healthy amount of fruit and milk. Then, if you add yogurt in it, you can have an immune booster.
My all-time favorite is banana smoothie. It can soothe digestion, nausea and stomach discomfort. Add a small amount of ginger to boost its benefits. Instead of ginger, I like adding cinnamon.
Orange dream protein smoothie is also a great option. This is especially great if you expect your day to be stressful. With this smoothie, you can have a citrus-infused healthy breakfast smoothie loaded with vitamin C.
To make an antioxidant-rich smoothie, mix green tea, blueberry, banana and protein shake. By combining them all, you can have a smoothie with nutritional powerhouse. Unfortunately, you cannot easily find such option in various fast food chains.
Garden salad and veggie burger
Yes, veggie burger is now available at Burker King. But if you do opt for it, make sure to let go of its mayonnaise. You may or may not have its cheese slice.
The great thing about this healthy fast food breakfast option is that it contains 7 grams of fiber with 22 grams of protein. This makes it an ideal meal in the morning. Then, add a garden salad to boost your morning's fiber intake.
When you order veggie burger and its garden salad, the total calories will be about 450 calories. So, go easy on it. Do not order other beverages or drinks. If you do, then you are only increasing your calorie intake in the morning.
Another vegetable option that you can have when you are on the go is Subway's Veggie Delite sandwich. This one has five grams of fiber and 14 grams of protein. Unfortunately, it is loaded with sodium. A whopping 410 mg of sodium is in this option. So watch out for that.
French toast sticks
Burker King offers French toast sticks contain 11 grams of fat and low in sodium. But make sure that you limit yourself to three strips so your option is only 350 calories.
To make sure that you really have a healthy food breakfast option, you should follow these guidelines.
Practice portion size
This is a usual recommendation when you want to get skinny fast. When opting for those items, do not go with super-sized items. For sandwiches, go with the smallest size. Never pair it with sugary beverages.
Focus on grilled options
Fried items are loaded with fats and calories. Thus, avoid those chicken sandwiches that are not grilled. Then, opt for lean meats, like chicken breast roast beef. So, keep away from those deep-fried or batter-dipped food items. They are very high in calories and rich in unhealthy fast. Plus, they are loaded with sodium.
Avoid the mayo
If you let go of it, you can surely eliminate 100 calories from the food item. However, if you need to add flavor, you can just add extra catsup and mustard. They are healthier options than the fat-rich mayonnaise.
No bacon or cheese
Apart from mayonnaise, make sure to avoid bacon or cheese. These options can just add more calories to your meal. Instead of opting for them, choose extra pickles and avocado. They are healthier options for your heart and help you get skinny fast.
Skip those fries
If you really want to save hundreds of calories from your breakfast meal, then you should avoid fries. The McDonald's fries have 510 calories when you choose its large size. You may think that its medium size is a better option but it is not as it contains 340 calories.
Wrapping Up
With these healthy fast food breakfast options, there are no reasons for you why you cannot practice living a healthy lifestyle.
You cannot get skinny fast if you always opt for them, however.
Instead, you must take time to prepare your own meals to control your calorie intake.
Having protein shakes in the morning is a good way to fulfill your sugary cravings early in the morning. But make sure to add more protein in them to avoid hunger pangs and prevent yourself from eating in between meals.
Reference: