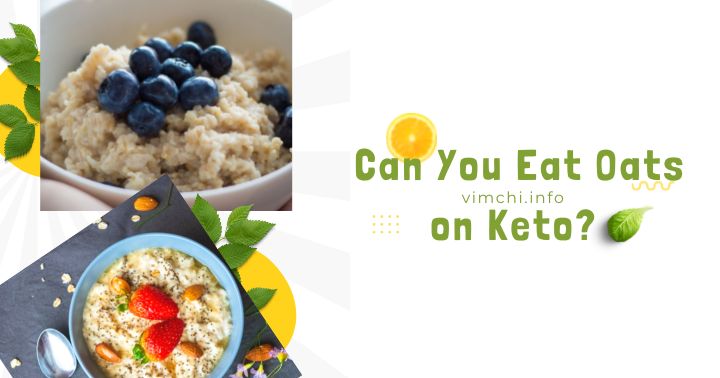 The oats are delicious. They are rich in fiber, vitamins, and minerals. But they are made from plants. And when you're on a keto diet, some plants are not part of it because they are high in carbs. So, can you eat oats on the keto diet?
Let's find out here.
Are Oats Keto-Friendly? 
Unfortunately, they are not keto-friendly.
Indeed, they are high in fiber. But the goal of keto is to reduce your carb intake.
The ketogenic diet requires between 20 and 50 grams per day of carbs. But 1/2 cup of oatmeal contains 67.5 grams of carbs.
With that amount, you are above the limit. Although nothing will stop you from eating oats, the idea of cutting out carbs is to make sure you starve your body of the carb.
When the carbs are out, your body begins to break down fat stores to produce ketones. By eating more fats than carbs, you are forcing your body to depend on fats as a source of energy.
The main attraction of the ketosis diet is the amount of weight you can lose in the short term. It also suppresses your appetite, which results in significant weight loss.
But ketogenic is not just for the fatty who wishes to be firmer. Ketosis is said to be an effective treatment for epilepsy.
Because you are cutting out carbs, it may improve your insulin sensitivity. This is especially beneficial if you have type 2 diabetes.
Read: When Ketosis Starts in Keto Diet … What to Expect?
Can You Make Oats Keto-Friendly? 
Thankfully, you don't have to give up oats entirely. There's keto oatmeal that you can try to satisfy your oat craving.
Here's a workaround that Wholesomeyum made to fit oats into keto. For the ingredients, use hemp seeds, flax seed meal, collagen peptides, chia seeds, and coconut milk.
It is a simple recipe. For the first part, you need to mix all ingredients except cream or milk. Stir gently before adding cream or milk. Continue whisking until smooth.
Allow it to thicken for a few minutes. That's it.
The total carb in this recipe is 9 grams. That definitely fits your keto book.
Related: Can Vegans Try Ketogenic?
Alternatives to Oatmeal 
In addition to the keto-friendly oatmeal mentioned above, you can also try other alternatives.
Combine it with almond milk, flaxseed becomes like hearty oatmeal. This Spectrum Essentials Organic Ground Premium Flaxseed contains 4 grams of carbs.
The brand uses a cold milling process to slice the seed thinly, instead of crushing it. As a result, it preserves nutrients.
It is a superfood with a high amount of omega-3 fatty acids to support the heart and digestive balance. You can add it to your favorite keto-friendly shakes or smoothies and you have one hearty breakfast that can mimic your favorite oatmeal.
Related: Why Does Ketosis Diet Cause Constipation?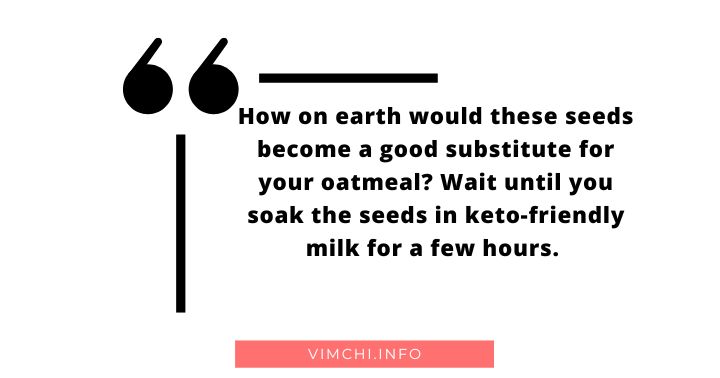 How on earth would these seeds become a good substitute for your oatmeal? Wait until you soak the seeds in keto-friendly milk for a few hours.
The texture and consistency will change.
We love these chia seeds from the Navitas Store. Per tbsp of these seeds would give you 5 grams of carbs.
Simply add water to make the seeds mimic the consistency of oatmeal.
Hemp Seeds 
These seeds are also low in carbs. Soak them in plant-based milk or mix them with other seeds. They are a nut so they can have a pleasant nutty flavor.
The hemp seeds from Manitoba Harvest Store contain 1 gram of total carbs per serving. Besides being high in protein and omega-3 fatty acids, these seeds are also an excellent source of iron.
Related: Can keto diet cause depression?
What Type of Milk is Suitable for Keto? 
Most milk is not keto-friendly. Thankfully, there are some that you can still drink when on keto. These are the following:
Almond milk. It is the most popular milk on keto as it contains 1 gram of net carbs for every 240/ml.
Coconut milk. It is also a good choice for this diet because some brands contain less than 5 grams of net carbs.
Macadamia nut milk. If you can afford it, then good for you. It is more expensive but it has the lowest carbs among the bunch. One cup of this milk contains zero net carbs.
Soy milk. It contains 3 grams of net carbs. But choose the unsweetened variety.
Cashew milk. It has 2 grams of net carbs.
Half and half. It is made of cow's milk and heavy cream. It is a good substitute for cow's milk because it contains 1 gram of net carbs per 30 ml.
Is Quaker Oats Keto-Friendly? 
It is high in carbs. So, no, it is not keto-friendly. Per 40 gams of Quaker Oats, you would be eating 23 grams of net carbs.
As a result, it will definitely kick you out of ketosis.
You should avoid it not just because it is high in carbs but it is also low in fats. It is definitely not the macros that you need on this site.
Avoid or Get the Alternatives 
Oatmeal is extremely high in carbs. That's why it is not keto friendly. And no, you can't eat oats when you're on a ketogenic diet. But you don't have to avoid the oats altogether. You can make keto-friendly oatmeal. Or just buy the alternatives we mentioned above.