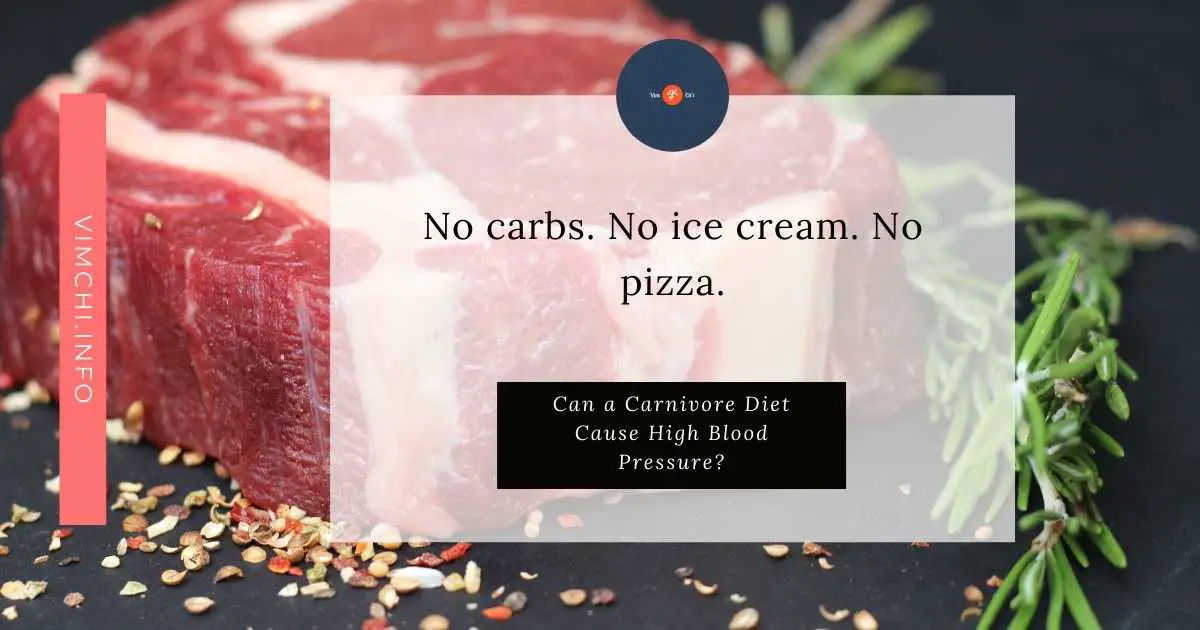 The carnivore diet is for meat lovers. If you only wish to eat meat and animal products, then this diet is for you. But take note, though, that you can only eat meat. No carbs. No ice cream. No pizza. This diet is said to support weight loss. But because it's a meat-only diet, can a carnivore diet cause high blood pressure?
Let's find out here.
See Also: Can the Carnivore Diet Cure Cancer?
Can a Carnivore Diet Cause High Blood Pressure?
As mentioned, the carnivore diet calls for eating only meat or animal foods, which are known to be high in saturated fat and cholesterol. And these are known to cause high blood pressure.
According to this study, saturated fat could raise bad cholesterol, thereby, increasing your risk of heart disease.
But recent studies showed that high consumption of saturated fat and cholesterol don't always lead to a higher risk of heart disease.
Nevertheless, experts are not so keen on advising people to eat animal foods exclusively because of the lack of scientific research. Thus, it's not known whether or not eating high levels of cholesterol could lead to several medical conditions.
But noticed that proponents of this diet recommended eating unprocessed animal foods. It means that they don't eat treated bacon and other meats that contain high amounts of salt.
This is probably why health experts are worried about this diet as it could lead to high blood pressure because of the high intake of sodium. In various studies, high sodium intake could increase the risk of high blood pressure and other negative health effects.
Furthermore, if you eat only processed meat, you're only increasing your risk of developing certain types of cancer, like colon and rectal cancer.
Why Is My Blood Pressure High on Carnivore Diet? 
Because it lacks scientific research, the carnivore diet's effects on humans are not known. Thus, a lot of people are wondering if they can have too much meat.
Yes, you could be eating too much meat with the carnivore diet. But the question is if it's a bad thing.
Health experts don't recommend it if you have a pre-existing condition. Thus, if you have high blood pressure, you need to steer clear of this diet.
However, if you focus on eating unprocessed meat, this diet might not cause kidney issues and high blood pressure. But it's not advisable to be followed for the long-term.
You may follow it as part of your elimination diet, especially if you have IBS. Some plant foods could trigger an allergic reaction. The carnivore diet could help you find the culprit of your IBS and auto-immune disease.
So, can eating too much meat cause high blood pressure? Yes, it can, especially if you eat processed meat.
But if you wish to try this diet for the short term, choose to eat only leaner cuts.
Read: Can Carnivore Diet Cause Gout?
What are the Side Effects of a Carnivore Diet?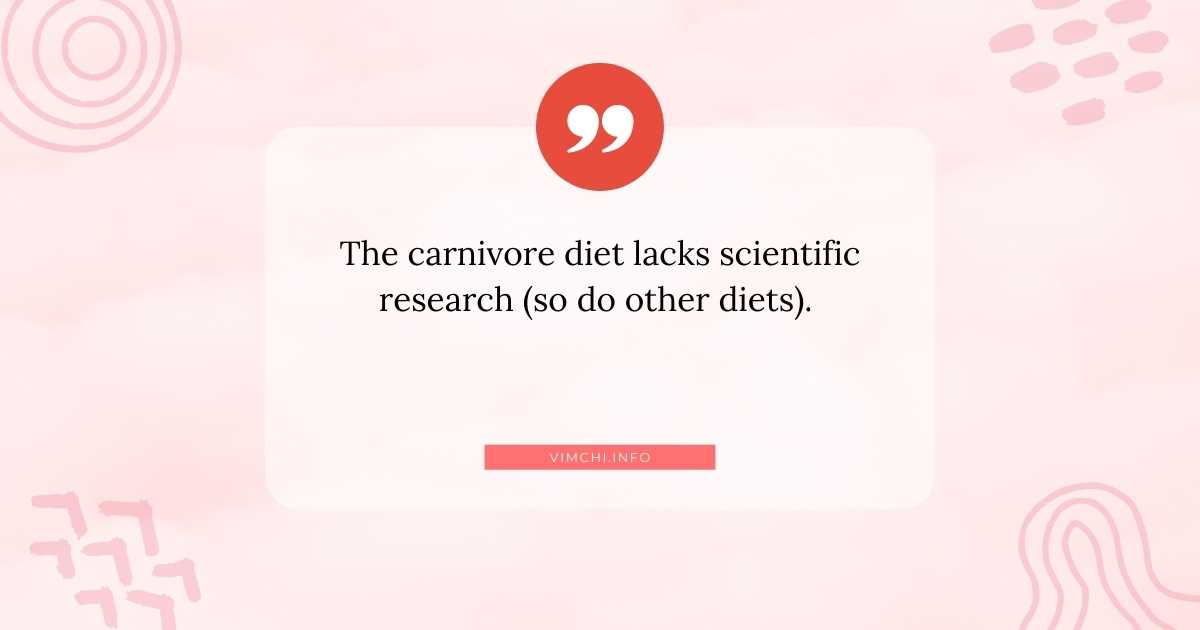 The carnivore diet lacks scientific research (so do other diets). Thus, the side effects are not properly documented.
But according to how the diet is carried out, these are the possible side effects you may encounter:
Nausea
Headache
Fatigue
Vomiting
Fluid imbalances
Insomnia
Dizziness
Constipation
One of the reasons these side effects may arise is that your body will have no essential micronutrients that enable cells to function properly.
Since you are not allowed to eat plant foods, you may be missing out on fiber. With the lack of fiber, you may suffer from constipation. Fiber is needed to add mass and water to your feces. Thus, without these two, it can be difficult for you to pass stool.
But diarrhea may also arise because your body can't handle a fatty diet. As a result, you will experience runny stools. Without plant foods, your gut won't have good bacteria to help fight the invaders, resulting in an upset stomach.
Heartburn may also arise because of meat consumption and fat. This is especially true if you are taking proton-pump inhibitors (PPI). These drugs stop the production of stomach acid. If you eat meat without stomach acid, it can prevent your stomach from emptying effectively.
And the most attractive effect of the carnivore diet is that it may support weight loss. The reason for the weight loss effect is that you feel fuller after every meal. Because of that, it can help reduce your calorie intake, thereby, leading to significant weight loss.
However, because of the restrictive nature of this diet, it can be difficult to follow it long term.
Imagine living a life without coffee, your favorite Dorito's, or pizza.
But if these plant-based foods are causing you ill, then it's good riddance.
Then again, because it's highly restrictive, it can be difficult for you to follow it for years, unless you have formidable willpower.
See Also: Can the carnivore diet help psoriasis?
What are the Long Term Effects of the Carnivore Diet? 
This no-carb diet can also have long-term effects. But because of the lack of research, the long-term effects are not properly documented. Thus, the effects are purely based on how the carnivore diet is done.
Many health experts are worried that those who are following this diet could be preventing themselves from taking the right nutrients. As a result, they may feel lethargic.
And as mentioned, the lack of fiber in animal products could lead to constipation and upsetting your gut microbiome.
Since this diet doesn't allow eating fruits and vegetables, it can mean that you're not consuming the nutrients and vitamins found in these foods. But you can always choose to take supplements.
There's also the risk of overloading your body with saturated fats, which are known to raise bad cholesterol levels. But this may be alleviated if you only avoid eating processed meats, like salami, ham, and bacon.
The proponents of this diet also recommend eating grass-fed meat. Unfortunately, this type of meat is hard to come by. You can't always find it at your favorite supermarket.
Summary 
Can the carnivore diet cause high blood pressure? It has the potential to cause hypertension if you choose to eat processed food. However, if you follow this diet for the short term and eat unprocessed, grass-fed meat, it may be beneficial for you. Then again, you need to talk to a dietitian who can help you out.
Perhaps, this diet is good for you short term as part of the elimination diet. But talk to a nutritionist or your doctor before you embark on this journey.
Also, this is not ideal if you have chronic kidney disease. Find out here why.