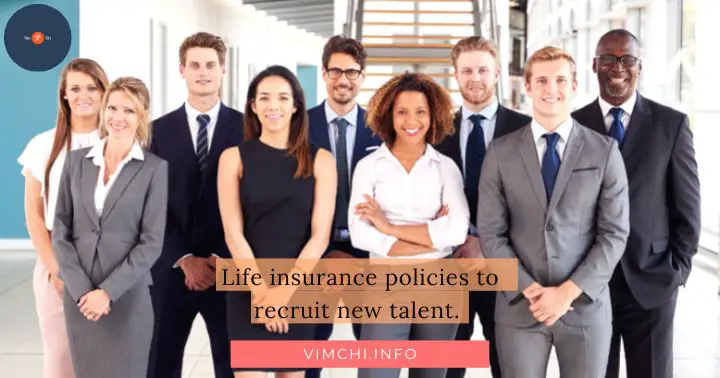 One of the effective ways to retain your current talent in the workplace is to offer a competitive employee benefits package. Life insurance policies can be a good choice to help you recruit new talent while retaining your best employees.
Indeed, there is no one-size-fits-all when it comes to a competitive benefits package. However, most employees agree that a package with a life insurance policy is attractive.
Life insurance can cover the outstanding debt if the employee dies.
But what policy should you offer to your employees? This is what Bobby wants to know. He's a business owner and wants to offer his top talent the best employee package.
Types of Life Insurance Policies 
1.) Term Life Insurance 
It is the most inexpensive policy that is easy to understand. This is an excellent choice for most employees because it offers benefits that most individuals require without the necessary extras.
As the name implies, this policy is good for a certain period. You can choose a policy for 10 years, 20 years, or more. If the policyholder dies while still covered under the policy, then the beneficiaries receive a death benefit.
The premium is based on the person's age, health, and life expectancy. The term life insurance is only effective for a certain period. It only pays out upon the death of the policyholder.
Thus, it is one of the most affordable types of life insurance.
Term life insurance, however, has several types. You can choose from one of the following:
Level-premium
Yearly renewable term
Decreasing term
Each type has its own benefits. Thus, business owners must study them all to find a policy that suits the requirements of their employees.
However, term life insurance is best suited for younger people with families.
2.) Whole Life Insurance
This is a type of life insurance with investment commenters. The family of the insured person receives a predetermined amount in the event of the policyholder's death.
The investment component allows the policy to get a cash value. The value is accumulated and the insured person can withdraw or borrow against it.
With this type of insurance, the policyholder can accumulate wealth while the premium payments will go to insurance costs.
Regular premium payments can contribute to equity growth. Because it is whole life insurance, it covers the insured person for his/her entire life.
Just like term life insurance, whole life insurance has different types. But no matter what type of whole life insurance you choose, it can provide family members with the right funding after the policyholder's death.
This is also the policy that business owners want because it can be used to pay off business debts or morgues. It also guarantees that cash is available for family members if the policyholder dies or gets seriously ill.
A whole life insurance policy offers living benefits while family members can get cash after the passing of the insured person.
3.) Universal Life Insurance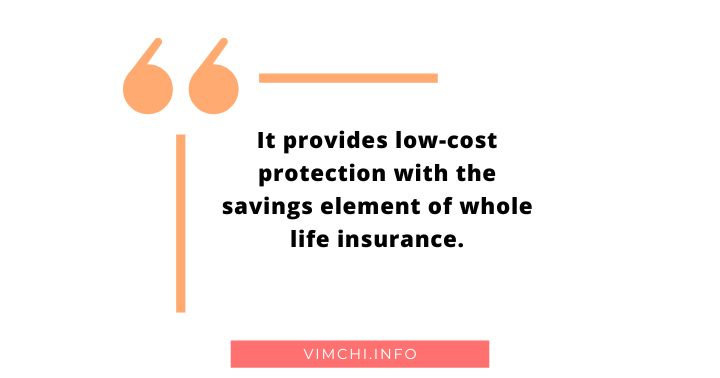 It provides low-cost protection with the savings element of whole life insurance. This policy has a type of cash value that offers flexible premiums.
Furthermore, it offers tax-deferred investment opportunities and provides an increasing death benefit.
For this type of life insurance, premiums are paid into the account value to earn interest. However, a certain amount will be deducted from the account value to pay for fees and other things.
The policyholder can take loans or make withdrawals from the account value for personal needs.
There are many reasons this has become a popular choice among employees.
For one, it provides for families in case the policyholder would lose his/her income or when he/she needs funds for the children's education.
Because of its flexible premiums, the insured can decide how much to pay for monthly premiums. Furthermore, this type of insurance offers a death benefit that is tax-free to the beneficiaries.
4.) Variable Life Insurance 
It is permanent life insurance. You can choose to invest the cash value, just like having mutual funds.
This type of life insurance policy offers tax benefits for the insured person. For instance, the insured can use the cash value on a tax-benefited basis.
It also has an investment component that protects the insured and his/her family. It provides access to managed investments to help employees gather money for future needs.
The policy can also be used for long-term care, retirement planning, and education funding.
Variable life insurance is a permanent renewable term life policy with a cash value. The policyholder must still pay for insurance premiums in cash value. But the value can be invested into sub-accounts.
The policyholder can choose where to invest the money. Every month, the insurance charges will be deducted from the cash value.
Over time, the value can be built and it will grow to the point that the policyholder no longer needs to make payments. This policy can also be used as an investment that can be passed on free of tax.
Which Life Insurance Policy to Choose? 
Most business owners would opt for either whole life or term life insurance. The two policies have key differences.
One is the length of the policy. Whole life insurance can last an entire life. The term life insurance, however, will only cover a certain number of years. When the term expires, the policyholder is no longer entitled to a death benefit.
Another difference is the cash value. Once the term life insurance expires, it no longer has value. But whole life insurance has a life-long asset. It can be accessed to assist the policyholder to meet financial goals.
The premium of these two policies also differ. A death benefit of $100,000 will have higher premiums for whole life insurance. Although the premium is quite expensive, the beneficiaries are guaranteed to be paid in case of the policyholder's death.
Protecting the People You Love 
Life insurance policies are an important part of an employee package. This is why Bobby wants to offer some of them to his employees. Life insurance can help the families of his workers in case of a tragedy or debilitating injury.
If you are planning to offer life insurance policies to your employees, make sure to obtain them from a financially strong insurance company. After all, the main reason for having this policy helps in providing certainty in a world that is anything but.