Hey, it's me, Rod Jong! Do you have life insurance yet? If you have, then you might wonder how your loved ones are going to be paid. Will they receive a life insurance check? 
Let's find out here. 
What is a Life Insurance Check and Who Gets to Receive It?
When you die, your beneficiary can file a claim with the insurance company and, if the claim is approved, receive a payment (a "check") for the death benefit amount specified in the policy. 
This payment is intended to help your beneficiary pay for the expenses related to your death, such as funeral costs, outstanding debts, or ongoing living expenses.
It's worth noting that not all life insurance policies provide a lump-sum payment upon the insured person's death. 
Some policies provide coverage for a specific period of time. They only pay a death benefit if the insured person (you) dies during that period. 
Other policies, such as whole life insurance policies, provide coverage for the insured person's entire life and may also have a cash value component that accumulates over time. 
The specifics of the policy and the terms of the death benefit payment will depend on the individual policy and the insurance company.
Who receives a life insurance check?
The person or people who receive a life insurance check, also known as the death benefit, are the designated beneficiaries that you named at the time of purchasing the life insurance policy. 
The beneficiary is typically a family member, a close friend, or a business partner.
When the policyholder passes away, the insurance company will usually require the beneficiary to submit a claim form and provide proof of the policyholder's death, such as a death certificate. 
Once the claim is verified and approved, the insurance company will issue a check to the beneficiary for the death benefit amount specified in the policy.
It's important for policyholders to regularly review and update their beneficiary designations, particularly after major life events such as marriage, divorce, the birth of a child, or the death of a beneficiary. 
If a beneficiary predeceases the policyholder or is otherwise unable to receive the death benefit, the policyholder should update their beneficiary designation to ensure that the benefit goes to the intended recipient.
How much is a life insurance check for?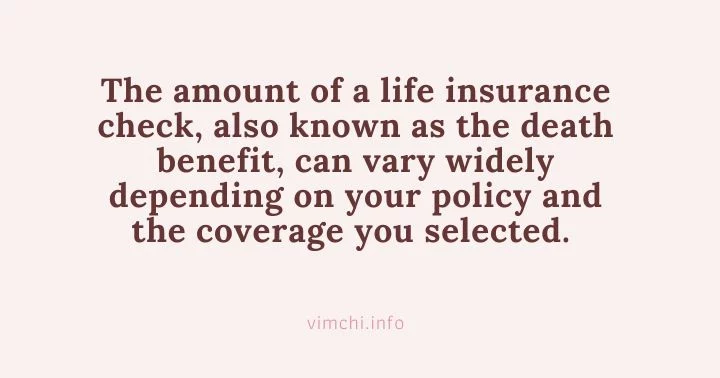 The amount of a life insurance check, also known as the death benefit, can vary widely depending on your policy and the coverage you selected. The death benefit is the amount of money that the insurance company will pay out to the designated beneficiary upon your death.
When purchasing a life insurance policy, the policyholder typically selects the death benefit amount based on their needs and financial situation. The death benefit can range from a few thousand dollars to several million dollars or more.
The amount of the death benefit may be influenced by a number of factors, including the policyholder's age, health, lifestyle, and occupation, as well as the type and duration of coverage selected. 
Generally, the higher the death benefit, the higher the premiums will be, although this can also depend on other factors such as the policy type and the insurance company.
It's important to carefully consider your financial needs and goals when selecting a life insurance policy and the amount of the death benefit, as well as to regularly review and update your coverage as your circumstances change over time.
Are life insurance policies worth it?
Even though death benefits are typically not taxed, there is still a cost to buying a policy. This cost includes premiums paid for the coverage as well as an additional fee called a check.
The premium you pay every month depends on two things: your age and how much coverage you want. As you get older, you can usually find lower-cost term (usually a year or less) policies that provide similar death benefits.
If you would like more lasting protection, then look into level lifetime income products. Many of these have what's known as a guaranteed renewable benefit (GRB). A GRB gives you a set amount of money each week or monthly for life.
This way, your family will always have enough money to live off of even after you pass.
How to get a life insurance check
A check written on your estate is called a death benefit or, less commonly, a legacy check. It's typically made out to someone else (often a family member) who will receive the money after you die.
By paying for coverage in advance, the beneficiary gets the same benefits that are available with term policies — lower premiums due to a longer time before payout.
The difference is that a legacy check does not need to be paid by the recipient until after your death. This can sometimes cause problems though because it may require them to ask you for permission to access the funds, as well as proof of your death.
It's also important to note that some states do not allow inheritance when there is a will, so double-check to see if this applies to you before creating a check like this.
Can I cash a life insurance check?
Yes, you can. But it depends on the kind of life insurance that you purchase. To know more about how you can cash out your policy, here are some details. 
Review Your Policy
If you have a life insurance policy, it is important to regularly review and check it to ensure that it still meets your needs and requirements. Ask your agent what is life insurance check and how much your loved ones will get when you die.