Take note of the open enrollment for 2021 coverage so you can have health insurance coverage next year. After knowing when the open enrollment is, head over to the insurance marketplace to enroll.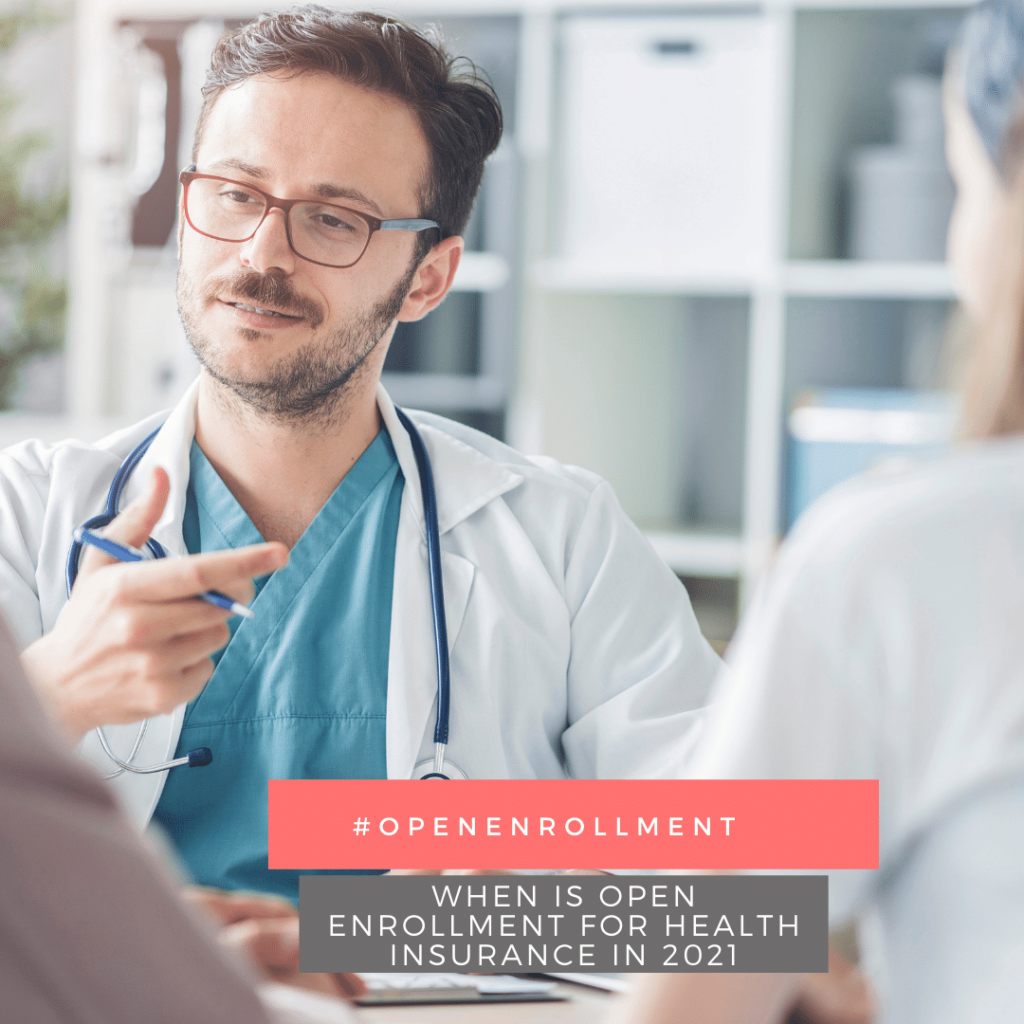 When is open enrollment for health insurance in 2021? It's just around the corner. This post will give you important details about open enrollment on how to obtain health coverage through the health insurance marketplace that you can use next year. 
When will the Open Enrollment for Health insurance in 2021 Start? 
The open enrollment for the Affordable Care Act for 2021 will start on November 1, 2020, and ends on December 15, 2020, in most states. Some states may extend their schedules. 
What If You Missed the Open Enrollment Period? 
If you failed to enroll during the open enrollment for ACA-compliant health insurance coverage for some reason, then your insurance plan options will become limited for next year. 
Remember that the enrollment for ACA or Obamacare health plans will open again in November 2021. 
However, there are cases when you can still get coverage after the annual enrollment ends. 
For instance, if you are qualified for Medicaid and CHIP enrollment, you can enroll in this plan at any time of the year. Thus, if your income goes down to a certain level, you may enroll at that point. 
But if the income increases that make you disqualified for Medicaid, then you can switch to private insurance plans. The loss of your Medicaid health plan is a qualifying event that fits you for a special enrollment period. 
If you're a Native American, you can enroll in ACA plans at any time of the year. Furthermore, if you're experiencing a life-changing event in your life, like the loss of your minimum essential coverage, the birth of a child, or moving to a new geographical area, may qualify you for a special enrollment period 
On the other hand, if you don't have a qualifying event, then a short-term health plan is the most ideal option. This type of plan can only last up to 364 days. Furthermore, short-term health plans may entail high out-of-pocket costs.  
Is It Possible to Cancel Health Insurance Without a Qualifying Event? 
At any time, you may cancel your health care coverage. Health insurers allow that. For instance, if you have Ambetter from Buckeye Health Plan, you can cancel your policy at any time of the year. 
However, when you do cancel it, you can't enroll again, until the next open enrollment starts. After canceling, you will have no health insurance. you'll be uninsured until you can find an insurance program again.
If you don't live in those states that still imposed tax penalties for not having health coverage, it's still costly not to have health coverage. Remember that you won't know when you get injured. 
With health insurance plans, they can lower the overall cost of your hospitalization and medication.
On the other hand, if your health policy is sponsored by your employer, you can't cancel it at any time. You need a qualifying life event to cancel your plan outside of the open enrollment. 
Should I Auto-Renew My Plan? 
Although it's convenient as you don't need to go through the enrollment process, you will miss out on various opportunities. 
Remember that benefits and networks change every year. The premiums also change. 
You may still renew your current plan. But make sure that you are actively looking for a health plan that meets your needs, especially if you have pre-existing conditions.
Make It Easier to Enroll for Health Insurance for 2021
Ambetter from Buckeye Health Plan provides an easier way to obtain or renew health insurance. It's one of the health insurance plans that offer affordable health coverage. You may visit its website https://ambetter.buckeyehealthplan.com/ for more information. 
The platform allows you to shop for Ambetter from Buckeye Health plan coverage and compare its plans to other providers. 
It also lets you determine whether or not you are qualified for financial subsidies. 
And if you're ready to obtain Ambetter from Buckeye Health Plan, you can enroll directly through its platform. 
Its enrollment platform lets you enroll directly using your smartphones as the site is designed for mobile and desktop access. And if you could not finish the enrollment at once, you can still finish it where you left off as Buckeye will send reminders to complete it. 
Ambetter ensures that its members will have a convenient tool to compare coverage and enroll. The platform is safe and secure. 
It's like accessing the federal exchange website. In other words, when you choose to access Ambetter from the Buckeye Health plan platform to enroll, your personal information is protected. 
If you are an existing member and you wish to enroll in a plan, you can use the platform through your member portal. By accessing the member portal, you can download your digital ID cars, choose your doctor, or access your rewards balance. 
What is the Penalty for not Obtaining Health Insurance? 
Even though the government has lifted the penalty for not having insurance in 2021, you shouldn't risk it. You must get health coverage. 
However, some states have their own mandate for non-compliance. If you live in Massachusetts, New Jersey, California, Rhode Island, and the District of Columbia, you may face tax penalties for not obtaining health insurance. 
Tips to Find the Right Health Insurance Coverage During the Open Enrollment for 2021
Get Quotes 
If you obtained quotes a few weeks before the annual enrollment for the Affordable Care Act, then you would get quotes for 2020 coverage. However, you will have an idea of how much it will cost you. 
Shop Anonymously 
You may use healthcare.gov to browse for plans. Then again, if you're window shopping in advance, the rates you will see are for 2020 and not for 2021 coverage. 
But when you start browsing in October, the rates you will see are for 2021 plans. 
When you browse through the state-run site, you don't need to enter your personal information.
Check if Your Family Doctor is part of the Network 
You may have a preferred primary care physician that you trust for years. Most families do have one. This doctor is the first physician you want to see when you are sick or injured. 
If you want your health insurance to cover the cost of this relationship, then you need to choose a health plan that includes your family doctor in its network. This is more vital if you are getting an HMO plan. 
For that reason, it's important to sign up for a provider with a wide network. In that way, your preferred physician is likely part of that network to make your health care cheaper. 
Wrapping Up 
You must not wait for the open enrollment for health insurance in 2021 to end before you apply. As early as now, you must shop for quotes and evaluate the plans that you may need for next year. 
Once you're done evaluating the available plans, it's time for you to sign up or renew your plan. 
If you're pregnant and planning to donate your newborn's cord blood, you may wonder whether or not your health insurance will pay for the cost. Know more about it by clicking the link.