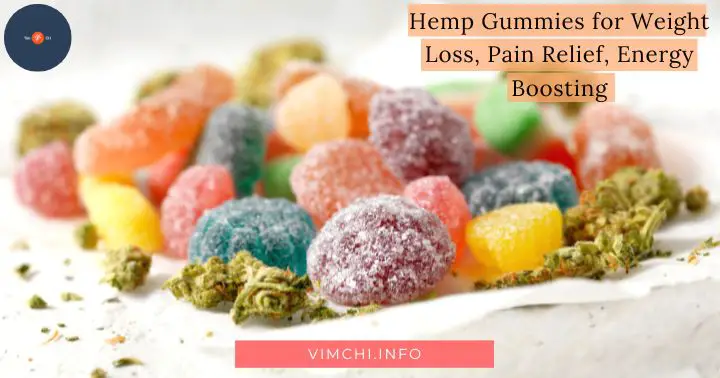 Hemp refers to the Cannabis sativa plant, which has been cultivated for thousands of years. It contains high amounts of essential fatty acids, protein, fiber, vitamins, minerals, and cannabinoids that provide many health benefits. Hemp gummies, on the other hand, come from hemp seed oil. But they don't contain CBD.
It is important to note that CBD gummies and hemp gummies are different. The former has CBD oil, while the latter contains hempseed oil.
Lose Weight with Hemp Gummies
Hemp gummies contain hemp seeds. They can help resolve your constipation issues because of their insoluble fibers.
But if you have diarrhea, they can provide relief. They can aid in digestion while improving your digestion.
When it comes to weight loss, these gummies can help suppress your natural appetite. Because of that, it helps you feel full for longer. It can also reduce your hunger cravings.
Eating one gummy a day can curb your excess hunger. This is ideal if you are eating one meal a day. Since it can help in suppressing your appetite, you can control your cravings so you can complete your 23-hour fast without any difficulty.
Read: OMAD Meal Idea: Grilled Salmon
Relieve Pain through Anti-Inflammatory Properties
Although hemp gummies don't contain CBD, they are derived from hemp seed oil, which contains anti-inflammatory properties. In that case, they can help in reducing pain.
The gamma-linoleic acid in hemp seed oil has been proven to reduce inflammation. A review suggests that natural herbs containing GLA can relieve symptoms of inflammatory conditions.
Thus, these gummies can be helpful in your irritable bowel syndrome, rheumatoid arthritis, and multiple sclerosis.
Boost Energy Levels
They contain a high amount of iron. This mineral plays a vital role in the body as it's a key player in transporting oxygen to the cells around the body. The process provides you with energy, especially during the day. Furthermore, iron contributes to the formation of RBCs, which are useful in reducing tiredness and fatigue.
These gummies are also packed with protein. Unlike carbs, protein can take longer to break down in the body. Thus, the release of energy is a lot slower. It also fuels the body by repairing cells during the day.
Hemp gummies are also rich in magnesium. This mineral helps your body in fighting against tiredness and fatigue. It supports healthy bones while it plays a vital role in energy creation as it helps create ATP.
Read: Where to Buy CBD Gummies to Help with Your Hypertension? 
Sleep Better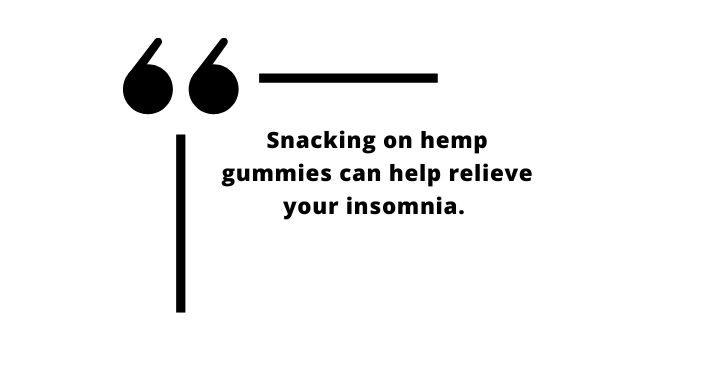 Snacking on hemp gummies can help relieve your insomnia. Their nutrient profile is incredible as it supports the quality of sleep. Thanks to their amino acid tryptophan content.
They also contain vitamin B6, which serves as a precursor for melatonin. It is a hormone that regulates your sleep-wake cycle.
As you eat hemp gummies, the vitamin B5 content triggers the conversion of tryptophan to serotonin. The body converts it into melatonin.
Experts also revealed that it is better to eat food that supports natural physiological reactions than to take supplements. Thus, eating these gummies can be better for you.
Read: Natural Remedies to Fight Insomnia
Reduce Stress
The magnesium levels of hemp gummies can reduce your stress. This mineral triggers neurotransmitter functions. While it reduces stress levels, it also builds up the body's protein.
With protein, you can have all the energy you need for the day.
If you are not getting sufficient amino acids, it can lead to the overproduction of stress hormones. The B vitamins in these gummies can boost metabolism while regulating stress hormones.
Top Hemp Gummies to Consider 
When it comes to gummies, gummy bears are a classic. Because of their shape, you'll surely have fun eating them. You will feel nostalgic because of the "bears."
Even though these hemp gummies are not for kids, they can be a favorite among adults. Per bottle contains 60 gummies. They can relieve stress and help you get a good night's sleep.
Thus, if you have a problem going to sleep, consider chewing one before bedtime. These gummies are some of the products that earned high ratings. They also provide luscious fruity flavors so you will definitely like chewing them every day.
They are safer for adults and children. The gummies are available in assorted flavors. Per purchase, you get two packs of gummies.
In that case, you will have enough hemp gummies for a few weeks. And if you will be using them for yourself, then expect them last for months. The gummies are made with smooth flavors to make sure that you enjoy every bite.
Rich in vitamins B, E, and Omega 3, these gummies have high potency. Per bottle has 60 pieces. The hemp seeds are sourced from trusted suppliers.
Made in the US, these gummies come from hemp, which has been grown in the sunny side of Colorado. The oil was extracted using the CO2 process. Since there are 10 calories per gummy, they are perfect when you are lowering your calories.
They can also help in suppressing your appetite. So, you can eat a gummy before you start your 23-hour fast.
These gummies are easy to consume. Eating a gummy is like eating your favorite candy. This is especially vital if you don't want to swallow capsules. They are more convenient than consuming capsules. Furthermore, they are easy to swallow, like hemp drops.
When to Use Hemp Gummies? 
You can use them every day. Or you can choose to consume a gummy when you're feeling stressed. You may feel relieved by the flavor alone. The effects will immediately kick and you'll feel more relaxed.
If you suffer from insomnia, then chewing a hemp gummy can help you get a good night's sleep. The hemp oil will help you feel relaxed so you can lull yourself into slumber.
Summary
Hemp gummies offer a lot of health benefits. But they are especially useful in weight loss, stress reduction, and energy boost, among others. If you are not sure which hemp gummy to use, check out the top 3 gummies mentioned above.
All products recommended by Vim Chi are selected by our editorial team. If you buy something through one of the links, we may earn an affiliate commission.