While I was browsing the net, I spotted one of these questions, "Can intermittent fasting cause hair loss?" I'm practicing intermittent fasting (16 hours). So far I haven't experienced hair loss.
But why do people worry about IF and hair loss? Is it true that IF can cause you to lose hair?
That's what we're going to unravel in today's post.
So, let's dive in.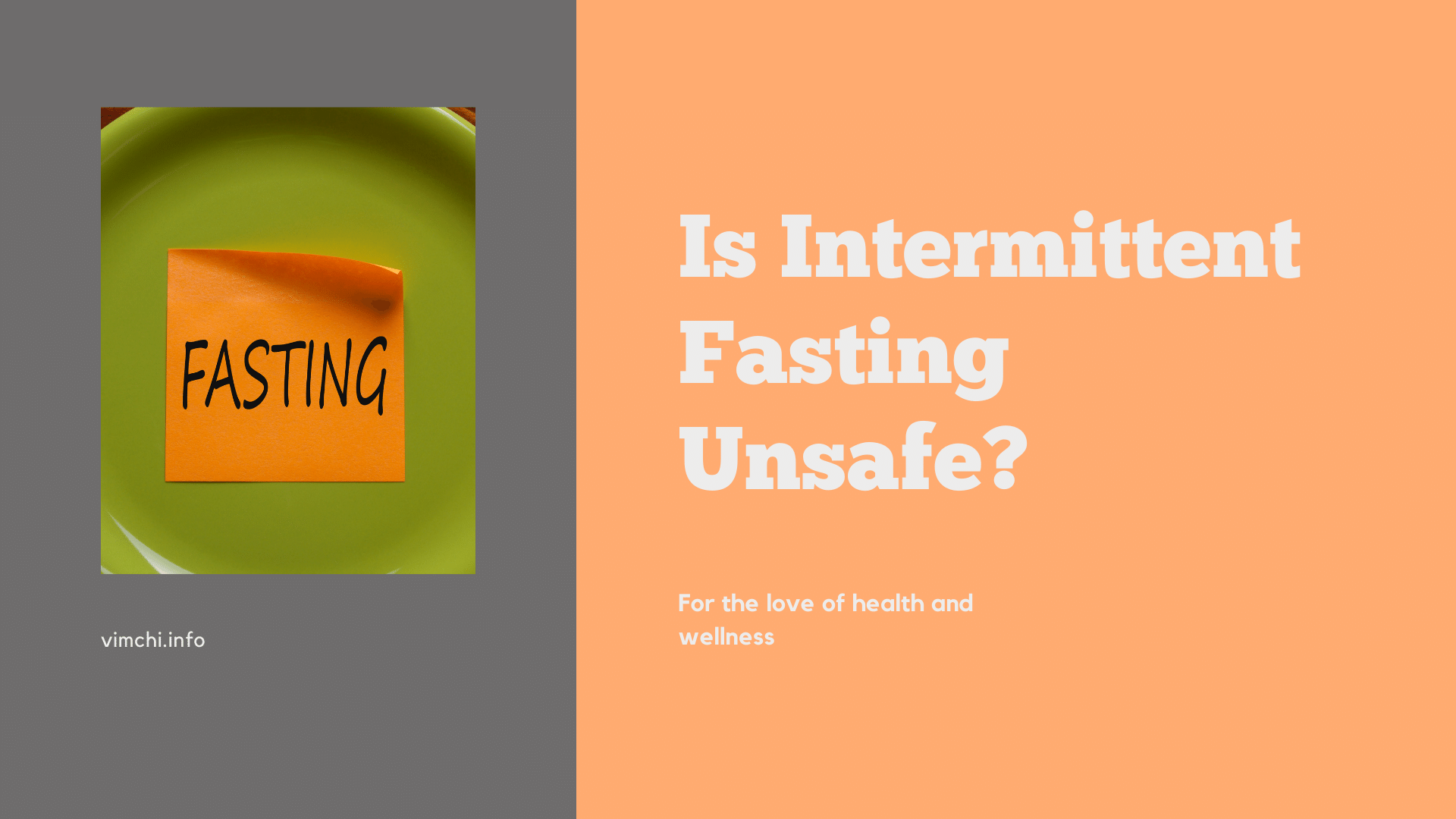 Is Intermittent Fasting Unsafe? 
Fasting is an old practice. However, intermittent fasting became only popular after celebrities and tech moguls endorsed this eating plan.
Hugh Jackman, for one, was one of the celebrities who hopped into this bandwagon. Another Aussie who's following this plan is Nicole Kidman.
Jack Dorsey, Twitter's CEO, is fond of eating one meal a day (OMAD).
Some experts would consider OMAD and ADF (Alternate Day Fast) as dangerous because you're limiting yourself to one meal a day that may lead to malnourishment.
However, OMAD and other extreme forms of intermittent fasting will only lead to malnourishment if you don't eat the right amount of food and you over-exercise.
And malnourishment can cause hair loss. It's especially true if you don't eat enough protein. That's why when you follow IF, you need to eat a sufficient amount of protein.
When you don't eat enough protein, your body saves protein by shifting growing hair into the resting phase. As a result, it increases hair shedding, which can happen after two or three months of protein malnourishment.
But this condition is reversible after eating a proper amount of protein. It means that you need to eat up to three servings of protein a day.
And you can get enough protein if you follow any type of IF, like OMAD and ADF or Eat Stop Eat.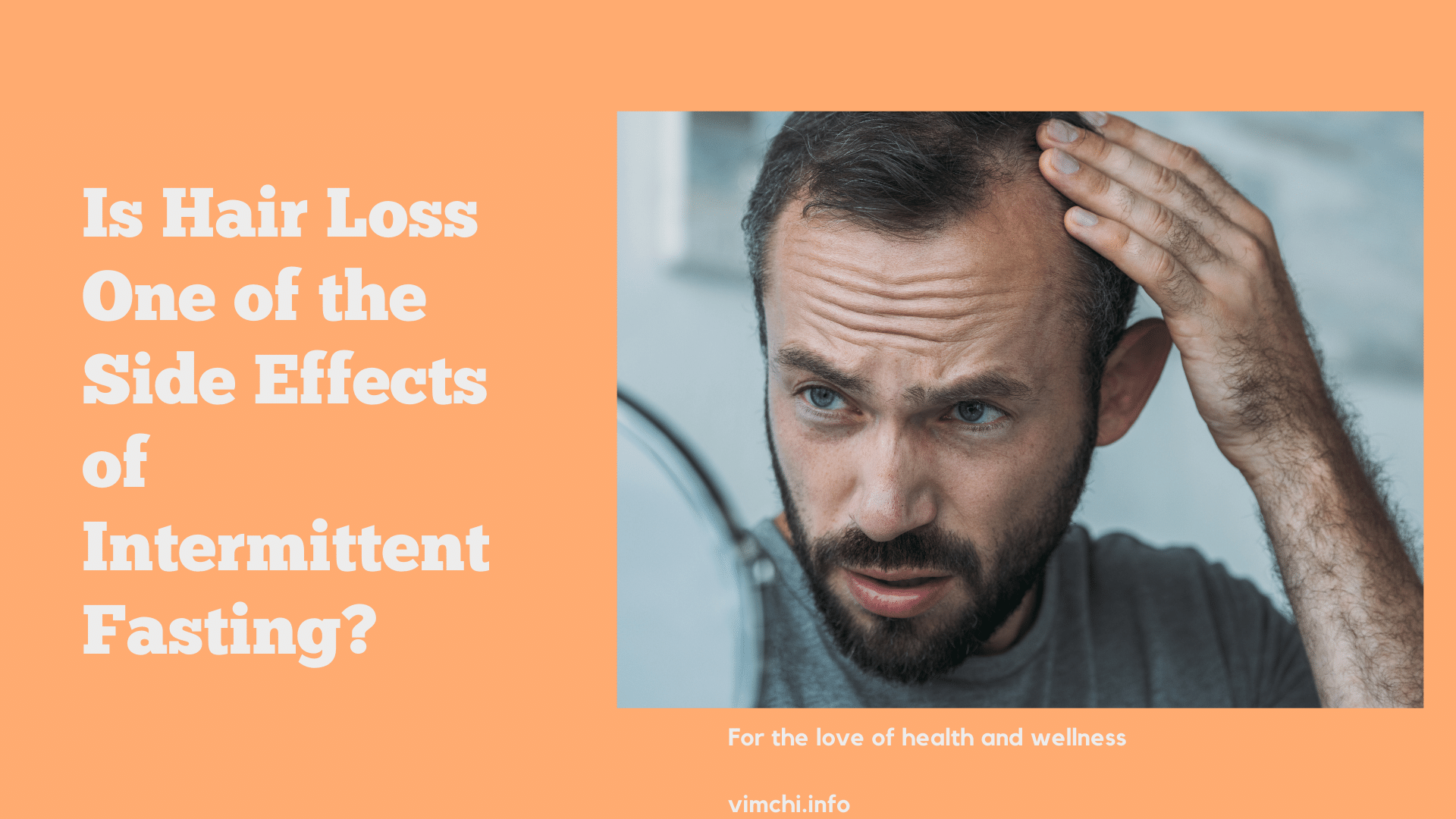 Is Hair Loss One of the Side Effects of Intermittent Fasting? 
It could be. Then again, you'll only experience adverse effects if you don't follow IF properly.
Intermittent fasting is generally safe. It won't cause ulcers. And it also won't cause hair loss if you nourish your body properly during your eating window.
If you don't eat enough food during your eating period, you will also experience a headache. It's common during the start of your IF.
But the pain is dull and it comes and goes. One of the reasons for a headache while fasting is dehydration. For that reason, you need to drink lots of water while you're in a fasting state and feeding windows.
Can "not eating" cause Hair Loss? Can a calorie deficit cause hair loss?
Intermittent fasting may require you to abstain from eating for a certain period each day. In that case, you're actually eating food. The only difference is that you're eating it within a certain time period.
If you don't eat for a few days, though, it may lead to hair loss. As I explained above, hair loss can only arise if you don't eat enough protein.
And if you don't eat enough food, it may also lead to hair loss.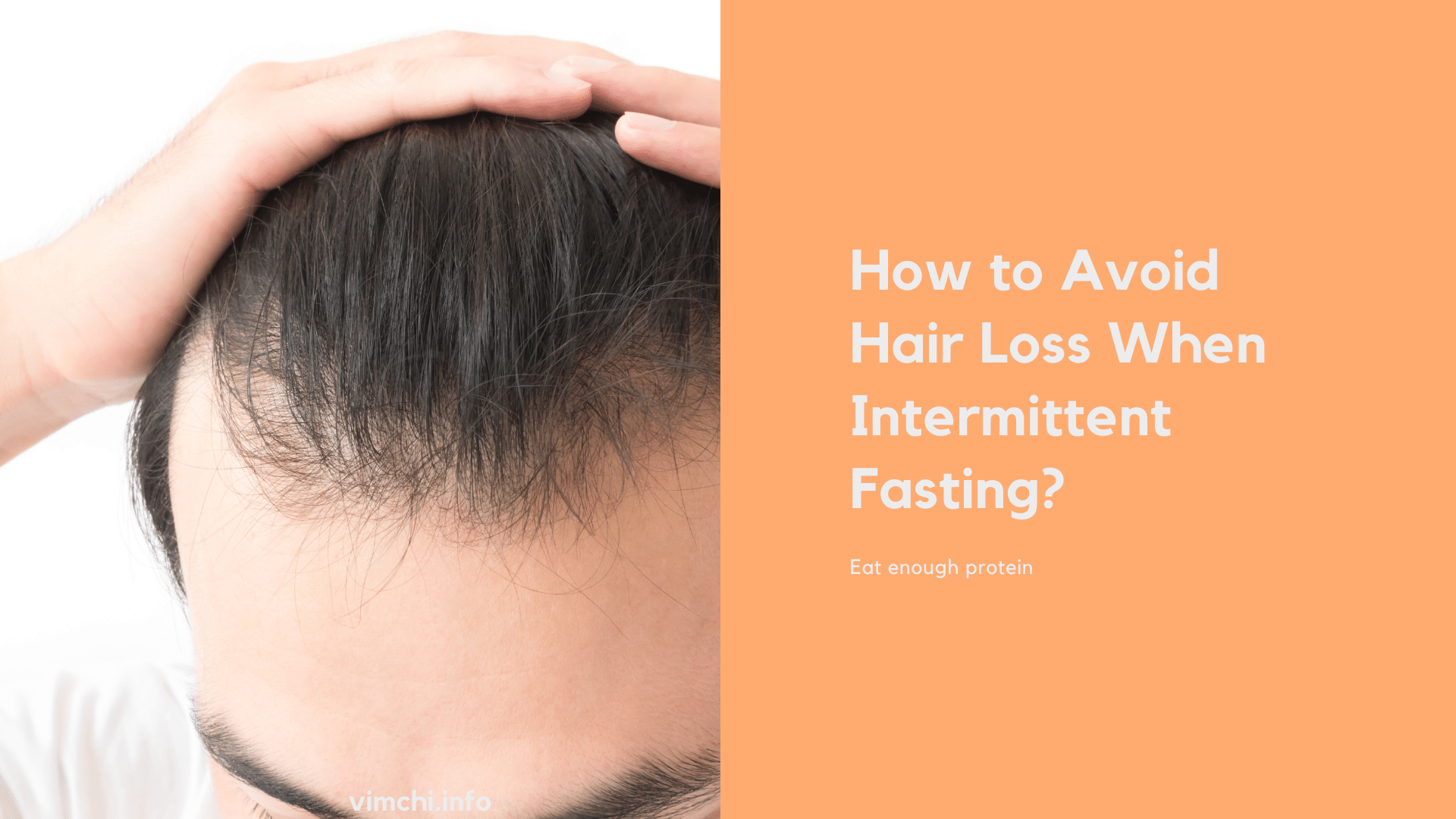 How to Avoid Hair Loss When Intermittent Fasting? 
Besides the lack of protein in your body, insufficient iron and other dietary supplements may also lead to hair loss.
That said, you should consider eating fish, beans, and nuts. They are rich sources of protein that can help in structuring your hair follicles.
Don't forget to add eggs, carrots, avocado, and whole grains, as well as spinach, to your meal plan.
How to Do Intermittent Fasting the Right Way and Avoid Hair Loss?
Intermittent fasting is only challenging at first. The reason for this is that your body is still adjusting to your new eating plan.
For that reason, experts highly recommend fasting for a shorter period. Don't fast for 16 hours when you're just starting out.
Beginners can start fasting for 12 hours a day. If you struggle, you may shorten it to 10 hours initially.
Then, as your body adapts to your new eating routine, you can fast for 12.
Choose to fast from 7 pm to 7 am. It means that your last meal of the day is at 7 pm and your first meal the following day is at 7:01 am.
The reason to include a period of sleep in your fasting window is to prevent yourself from thinking about food while you're awake. You'll also prevent feeling hungry while sleeping which may force you to get up at night to eat.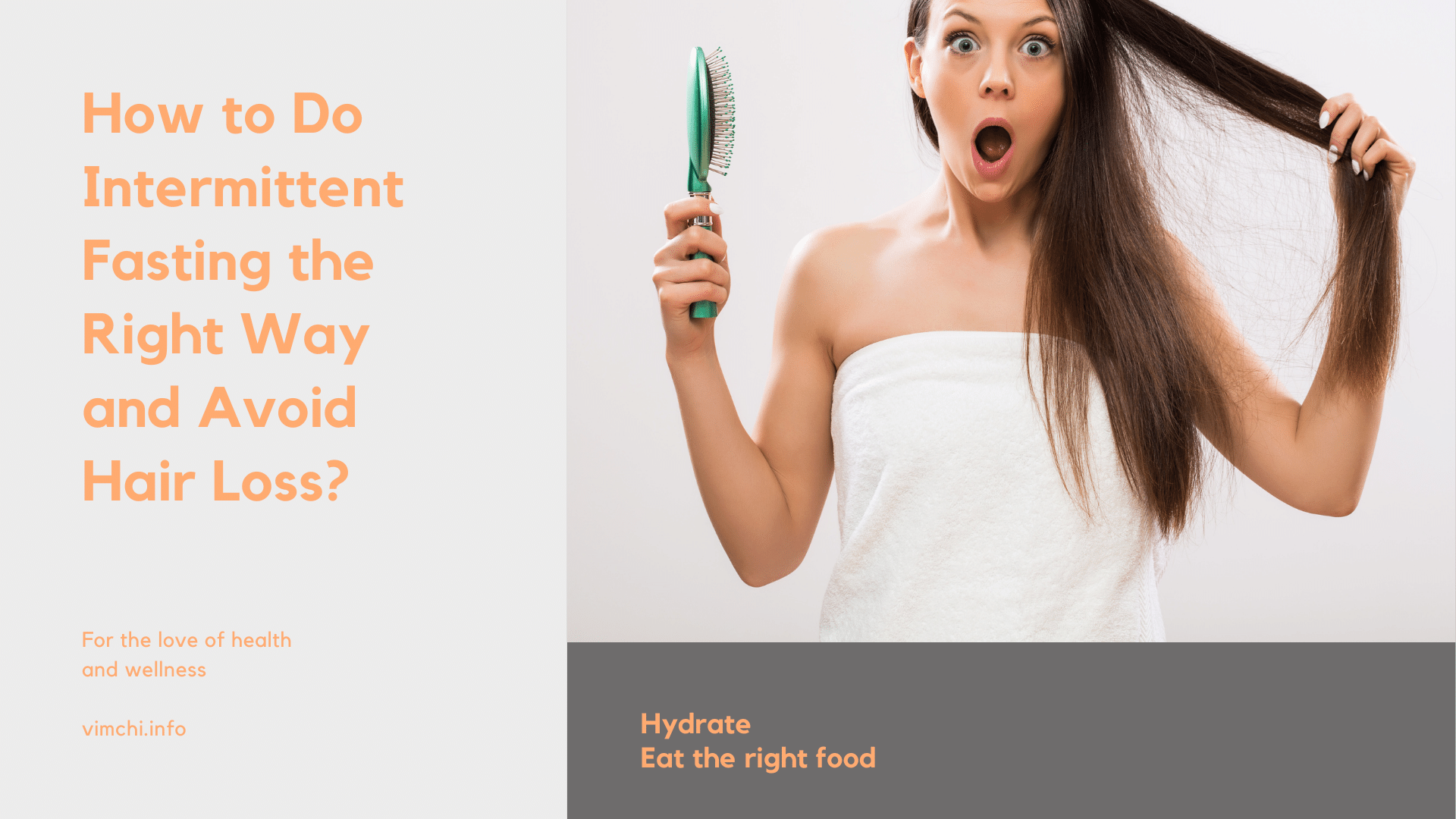 16-Hour Fast 
It's the most popular method of intermittent fasting. you can follow it if you don't see any weight loss result during your 12-hour fast.
When you do a 16-hour fast, you'll have your evening meal at, say, 8 pm. The following day, you'll skip breakfast. You'll eat again at noon.
In an animal study, researchers found that limiting the feeding window of mice to 8 hours prevented them from developing inflammation, diabetes, and liver disease. They are also protected from obesity.
Extreme Forms of Intermittent Fasting 
I only recommend extreme fasting 2 days a week if you have adapted to a 12-hour or 16-hour fast. It's an extreme form of fasting that requires you to consume 500 calories during your fasting days.
Alternate day fasting involves fasting every other day.
Some people who are following ADF will still eat on fasting days. However, they don't eat solid food. They only consume tea or protein shakes.
As mentioned in my previous blog posts, I tried eating one meal a day. But it didn't work for me because I was so hungry that I ate unhealthy foods during my eating period.
Intermittent fasting isn't for everyone. If you have a medical condition, it's best that you consult your physician before you follow IF.
Those who follow IF (including me) don't consider IF as a diet. Rather, it's a lifestyle. It's something that you can follow for many years.
Furthermore, if you do follow IF, make sure that you stay hydrated. And if your goal is to lose weight, you must still monitor your calorie consumption. It's easy to over-eat.
Remember that weight loss is all about calories in and calories out. The good thing is that you can easily track what you eat by using a calorie counter, like Lose It, My Fitness Pal, etc.
Conclusion 
"Can intermittent fasting cause hair loss?" It can, only if you deprive yourself of protein and other dietary supplements that are needed for healthy hair growth.
What do you think of IF? Did you experience hair loss while following it? I want to know your story. Please leave it in the comments section below.