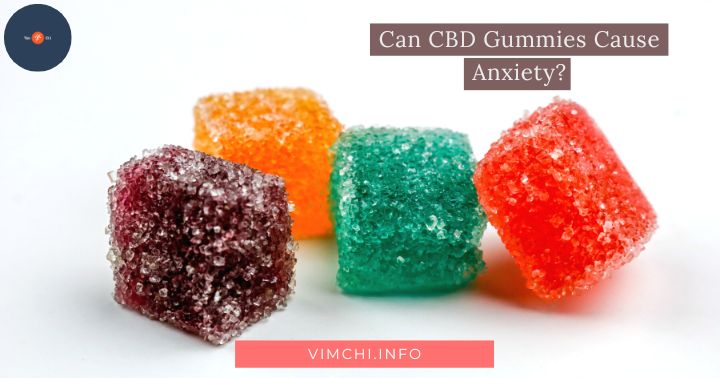 CBD gummies are making headlines everywhere. Some people applauded them while the pharmaceutical industry is frowning upon them. Others are wondering whether or not they can cause anxiety.
Mitch has heard of cannabinoid oil or CBD. But she thinks that CBD is like pot or weed that cause hallucinogenic effects.
This is also the perception of other people causing a negative stigma.
As we talked about it in the past here at Vim Chi, CBD has no THC. It means that it can't cause hallucinogenic effects.
In that case, there's no issue with hallucination when you eat CBD gummies. The main issue is the type of CBD in them.
It's important to note that CBD gummies are not FDA regulated. Thus, any company can claim such and such without proof.
Hence, you must purchase the gummies from a trustworthy seller.
All products recommended by Vim Chi are selected by our editorial team. If you buy something through one of the links, we may earn an affiliate commission.
The second issue with CBD gummies is the anxiety effect. Although it doesn't cause hallucinogenic effects with the lack of THC, some people are concerned about its effects on mental health. Can they cause anxiety? Or does it help with anxiety or depression?
Is CBD Gummies Good for Anxiety? Or Can They Cause Anxiety or Depression?
In short, yes. CBD gummies can cause anxiety for people who are susceptible to mental health issues.
But it depends on the type of CBD used in the product. Research showed that pure CBD can help with mental health. It may not be true for full-spectrum CBD.
Full-spectrum CBD extracts may still contain a small amount of tetrahydrocannabinol (THC). It is the main psychoactive component of cannabis.
In that case, if you are sensitive to THC, you can get more panic attacks when you take a large amount of full-spectrum CBD gummies.
Thus, you should take a few gummies and find out whether or not you are sensitive to them. This is especially true if you are using full-spectrum CBD.
Read: Get the Benefits of CBD Oil for Dogs
CBD Research on Anxiety
As mentioned, CBD is not known to cause anxiety because of the absence of THC. It means that it does not have any mind-altering effects.
Pure CBD can relieve various types of anxiety.
This study showed that CBD capsules improved social anxiety disorder. Generalized social anxiety disorder is a common anxiety condition that can impair your social life.
Another study also showed that pure CBD oil improved anxiety in teens with social anxiety disorder.
Researchers of a review paper also concluded that the use of CBD can have a role in managing anxiety disorders.
How Do You Use CBD Gummies to Relieve Anxiety? 
In a 2015 review, researchers found that CBD interacts with the cannabinoid type 1 receptor (CB1R) and other receptors in the brain that regulated anxiety-induced behaviors.
The researchers also found evidence that CBD is an effective treatment for various types of anxiety disorders.
However, more studies are needed to establish standard dosing recommendations for CBD therapy.
This study found that taking at least 300 mg of CBD could significantly reduce anxiety symptoms. The dosage depends on the severity of your anxiety.
The effects of CBD gummies can work in 30 minutes to 2 hours. If you want a more immediate impact, you may consider smoking or vaping CBD oil.
You can eat CBD gummies to relieve your anxiety throughout the day. Although there are no specific recommendations as to when is the best time to eat them, it may help to take them in the morning with food.
People could tolerate CBD well even if they take it at high doses. However, you should still expect some side effects to arise after eating these gummies.
Here are some of the common side effects of CBD gummies:
Diarrhea
Changes in weight
Drowsiness
Decreased appetite
Since the FDA does not regulate CBD gummies to treat anxiety or other mental health conditions, it is important to use your best judgment when purchasing CBD products.
In other words, make sure that you are only buying from a reputable manufacturer or distributor.
Read: How Does CBD Make a Dog Feel? 
How to Use CBD Gummies for the First Time? 
If you are planning to eat these gummies to make you less anxious, be sure to start low and go slow.
It means that you can eat one gummy at first. Wait for a few hours to determine its results on your body.
You can try a higher dose if you don't notice anything or if your anxiety has not improved. Stop for two hours to know the difference.
And to help you stay on top of your wellness, try this CBD Wellness Mood 3 Pack Bundle. The package includes CBD gummies and CBD isolates oil.
High-quality, hemp-derived CBD Gummies from Diamond. Because wellness is better with a gummy. Shop Now
CBD oil is a tincture that contains 1,000 mg of CBD, which has been grown and cultivated on non-GMO farms in the USA. It is free from THC and other cannabinoids and compounds.
What this CBD oil does is that it relieves any pain while it improves your sleep. It is also useful in reducing your anxiety symptoms.
CBD Gummies and Anxiety 
CBD gummies may help with your anxiety symptoms. They may cause anxiety if you are using full-spectrum CBD or if you are using high doses. Keep in mind that every person is different. When taking these gummies, you should always start low and go slow.