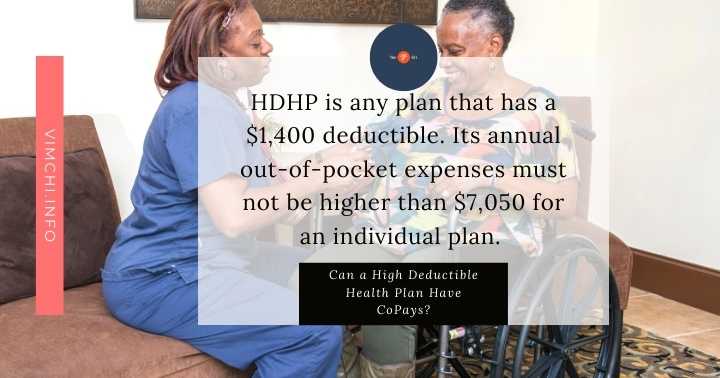 A high deductible health plan (HDHP) is a different plan than a traditional insurance policy. The monthly premium is lower. Can a high deductible health plan have copays?
Let's find out here.
Can a High Deductible Health Plan Have Copays? 
HDHP is any plan that has a $1,400 deductible. Its annual out-of-pocket expenses must not be higher than $7,050 for an individual plan.
These out-of-pocket expenses include copays, coinsurance, and deductibles.
Many choose this type of plan because it lowers their overall health care costs. They become more aware of their medical expenses.
Generally, the higher the deductible, the lower the insurance premiums, resulting in more affordable monthly costs.
It can be a boon for healthy people who require coverage for severe health emergencies. But this does not only apply to poor families.
Well-off families can also benefit from it because they can access tax-advantaged health savings accounts.
The HDHP plans cover routine preventive care sans copays. It means that if you have this plan, you do not need to meet your deductible before your policy kicks in.
HDHP coverage also has a yearly catastrophic limit on out-of-pocket expenses for covered services. Upon reaching the limit, your HDHP plan pays 100% of your expenses for any in-network care.
What are the Main Benefits of HDHP? 
One of the reasons many would choose to buy HDHP is that they can access a health savings account (HSA). It is a tax-advantaged savings account.
Any fund to this account is tax-free at the time you deposit or withdraw it. But you must only use it for qualified medical expenses.
Read: What are the Most Appealing Benefits of HDHP?
Lower Monthly Premium
With a reduced monthly premium, you can save money. However, the savings are ideal for preventive care, rather than complicated procedures. To further save money, you should stay within your network. If not, you will have to pay extra costs.
Insured individuals with this plan can use an HSA along with an HDHP. HSA is a tax-advantaged account that you can use to pay for any qualified healthcare expenses. The money you deposit into the account is tax-free, thereby, cutting the overall cost of your high deductible.
Do Copays Count Toward the Deductible? 
Copays are a burden to many insured individuals. Hence, in 2014, all in-network cost-sharing, like copays, will count toward your out-of-pocket maximum. It is a significant change for any copay-based health plan.
The out-of-pocket maximum is the limit that you pay for health care expenses every year. The limits include money that you spend on copayments, coinsurance, and deductibles.
When you reach the yearly maximum, your insurance will pay 100% of the covered cost for the remaining part of the year.
Even though copays count toward the deductible, the monthly premium does not. You will continue to pay it every month until you change your plan or cancel it.
Before the reform, copays did not count toward an out-of-pocket maximum. Although it was not an issue for individuals with low healthcare expenses, it was for people who need medical services every month.
What is the Downside of Having a High Deductible?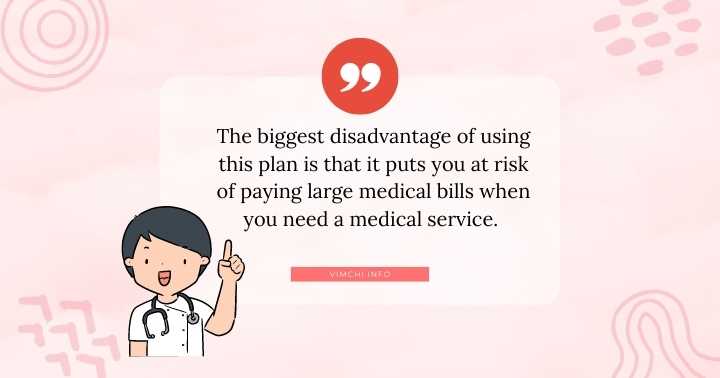 The biggest disadvantage of using this plan is that it puts you at risk of paying large medical bills when you need a medical service.
This plan only covers preventive care. However, if you get injured or sick, it can result in high out-of-pocket costs. This is a huge burden if you are diagnosed with a medical condition that needs expensive treatment.
HDHP plan may also affect your future health. Although it can help you lower your monthly premium, the high out-of-pocket costs will discourage you to get the right treatment on time. Thus, you will avoid healthcare visits leading to larger medical bills for a hospitalization.
But you will not know when you need a medical service. If you have HDHP and you require emergency care, you have to meet the deductible first before your plan will start covering your healthcare costs.
Read: Can a Foreigner Get Health Insurance in the UK?
Is It Better to Pay for an HDHP? 
HDHP is not ideal for everyone. Even though it can help lower your monthly premium, it is not the best choice if you have a medical condition.
You should only obtain it if:
You are healthy.
You do not need medical care often for your illness or injury.
You can pay for your deductible upfront.
You have funds to contribute to an HSA.
Your employer will contribute to HSA to cover most of your deductible.
However, this HDHP is not ideal if you are pregnant or planning to get pregnant. Furthermore, it is not right for you if you see your doctor frequently because you suffer from a chronic medical condition.
If you take different prescription drugs, HDHP is not the best choice for you. And if you cannot afford the high deductible, you must opt for a low to no deductible health plan.
Before you choose this plan, make sure to consider your current health. If you are young and healthy, any HDHP plan can help you save money. There's no doubt about it.
But if you have other life events to consider, then the more ideal plan is a low deductible. If you can afford a high premium with no deductible, then that would help your situation.
This is also not an ideal plan if you have young children. They may require frequent visits to their pediatrician for colds and viruses.
And if you are older, you are likely to encounter higher medical expenses. Before you choose this plan, consider how your health could change the following year.
On the other hand, if you decide that this is the best plan for you, make sure to compare the coverage options of all plans in your area.
You should also talk to your current healthcare providers to know if they are part of a plan's network. If you wish your medical care to be covered, your providers must be part of your network's plan.
Summary
Can a high deductible health plan have copays? Yes, they have copays. But they count toward your yearly out-of-pocket limits. Although this plan is ideal for some individuals, it may not be the best option for you. Take some time to comprehend how this plan can affect your health in the future.