Have you heard of Anna Leigh Waters? How about Simone Jardim? Yates Johnson? If you have not heard of them, then you have not tried playing pickleball. The names I've mentioned are famous pickleball players around the world. This game is for two to four players.
How Pickleball Players Play the Game?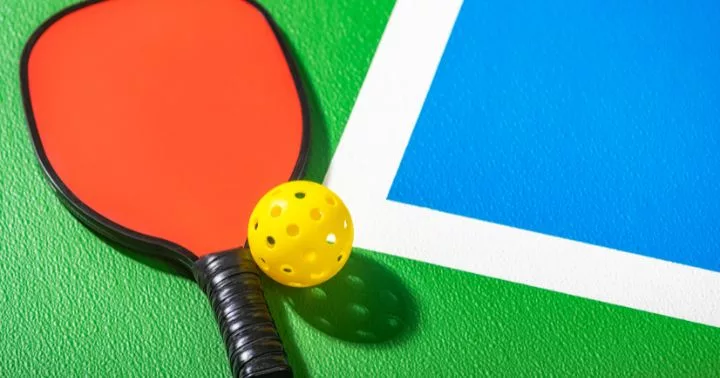 It is played on a rectangular court, typically a smaller version of a tennis court, with dimensions of 20 feet wide and 44 feet long. It is played with a paddle and a plastic ball, similar to a waffle ball but with smaller holes.
When playing this game, you will need the following items:
Pickleball paddle
The paddle is a solid racket-like instrument used to hit the ball. Paddles are typically made of lightweight materials such as wood, composite materials, or graphite.
They have a flat face with no strings, and the size and weight of the paddle can vary based on personal preference and playing style.
Pickleball
It is a plastic ball with holes, similar to a waffle ball but smaller. The ball is designed to provide stability and a controlled bounce suitable for the sport.
Pickeballs are available in different colors and can be either indoor or outdoor balls, depending on the playing surface.
Court 
Pickleball is played on a specialized court, which can be outdoor or indoor surface. The court dimensions are 20 feet wide and 44 feet long for doubles play, with specific boundary lines and a non-volley zone (kitchen) located 7 feet from the net.
Net 
It is set up in the middle of the court and extends across its width, dividing the playing area into two sides. The net is 36 inches high at the sidelines and 34 inches high at the center. It should be securely fastened to proper posts or supports.
Court Shoes 
Wearing appropriate court shoes is recommended to ensure good traction, and stability and to prevent slipping.
Court shoes provide the necessary support and grip needed for the quick movements and lateral shuffling common in the game. Tennis shoes are great because they provide support for lateral movements.
Pickleball Apparel
When it comes to pickleball apparel for women players, the emphasis is on comfort, flexibility, and moisture-wicking properties.
Pickleball tops
You can wear any T-shirt. But make sure it is lightweight and breathable and made from moisture-wicking fabrics like polyester or nylon are popular choices. Look for tops with mesh panels or ventilation features for enhanced airflow.
Tank Tops 
Sleeveless tank tops provide freedom of movement and are excellent for warm-weather play. Opt for moisture-wicking materials that offer moisture management and quick-drying properties.
Polo Shirts
They can offer a more classic and professional look on the pickleball court. Choose polo shirts designed specifically for athletic activities, features moisture-wicking and stretch fabrics
Pickleball Bottoms
You can wear any athletic shorts that are comfortable and quick-drying. They must be made of fabrics. Opt for shorts with an elastic waistband, built-in compression shorts, and pockets for convenience.
Skorts
They are a combination of shorts and a skirt, shorts offer a feminine look with the functionality of shorts. They provide flexibility, and coverage, and often come with built-in moisture-wicking shorts.
Capri pants or Leggings
For cooler weather or added coverage, capri pants or leggings made of moisture-wicking and stretchable materials can be a suitable choice.
Sports Bra
A support sports bra is crucial forewoman to ensure comfort and minimize discomfort during active play. Look for sports bras designed for high-impact activities, with moisture-wicking properties and adjustable straps for a customized fit
Visors or Hats
They are optional. However, they protect your face from the sun. Look for options with moisture-wicking materials and adjustable closures.
Sunglasses
Make sure they have UV protection and lenses that reduce glare to enhance visibility on the court
Athletic socks
Moisture-wicking socks designed for athletic activities can help keep your feet dry, comfortable, and blister-free during play.
Wristbands or sweatbands
They can help absorb sweat and keep your hands dry, providing a better grip on the paddle.
Make sure to select apparel that allows for a full range of motion, provides adequate ventilation, and keeps you comfortable throughout your pickleball matches. Pickeball players do use some of them. It is also a good idiea to consider the local climate and weather conditions when choosing your clothing.