Are you taking losartan for your blood pressure? If you are, then consider talking to your doctor about the recent Losartan recall.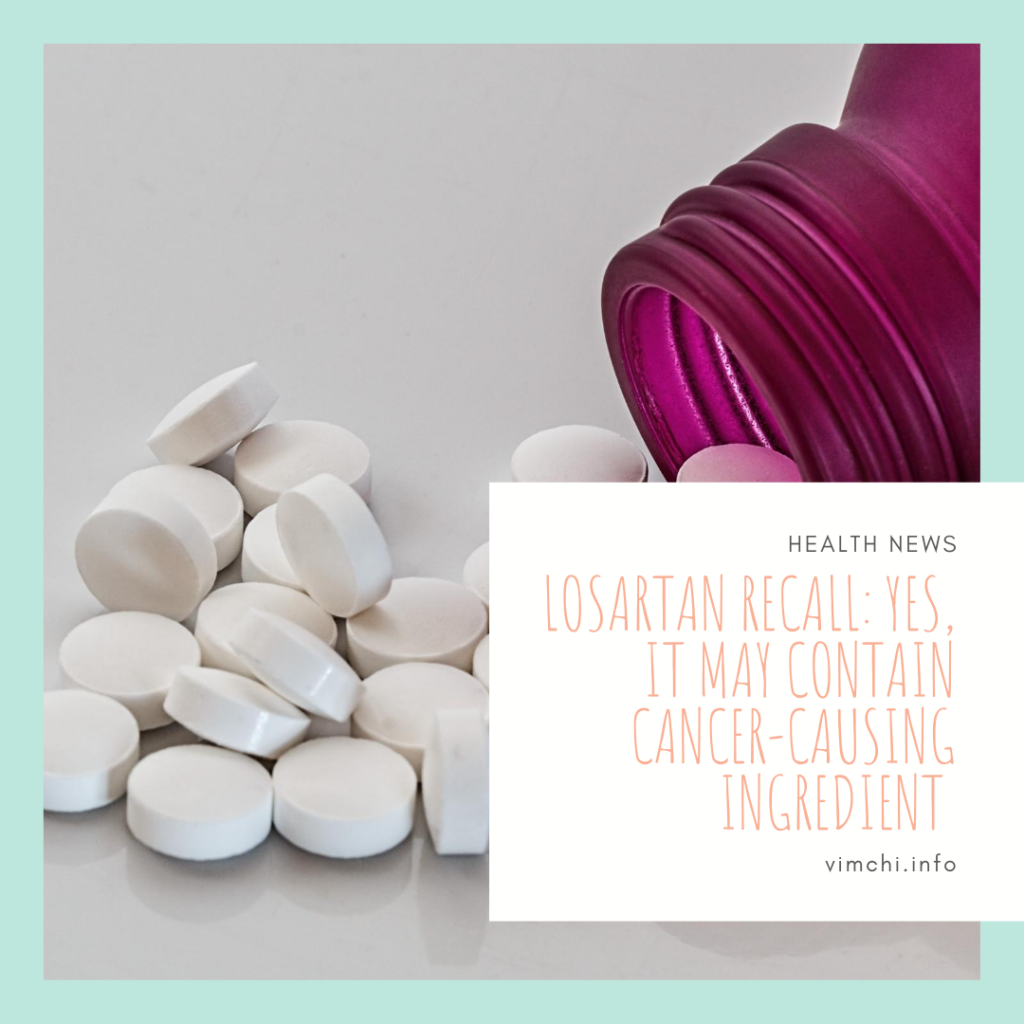 Torrent Pharmaceuticals Limited expanded a recall of its BP drugs because they contain a cancer-causing ingredient, as the FDA announced. The company voluntarily expanded the recall to add Losartan Potassium Tablets USP, as well as Losartan Potassium/hydrochlorothiazide tablets. These medications are taken for hypertension. Patients with left ventricular hypertrophy are also taking them. 
Losartan Recall – What is the Cancer-Causing Ingredient
It was indicated that Losartan tablets contain N-methylnitrosobutyric acid (NMBA). It is an animal and human carcinogen. The company stated that the affected products found to include more NMBA than the FDA allowed. 
However, before you stop taking these medicines, make sure that you talk to your doctor about an alternative medication. In other words, if you have not talked to your doctor yet, you should continue taking these medicines as the risk of harming your health is higher if you stopped taking them immediately. 
Known Losartan Side Effects 
Losartan is a prescription drug. It is an angiotensin receptor blocker that can treat high blood pressure. It blocks the angiotensin II, which is a chemical that tightens and narrows the blood vessels. 
By taking losartan, it relaxes and widens your blood vessels to lower your blood pressure. 
But there are side effects of Losartan. It may cause dizziness, stuffy nose, back pain, fatigue, diarrhea, low blood sugar, chest pain, upper respiratory infections, and stuffy nose, among others. They can go away after a few days. 
You must call your doctor if you experience serious side effects, such as the following: 
Muscle weakness
Slow heart rate
Allergic reactions, like swelling of your lips, throat, and tongue
Low blood pressure
Kidney disease
Unexplained weight gain
Should You Switch to Atorvastatin
You must not switch to atorvastatin without first talking to your prescribing physician. Although there are no interactions found when you take losartan and atorvastatin, it does not mean that no interactions exist. We recommend that you consult your healthcare provider about it. 
Avoid taking atorvastatin with grapefruits. Some patients experienced an increase in atorvastatin blood levels while taking it with grapefruit juice. It can increase side effects risk, like liver damage.
Natural Remedies to Lower Your Blood Pressure 
Hypertension is a harmful condition that can cause extreme damage to your heart. Instead of taking losartan, you should try combating your high blood pressure with natural methods. 
1.) Walking Regularly 
Walking is a form of exercise that lowers high blood pressure. Regular walking can make your heart stronger. Aim to walk for 30 minutes per day to lower your BP. 
2.) Take Basil 
It is an herb that can mix well with a variety of foods. It can lower your BP briefly. The eugenol in basil blocks some substances in your body that tighten blood vessels. Thus, consider adding fresh basil to your food, like salads or soups. Basil is also easy to grow. You can keep a pot of this herb in your garden. 
3.) Use Cinnamon 
Regular intake of cinnamon may lower your blood pressure. It is a tasty seasoning that will make your coffee tastier and smell better. Cinnamon extract has been found to lower sudden and prolonged high blood pressure. You can easily add it to your diet by shrinking it on your oatmeal, cereal, and of course, coffee. 
4.) Eat Some Cardamon 
It is another tasty seasoning that can significantly reduce blood pressure reading. Most South Asian cuisines contain cardamon. But this seasoning comes from India. If you could find some in a farmer's market, grab one and add it to your soups and stews. 
5.) Boost Potassium and Magnesium Intake
When you talk to a nutritionist, one of the things that he can tell you is to improve your diet. That is, boost your plant-based food intake. You should take three times as many vegetables as your proteins. Focus on vegetables that contain a high amount of potassium, like bok choy, spinach, and beet greens. 
You must also boost your magnesium intake. Taking 300 mg of magnesium per day may improve your blood pressure readings. Magnesium can relax and reduce stress, thereby lowering blood pressure numbers. 
6.) Stop Eating Processed Foods
You should eat less salt if you wish to lower your systolic blood pressure. In this study, researches found that reducing salt intake could actually save 280,000 lives. 
But it is not that easy. Overall studies suggest avoiding processed foods. Ditch them, no matter how delicious they are. These foods are not helpful to your heart disease. 
7.) Eat Dark Chocolate
Yes, dark chocolate can reduce blood pressure. But not too much of it. This natural remedy will only work if taken in small amounts. We wrote a 1,500-post about the benefits of dark chocolate. Click the link to know the 8 health benefits of dark chocolate and what makes it healthy. 
TL;DR
Losartan recall has been expanded because this class of drugs is found to contain the cancer-causing ingredient. But we do not recommend you stop taking it immediately. Make sure to talk to your physician first. You should also consider following the natural remedies to lower blood pressure we have listed above. We are confident that they can help regulate your BP, so you can avoid taking those BP medications that come with side effects. 
The recent losartan recall is alarming. Check out online shop to find some supplements that can be a great alternative to this drug.