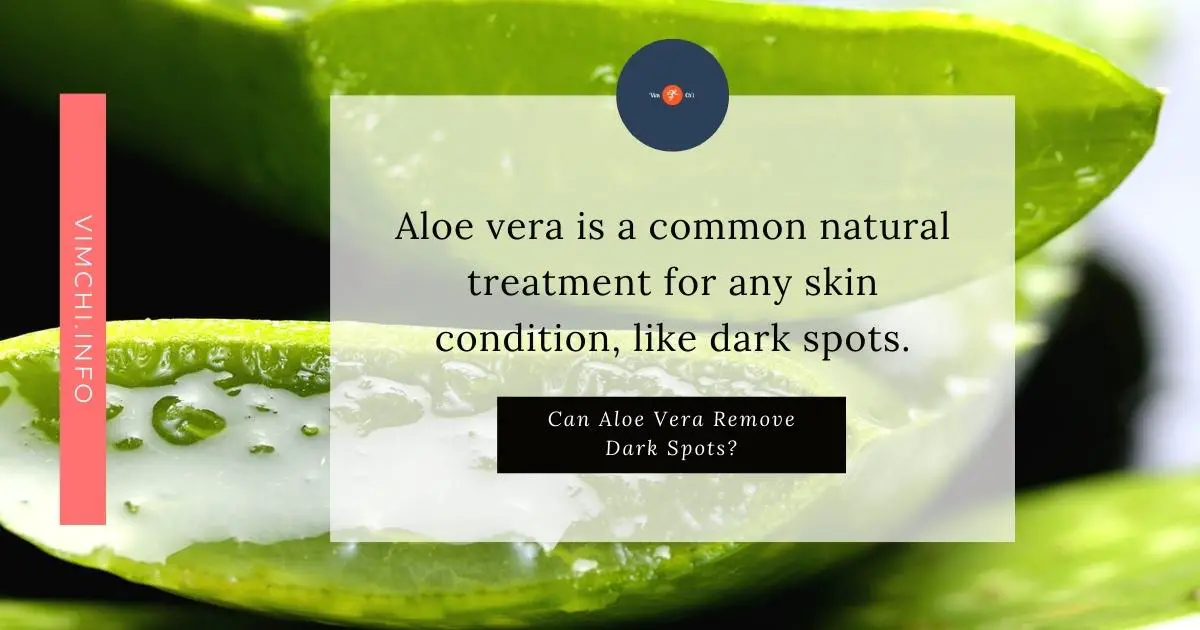 Hyperpigmentation or dark spots are common. This condition isn't harmful and it happens because of the melanin deposits in your skin. It can be caused by various factors, such as sun exposure, acne, medications, and hormone disorders, among others. There are also various treatments available on the market. Can aloe vera remove dark spots?
Let's find out the answer here.
Can Aloe Vera Remove Dark Spots?
Aloe vera is a common natural treatment for any skin condition, like dark spots. However, there's little scientific evidence that would suggest that aloe vera could reduce the appearance of dark spots.
However, it won't get rid of hyperpigmentation.
To lighten skin pigmentation, aloe has skin-lightening properties known as aloin and aloesin. These chemicals can reduce the hyperpigmentation that destroyed melanin cells and prevent them from
In this study, scientists found that the aloin in aloe vera destroyed melanin cells in pigmented cells from tadpole tails.
To use it to treat skin pigmentation, you can use the gel straight from the plant. Or you can purchase the gel from your local drugstore.
As for its safety, the plant and the gel from a drugstore are safe for healthy people if applied directly to the skin. But, as mentioned, this product might not completely remove the dark spots.
It's also possible that you may be allergic to it. Thus, if a rash develops, stop using it immediately.
You may use other treatments for dark spots.
Apple cider vinegar. It has 

acetic acid that is suggested

 to lighten dark spots on the skin.
Azelaic acid. It may even out hyperpigmentation if you have acne.
Black tea water. It can lighten hyperpigmented skin. But you need to apply it twice a day for 5 days.
Chemical peel. It involves the use of chemicals to remove the uppermost skin layers. Most chemical peels sold in drugstores are safe to reduce pigmentation as long as they are applied as directed.
Read: How aloe vera helps sunburn?
How Long Does Aloe Vera Take to Remove Dark Spots? 
Although aloe vera may be effective in treating or lightening dark spots, it can take a while before you'll see the difference. You can expect to see the results in a few days or a week.
However, no matter how long it takes, this natural treatment can promote skin tissue regeneration and dead skin cell removal.
In addition to its effectiveness in lightening dark spots, this product can also help in reducing inflammation. It contains anthraquinone, which offers antibacterial and antiviral effects.
The fatty acids in the gel can fight skin infection when it is applied topically. Thus, if you have cold sores, you can fight the infection by applying a generous amount of aloe vera.
This plant is also useful in healing burns. It's an effective way to treat first and second-degree burns. This is one reason you can often find aloe vera as an ingredient in many OTC medications for skin burns.
You can also use this product to treat acne. It has a natural source of salicylic acids that can assist with whiteheads, blackheads, and flare-ups.
This is also useful for any chronic skin condition. You may use it to manage your psoriasis, dermatitis, eczema, and other chronic skin conditions.
However, it's important to note that aloe vera won't treat them. Rather, you can only use it to manage the inflammation.
Aloe vera contains a high amount of antioxidants and enzymes that could reduce inflammation while promoting skin healing. Thus, if you struggle with one of those skin conditions, you might want to incorporate aloe vera into your routine. But make sure to talk to your dermatologist about it.
Read: How aloe vera works on skin?
How Does Aloe Vera Remove Dark Spots on Face? 
Aloe vera removes dark spots on the face through its lightening properties.
But you have to apply it directly onto the hyperpigmentation areas of your face. Allow it to sit for 30 minutes before washing it off the face with lukewarm water.
You may also use a pack with aloe vera gel. Simply follow the instructions on how to use it and make sure to remove it after a specific period.
In addition to aloe vera, you can also use buttermilk as one of the remedies for treating dark spots on the face. It's high in lactic acid and you only need to apply it on the face for 20 minutes before rinsing it with lukewarm water. Make sure to use a moisturizer afterward.
If you have oily skin, you may add lime juice.
However, if you experience rash and other skin irritation, discontinue using it.
Another product you can use is turmeric powder. It's also a wonderful natural remedy that can lighten dark spots. You just have to combine it with lemon juice and milk to get faster results.
Mix the ingredients to form a paste. Leave it on your face for 20 minutes and rinse it with lukewarm water. Continue this routine for two weeks until you see a huge difference.
And as mentioned, you may use apple cider vinegar, which contains acetic acid that can lighten skin pigmentation. It can also improve the overall appearance of the skin.
Read: Can aloe vera grow hair?
Can You Leave Aloe Vera Gel on Your Face Overnight? 
You can safely apply it to your face and leave it there overnight.
However, make sure that you're using 100% aloe vera gel. Otherwise, you might suffer from skin irritation or rashes.
If you do experience side effects, make sure that you stop using it. To be safe, apply a portion of the gel to your hand to test your skin's sensitivity.
If you don't develop rashes or irritation, then it is safe to be used on other parts of your skin, like your face.
Which Aloe Vera Gel is Best for Dark Spots? 
Any aloe vera gel is effective in treating dark spots. But make sure that the product you use contains 100% aloe vera. If not, then you might be at risk of using aloe vera with fillers that can be harmful to your skin.
Summary 
Can aloe vera remove dark spots? Yes, it can remove dark spots but not completely. It only lightens it. However, when you use it, make sure that you're using 100% aloe vera gel to ensure that it's safe for your skin. You should also make a patch skin test to know if you're allergic to it.