Why drink apple juice anyway? What are its benefits?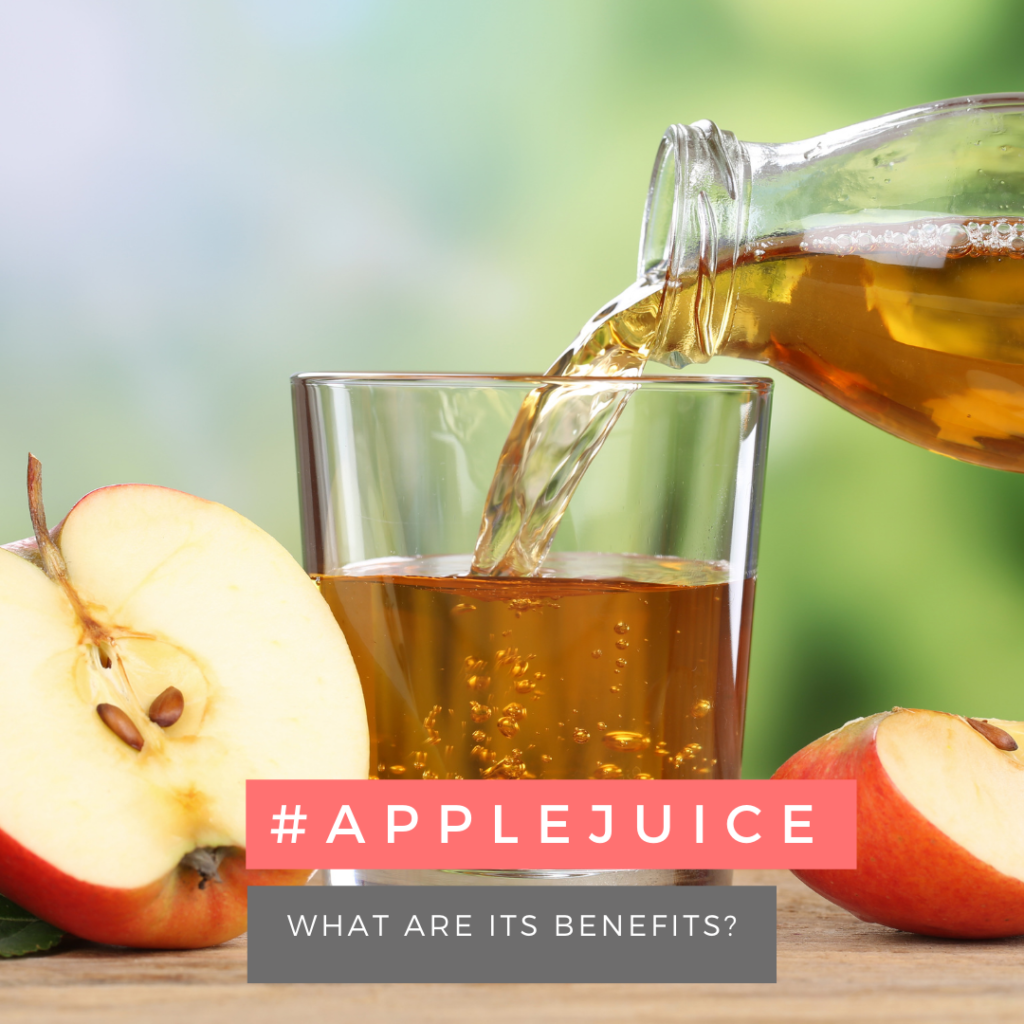 One way to stay healthy and keep the doctor away is by incorporating apple juice in your diet. Some benefits that come with regular consumption of juice include weight loss, improved heart health and brain functions, less risk of premature childbirth, among other benefits.

What are the Most Important Apple Juice Benefits?  
Does an apple a day really keep the doctor away? Yes, it does. Here are eight apple juice benefits that will surprise you.
As the adage goes, 'an apple a day keeps the doctor away.' Unfortunately, many people think this is just a saying as they don't know the health benefits that come with eating apples. 
Apple juice is an excellent alternative for soda drinks as it contains polyphenol, antioxidants, and vitamin C, which are essential for your body functions. 
Consuming the right amounts of it daily can significantly boost your health. 
In this blog, we will expound on the advantages of apple juice. If you have no idea how to make apple juice, visit this site, my kitchen advisor, to see the best juicers, and learn how to use them to juice your fresh apples. 
Here are the health benefits of apple juice:
1. Glowing Skin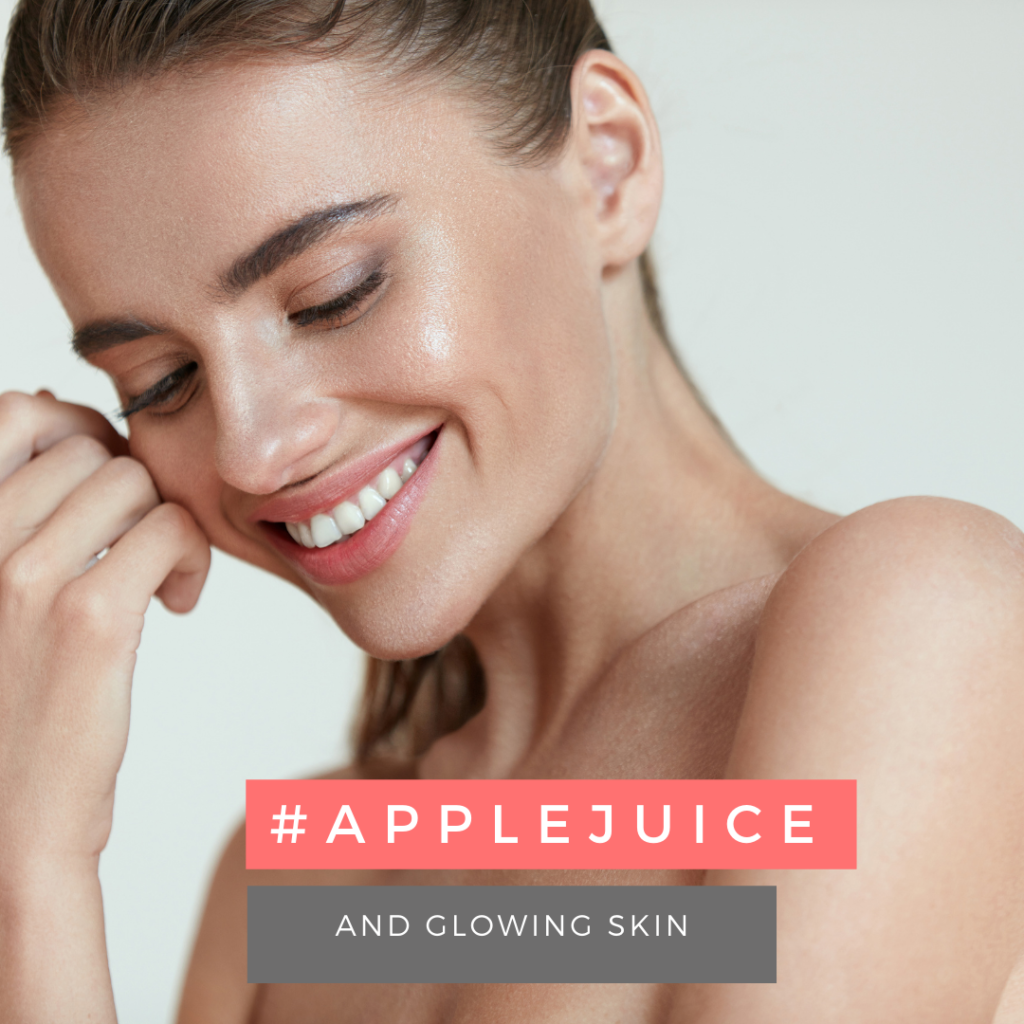 Among the apple juice health benefits, this might be the most interesting one for ladies. Here are the benefits your skin gets when you consume apple juice:
It hydrates and cleanses your skin. One way to keep your skin soft and glowing is to stay hydrated. And sometimes, reaching your water goals by consuming plain water can be boring and hard. Luckily, apple juice can keep you hydrated since apples have very high water content. The Vitamin E in it keeps your skin soft and hydrated.
Improves your skin complexion. Drinking apple juice brightens your skin as it protects it from tanning. The collagen in apples keeps your skin youthful. The juice's nutrients ensure they get rid of pathogens and excess oils. Also, applying apple juice on your skin helps in maintaining its pH as well as lightens it.
2. Apple Juice for Heart Health
 Heart ailments are a nightmare. Luckily, a study by the UC Davis School of Medicine in the US showed that taking apple juice can slow down the symptoms and help in preventing heart ailments. 
Phytonutrients in apples act the same way as red wine or tea in breaking "bad" cholesterol or LDL. When bad cholesterol deteriorates or oxidizes in the blood, it causes a dangerous artery thickening (atherosclerosis).
Apple juice also has other compounds such as polyphenols and flavonoids, that promote heart health. Frequent consumption of apple juice can also reduce the risks of a stroke, especially if you pair it with intermittent fasting or OMAD.  
This is because apple juice contains vitamin C that prevents the hardening of arteries. It also reduces the cholesterol levels in your body, which saves you from multiple cardiac problems. 
3. Apple Juice and Pregnancy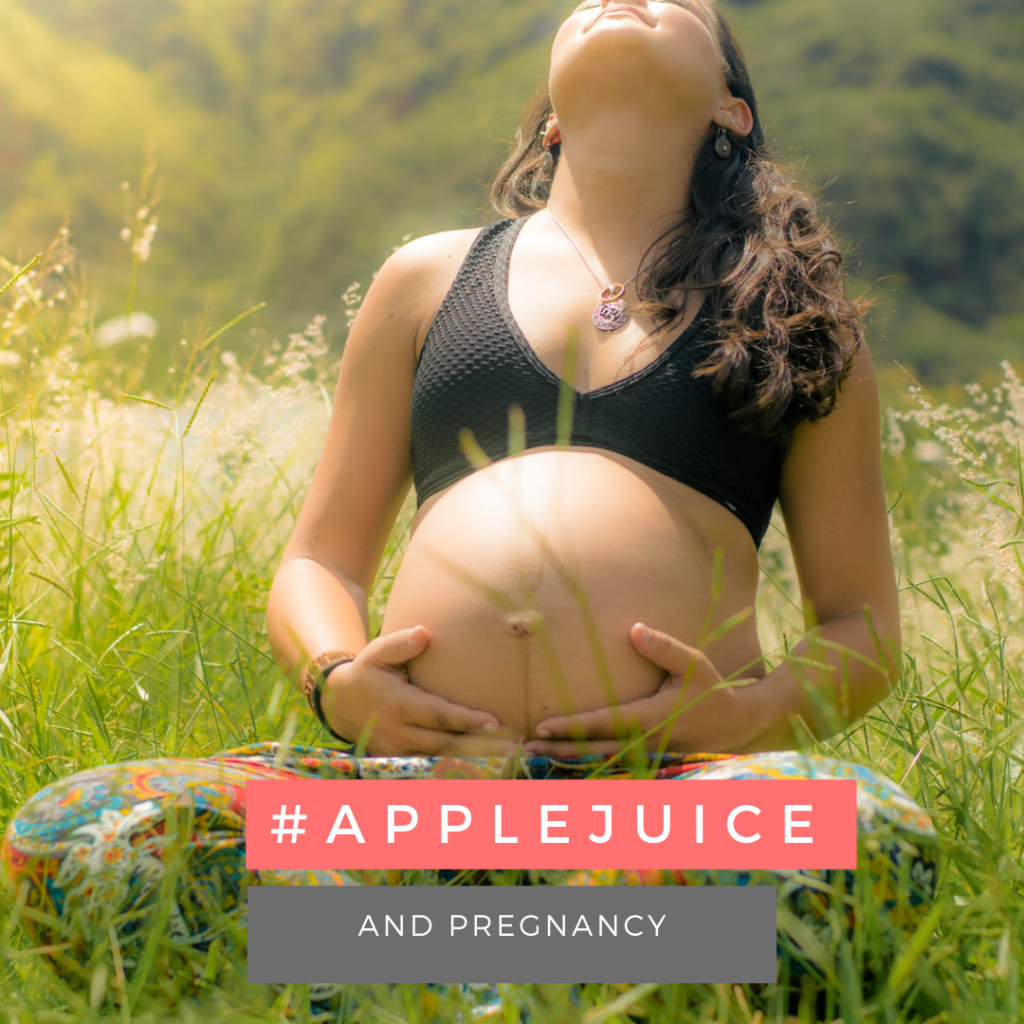 Eating fruits can help you stay healthy during pregnancy, as it ensures you have all nutrients in the body.
Apple juice, especially from green apples, has very many benefits to pregnant women. Some of them include:
Prevents nausea. Vomiting and nausea can be very troubling for pregnant women during the first and second semesters. The sweet and sour taste of juice can help relieve the symptoms first.
Source of protein. Pregnant women require protein to help in the development of the fetus. Taking apple juice can help you reach your daily protein requirement.
Reduce the risks of premature birth. The cause of premature births is excess bile secretion. The minerals and vitamins found in apple juice can help balance bile secretion, preventing you from having a premature birth. It can also help in easing labor pain and the delivery process. 
4. Apple Juice for Gallbladder Cleanse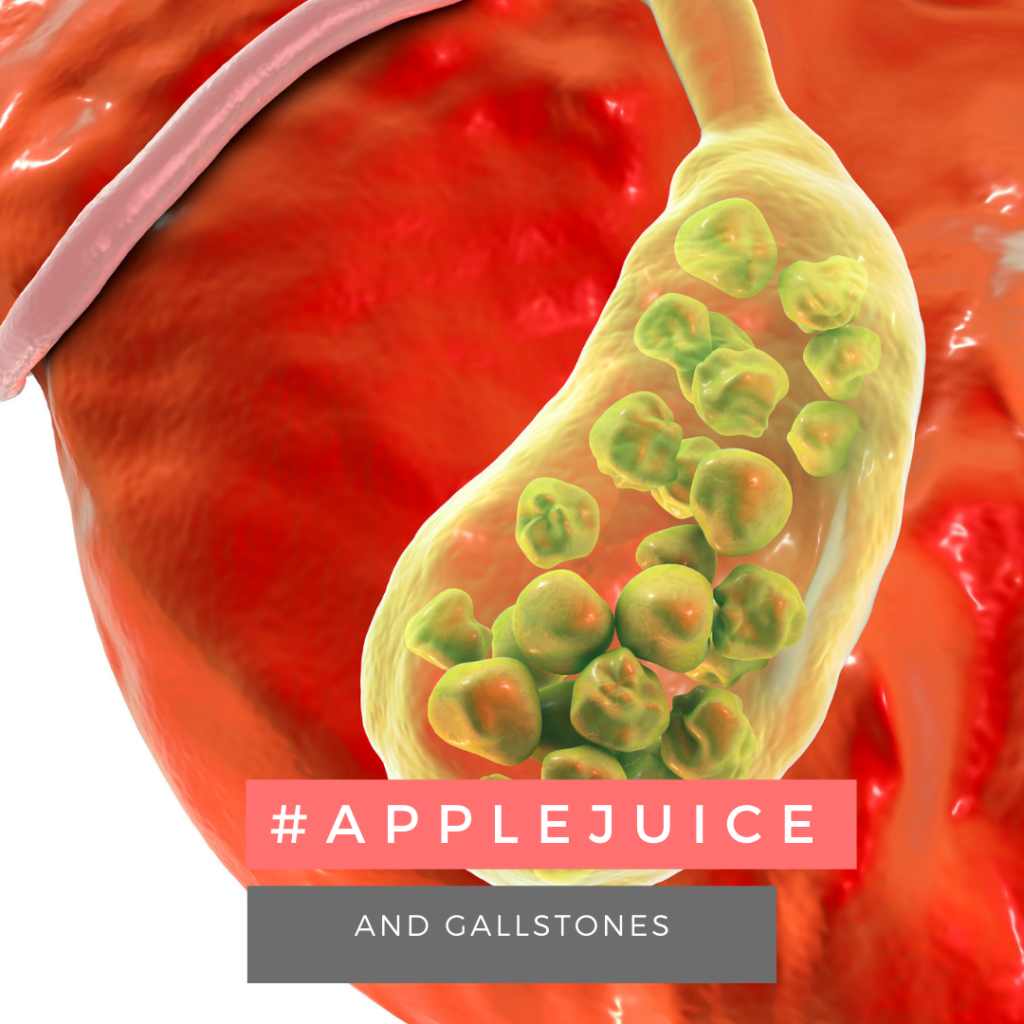 You've probably heard about the benefits of apple juice in eliminating gallstones. A gallbladder cleanses or liver flush removes existing gallstones or prevents one from getting any. 
The diet requires you to take a combination of olive oil and apple juice. The mixture helps in breaking down the gallstones and flushing them through your stool.
To successfully cleanse your gallbladder, you're required to take four apple juice glasses for the first five days, followed by the lubrication process for easy passage on the sixth day. See the whole process here.
 You may experience short-term side effects such as nausea, vomiting, diarrhea, and pain in your abdomen. Therefore, it's crucial to consume a lot of water if you decide to do the cleanse. Doing it right you'll sure reach the benefits of apple juice for gallstones.
 5. Apple Juice for Kids as a Remedy for Constipation
Kids are very sensitive as their body systems are in the process of developing. One of the worrying issues for moms with infants is constipation, as it makes infants uncomfortable and very grumpy.
Fortunately, baby apple juice can help in curbing constipation. This is because they have very high dietary fiber and sorbitol. Remember that making apple juice with fiber is healthier than taking it away.
However, it's crucial to observe the right quantities as excessive amounts of apple juice can lead to a digestive upset. 
 6. Apple Juice for Menstrual Cramps
Menstrual cramps are very painful, and sometimes they may affect our daily performance. However, apple juice plus a few other ingredients can help reduce the pain and other symptoms of period cramps.
The two best combinations for this are apple juice and vinegar diluted with water or apple and orange juice. You can make a combo of the two and enjoy the following benefits:
Reduced menstrual cramps
Detoxification and flushing of toxins out of the body
Reduced bloating and intestinal discomfort, which improves bowel movements and reduced hunger pangs
Reduced depression and anxiety
Increased energy
Kindly note that using apple vinegar isn't a quick fix. It may take a month of consistent consumption to see change. Avoid consuming vinegar in large quantities. Rinse your mouth after taking your juice, and wait for an hour before you brush your teeth to protect your dental health. Talk to your doctor before incorporating apple cider vinegar in your diet to avoid any unpleasant side effects.
 7. Apple Juice for Diabetics 
People with diabetes have to watch their carbohydrate levels to ensure their blood sugar stays stable. 
But although apple juice contains carbohydrates and sugar, according to the American Diabetes Association, consuming apple juice is okay for people with type 1 or type 2 diabetes. The sugar in it is different and healthier from sugars added in foods. 
Regular intake of apple juice is also associated with a reduced risk of getting type 2 diabetes. This is as a result of phytochemicals in it, which is good for insulin regulation. These phenolic compounds help the beta cells within your pancreases to secrete insulin and absorb glucose from the digestive tract. 
Lastly, apple juice, especially squeezed from the green apples, has high fiber content that is great for people with diabetes. Pairing the apple juice with proteins or healthy fat can lower the spike in blood sugar and help you feel full for long periods.
8. Apple Juice and Alzheimer's Disease 
Apple juice can help delay symptoms of Alzheimer's disease, a brain illness characterized by memory loss. 
A study published in the Journal of Alzheimer's Disease used mice that were fed with a poor diet for their experiment. The mice showed a decline in cognitive ability. They couldn't navigate the maze easily as they did previously.
However, after a month of consuming apple juice, the mice were able to navigate the maze again without any problems. Although more tests need to be carried on human beings, in most cases, research on mice translates to humans, so it's still good to give it a try. 
Wrapping Up
One way of taking care of your body is by taking fruits and vegetables to boost your immune system and fight illnesses. 
The best way to take fruits is by consuming them in their natural state, so it's better to make your juice at home. You can use a juicer to squeeze the juice. To add the flavor, you can use carrots, ginger, blueberries, etc. 
You can also include homemade apple juice in your kids' diet for them to enjoy the health benefits without any potential risks. Though, it is important to consider calories in apple juice.
If you're following OMAD for weight loss, though, you shouldn't be drinking it during fasting. Apple juice isn't a calorie-free beverage. But it's great for vegan OMAD, only during the eating window.
Did you learn something from our blog on the uses of apple juice? Tell us in the comment section, and don't forget to share this article with your friends.