If you're like me, you would want to work from home. But what kind of work can you do? Believe it or not, several sites let you make money online by typing.
All you need are a laptop, ready fingers, and comfortable working space. What's more, is that you can get paid just typing online. However, it is important to note that not all websites are the same.
Some will let you work today while others will require you to wait a little longer.
Make Money Online by Typing: How Much You Can Earn?
It depends on the typing job. Some sites pay a decent amount while others are just not worth your time.
But typing jobs can offer flexibility if you're a stay-at-home parent. You can work during the day or prefer to work at night while your baby is asleep.
Depending on the site, you can make as much as $12 an hour.
What are these Jobs That Let You Make Money Online Just By Typing? 
1.) Captcha Solver 
Captcha is one of the ways to stop spam. Some sites require visitors to solve captchas to ensure that they are not a robot.
This verification software keeps bots from accessing the site. Captchas can only be solved by humans.
Some sites will pay you to solve the puzzle. You should type the characters as they appear so they are sent as captcha.
Meta Typers, Fast Typers, and Captcha typers are just some of the top sites that will pay you for solving Captcha by typing.
You can earn $0.45 for solving 1,000-word images.
2.) Typing Subtitles 
Subtitles are the words you see on the screen when watching a show. They are sometimes called captions. And you will get paid just typing those words.
There's plenty of money in the transcription industry. Captions and subtitles are actually different things. The former is in the same language while the latter is translated into a certain language.
To get paid to type subtitles, you need to master the languages spoken in the video and the languages need to be translated.
So, if you are fluent in English and Spanish and you can type fast, you can earn money by typing those subtitles.
Before you sign up for sites offering this type of job, you need to be a fast typist. How much you earn will be determined by your typing ability and how accurate it is.
You should also have great listening skills and patience. Keep in mind that to get the audio correctly, you need to replay words several times.
Rev, Go Transcript, Upwork, and Hollywood Transcriptions are just some of the sites you can sign up for to get paid typing online.
Upwork is not specific to transcription, though. Instead, it is a platform where you can find clients that need transcriptionists.
What Sites to Make Money Online Typing? 
3.) mTurk 
There are various jobs here. And some of them involve typing for money. You can try doing data entry or transcribing audio recordings.
Not all jobs will pay you high. However, your earnings can easily add up. Keep in mind that most of these jobs don't take a lot of time.
Before you can earn money through this site, you need to have an account with mTurk.
4.) Aberdeen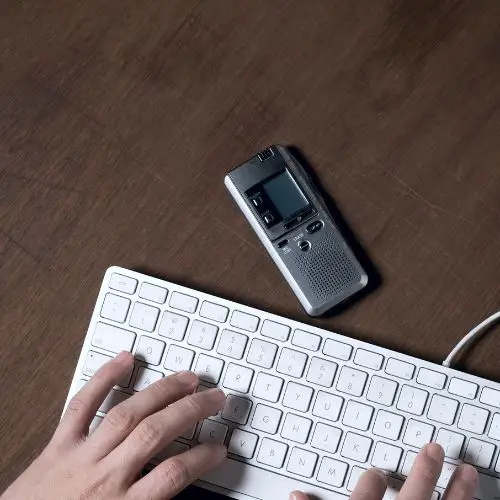 This site has several transcription jobs. Most of them will pay you for typing subtitles for closed-caption TV.
The earnings vary. Some will pay you $1.50 for a minute of audio. This is already a good number.
However, it has strict requirements. It only considers people with fast typing speed. You should also have two computers and a strong Internet connection.
5.) Babbletype 
It is a reputable company that offers a lot of transcription jobs from home.
Even if you don't have a job experience in transcription, you may still find work here. The rates are sometimes. But the average is $0.40 a minute.
To qualify for a job here, you need to go through a process. It includes a transcription test and an interview.
You can earn $96 per week. If you transcribe an hour of audio for four days every week.
6.) CastingWords
You can work here no matter where you are in the world. Furthermore, it lets you receive money through PayPal.
Keep in mind that most of the sites that allow you to make money online just by typing only accept US and Canadian residents.
But CastingWords is different. Furthermore, it will pay you over $1 per minute of audio.
However, before you get accepted, you need to pass its rigid transcription test.
7.) ClickWorker
It has several typing jobs that you can choose from. It works like mTurk and Upwork. That is, you can choose the position you want to participate in.
It means that you can have a transcription job or a data entry job. You can also try editing or doing research work.
There are plenty of chances here that allow you to make money just by typing.
Your earnings will depend on the jobs you apply for. With so many options available, you can find something that will help you earn a decent amount of money per hour.
Bonus: Daily Transcription 
This site allows you to earn money by typing subtitles and transcribing audio files in English. There are 30 languages you are tasked to transcribe. Choose the language that you're comfortable with.
However, the majority of the jobs here are only available to individuals who live in the US or Canada. But you can find a job that requires knowledge of a second language.
Making Money Online 
With so many options available online, there's one job that you're qualified for. Although these sites let you make money online by typing, you should still peruse their requirements. As mentioned, some sites only accept US citizens or Canadian residents. Read the terms and conditions before you even apply.
For more ways to make money online, check out this post.